North Korea Frees Imprisoned US Citizen Otto Warmbier After He Fell Into Coma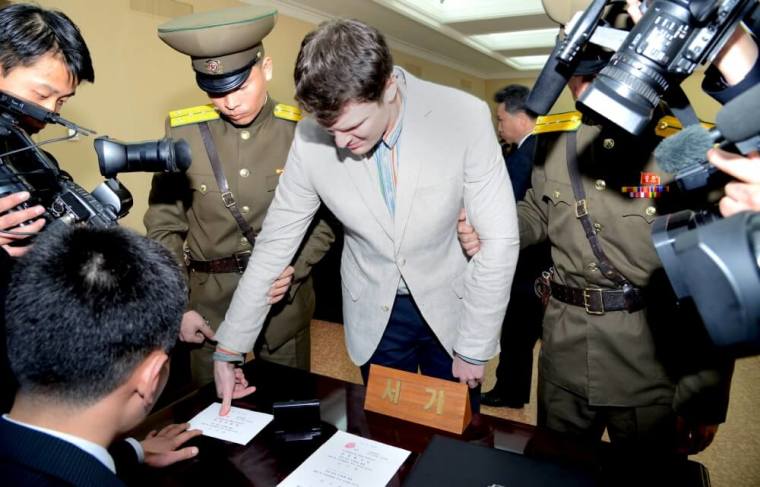 The North Korean government has released 22-year-old imprisoned U.S. citizen Otto Warmbier, who was charged with committing "hostile acts against the state," and is said to be in a coma.
On Tuesday morning, Secretary of State Rex Tillerson announced in a short statement that Warmbier, who was arrested in 2016 and sentenced to 15 years of hard labor for taking down a sign of the nation's late dictator Kim Jong Il while he was in the country with a tour group, had been released by the Kim regime.
"At the direction of the President, the Department of State has secured the release of Otto Warmbier from North Korea," Tillerson said in a statement. "Mr. Warmbier is en route to the United States, where he will be reunited with his family. The Department of State continues to have discussions with the DPRK regarding three other U.S. citizens reported detained."
Out of respect for the privacy of Warmbier, a University of Virginia student who was detained for 17 months, Tillerson didn't offer any further comment on Warmbier's health condition.
However, Warmbier's family told The Washington Post that Warmbier was medically evacuated from the isolated nation because he was in a coma that is believed to be associated with him contracting botulism.
According to The Washington Post, Warmbier will arrive home in Cincinnati on Tuesday evening after a stop at a U.S. military facility in Japan.
The family explained that they were informed by North Korean officials via American envoys that Warmbier initially fell ill from the food poisoning after his trial in March 2016. The North Korean government claims that Warmbier fell into the coma after taking a sleeping pill and has remained in the coma since that time.
"Our son is coming home," Fred Warmbier told The Washington Post. "At the moment, we're just treating this like he's been in an accident. We get to see our son Otto tonight."
The U.S. government has not yet confirmed North Korea's claims that Warmbier is suffering from botulism. However, botulism isn't typically associated with prolonged periods of unconsciousness.
The Post reports that a senior administration official explained that Tillerson called President Donald Trump around 8:35 a.m. on Tuesday to tell him that Warmbier was on an airplane headed for the United States and is being accompanied by State Department officials.
"Take care of Otto," the official quoted Trump telling Tillerson on the call.
Warmbier's release comes as he has not been seen publicly since his arrest.
According to The Post, North Korean officials contacted U.S. representatives last Monday and informed them that Warmbier was in a coma. Sources with knowledge of the process told the Post that after Trump was informed of Warmbier's condition, he ordered the State Department to secure Warmbier's medical evacuation.
"This is a Trump-led effort," one of the sources told the Post.
As North Korea is known for the systemic violations of human rights, Sen. Rob Portman, R-Ohio, said in a statement that Warmbier's sentence was "appalling."
"Otto's detainment and sentence was unnecessary and appalling, and North Korea should be universally condemned for its abhorrent behavior," Portman said. "Otto should have been released from the start. For North Korea to imprison Otto with no notification or consular access for more than a year is the utmost example of its complete failure to recognize fundamental human rights and dignity."
The reported Trump-led effort to secure Warmbier's release comes after Trump and Vice President pressured Turkey President Recep Tayyip Erdoğan for the release of imprisoned North Carolina pastor Andrew Brunson during Erdoğan's visit to Washington, D.C. in May.
Despite Warmbier's release, there are still three other U.S. citizens believed to be detained by the North Korean regime. Those three are South Korean-born businessman Kim Dong Chul, professor Kim Sang Duk and Kim Hak-Song, who worked at Pyongyang University of Science and Technology.