'Now with Jesus': Christian apologist Ravi Zacharias dies at 74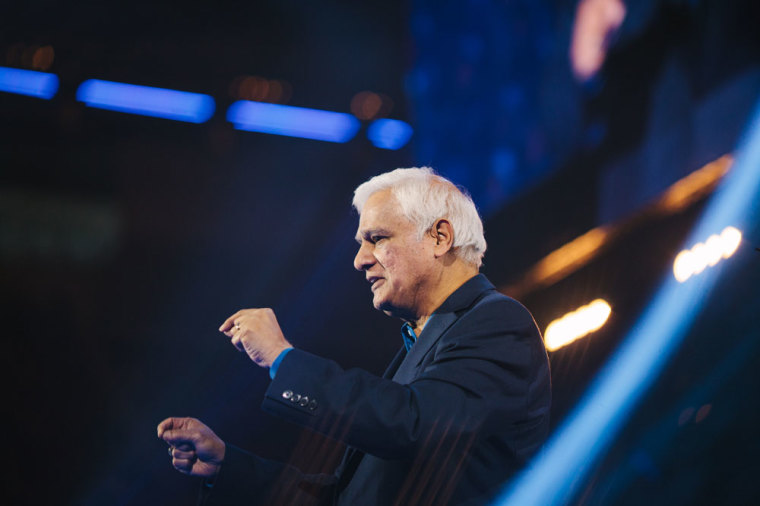 Ravi Zacharias, the prominent Christian apologetics author and speaker, died Tuesday at the age of 74 following a battle with a rare form of cancer.
Zacharias' daughter, Sarah Davis, posted a message on the website of Ravi Zacharias International Ministries on Tuesday, titled "Ravi Zacharias, Now With Jesus," confirming that the apologist had passed away.
"It was his Savior, Jesus Christ, that my dad always wanted most to talk about. Even in his final days, until he lacked the energy and breath to speak, he turned every conversation to Jesus and what the Lord had done," she wrote.
"He perpetually marveled that God took a seventeen-year-old skeptic, defeated in hopelessness and unbelief, and called him into a life of glorious hope and belief in the truth of Scripture—a message he would carry across the globe for 48 years."
Davis noted that details about a public memorial for her father were pending, with a request added that those interested in sending flowers instead give to the work of RZIM.
"Today my beautiful father is more alive than he has ever been. We thank God for him and recommit our lives to sharing this truth with all who will hear, until He calls us to our eternal home," Davis added.
Background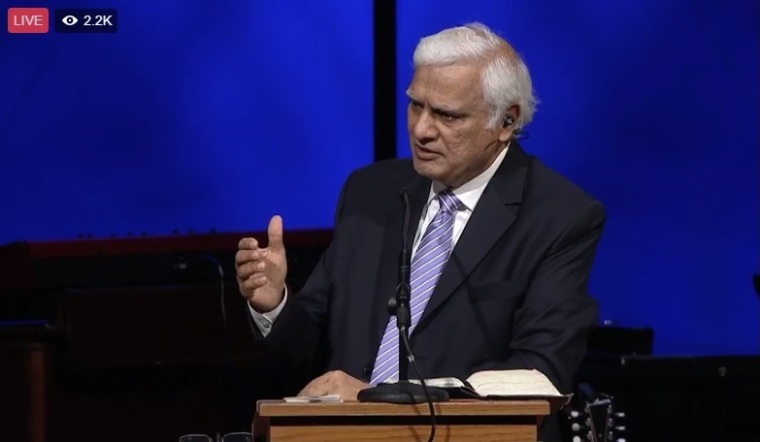 Zacharias was born on March 26, 1946, in India. While raised in a Christian home, Zacharias considered himself a religious skeptic until age 17 following a suicide attempt.
While hospitalized following the attempt, Zacharias was visited by a Youth for Christ director who gave him a Bible. He heard the verse John 14:19 read: "Because I live, you also will live."
"This verse has become the cornerstone of Zacharias' ultimate mission as a Christian apologist and evangelist: to present and defend the truth of Jesus Christ that others may find life in Him," recounted Ravi Zacharias International Ministries.
"Zacharias' calling to preach was first confirmed when he was awarded the Asian Youth Preacher Award at the international Youth Congress in Hyderabad at the age of nineteen."
Apologetics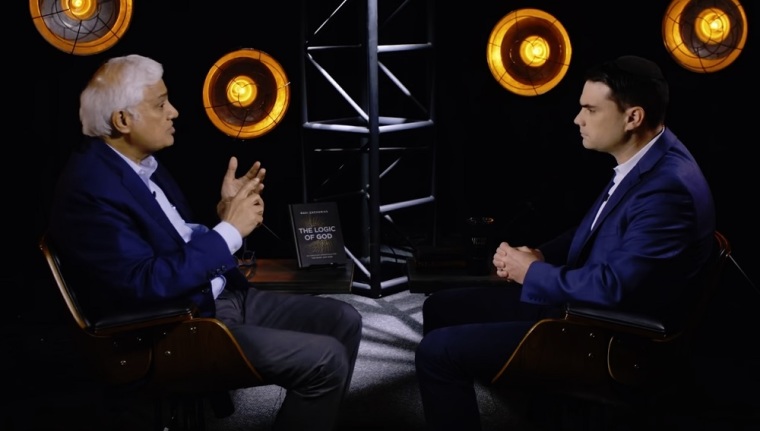 In 1980, Zacharias was ordained by the Christian and Missionary Alliance and founded Ravi Zacharias International Ministries in 1984. He launched an apologetics training center in 2017.
For its part, RZIM boasts 16 offices across the world and around 200 employees, which include 80 apologetics speakers, both in full-time and adjunct roles.
Zacharias was a prolific radio personality, having a weekly program called "Let My People Think" that was carried by an estimated 2,000 outlets in more than 30 countries.
He often gave apologetics speeches at universities, churches, and other gatherings across the United States and abroad, including in Eastern Europe following the fall of the Berlin Wall.
He also participated in the World Summit in Defense of Persecuted Christians in Washington, D.C., 2017; the National Prayer Breakfast in Ottawa, Canada in 2015; First Annual Prayer Breakfast for African Leaders, Mozambique in 2003; and Annual Prayer Breakfast at the United Nations, New York on multiple occasions.
In 2004, he spoke at a major dialogue event between Protestants and the Church of Jesus Christ of Latter-day Saints, which had an estimated 7,000 people in attendance.
His participation garnered some negative feedback among evangelicals concerned that he was endorsing Mormon theology, but Zacharias responded that he wanted to "graciously build one step at a time in communicating our faith with clarity and conviction" rather than to simply condemn certain LDS Church teachings.
Books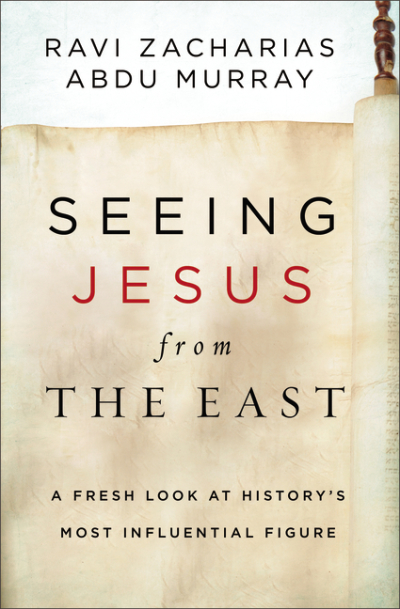 In addition to his radio programs and many speaking engagements, Zacharias also authored several books on a myriad of Christian apologetics topics.
His first book, titled A Shattered Visage: The Real Face of Atheism, was originally released in 1990 by Wolgemuth & Hyatt and was later updated and rereleased.  
Other titles includeJesus Among Other Gods: The Absolute Claims of the Christian Message (2000), The Lotus and the Cross: Jesus Talks with Buddha (2001), Light in the Shadow of Jihad: The Struggle for Truth (2002), The Lamb and the Fuhrer: Jesus Talks with Hitler (2005), New Birth or Rebirth: Jesus Talks to Krishna (2008), and The Logic of God: 52 Christian Essentials for the Heart and the Mind (2019), among others.
In his 2012 book Why Jesus? Rediscovering His Truth in an Age of Mass Marketed Spirituality, Zacharias argued that Americans have been made susceptible to harmful new age spiritual ideas because of mass media, like through television personalities Oprah Winfrey and Deepak Chopra.
"Mystics, spiritual masters all are in the lineup to give the viewer the feeling that she who has become all but deified in their eyes can now make each viewer just like them," wrote Zacharias in the book.
"It is a long way from the wanderings of a Buddha or the sacrifice of the Son of God, but it has eye appeal in a time in history when gullibility is king and riches control appetite."
Later controversies
In November 2017, atheist blogger Steve Baughman had a lengthy piece posted on the website Ordinary Times arguing that Zacharias had long misrepresented his academic credentials.
"Since the early 1980's, Ravi Zacharias has assertively referred to himself as 'Dr. Zacharias' and represented himself as holding multiple doctoral degrees," wrote Baughman.
"But Ravi Zacharias has never so much as enrolled in a graduate level academic program, much less completed a doctoral program. He has a Bachelor's degree and a non-academic Master of Divinity degree, both from obscure religious institutions … and has racked up numerous 'honorary doctorate degrees' over the years from supportive Christian schools."
In response, RZIM released a statement noting, among other things, that some outside entities have accidentally misrepresented Zacharias' credentials and that it is common for individuals with honorary degrees to be known as "Dr."
"Currently, eleven RZIM team members have earned doctorates. Ravi is not one of them, nor has he ever claimed to have an earned doctorate," stated the ministry.
"In earlier years, 'Dr.' did appear before Ravi's name in some of our materials, including on our website, which is an appropriate and acceptable practice with honorary doctorates. However, because this practice can be contentious in certain circles, we no longer use it."
Around the same time, details surfaced of a married woman who accused Zacharias of engaging in an illicit emotional relationship after meeting her and her husband at an event in Canada in 2014.
The couple claimed that Zacharias had used his spiritual authority to manipulate the woman, who sent him illicit images of herself.
Zacharias denied the allegations, claiming that she and her husband were purposely trying to place him in a morally compromising situation.
In March 2018, following an investigation, the Christian and Missionary Alliance announced that they were not going to remove Zacharias' credentials, as they found the allegations unmerited.
"While it is not appropriate to publicly discuss the nuances of these allegations, the available evidence does not provide a basis for formal discipline under the C&MA policy," stated the Alliance.
Final months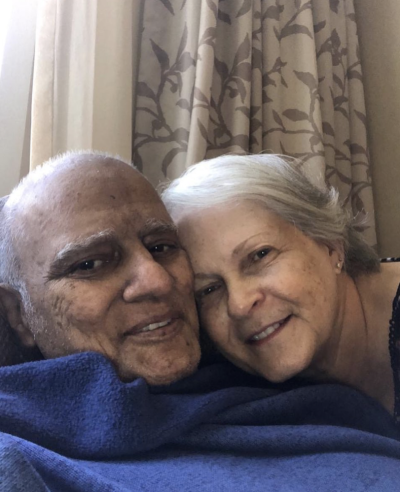 In March, Zacharias was diagnosed with a rare form of bone cancer called sarcoma, which was found a few weeks after he had undergone back surgery.
"They will wait until I am fully healed from the back surgery, and in 4-5 weeks, will begin treatment to shrink the tumor," stated Zacharias at the time. "We are trusting the Lord in this, and we believe we have already seen evidence of His hand."
On May 8, Sarah Davis, CEO of RZIM and Zacharias' daughter, announced on social media that the chemotherapy was not successful in eliminating the cancer where it had metastasized.
"His oncologist informed us that this cancer is very rare in its aggression and that no options for further treatment remain. Medically speaking, they have done all they are able," she explained.
"While we are full of so many emotions, we are also at peace, resting in the truth that God knows all and sees all and is sovereign and good."