NY Jets Brandon Marshall Flagged for Praying?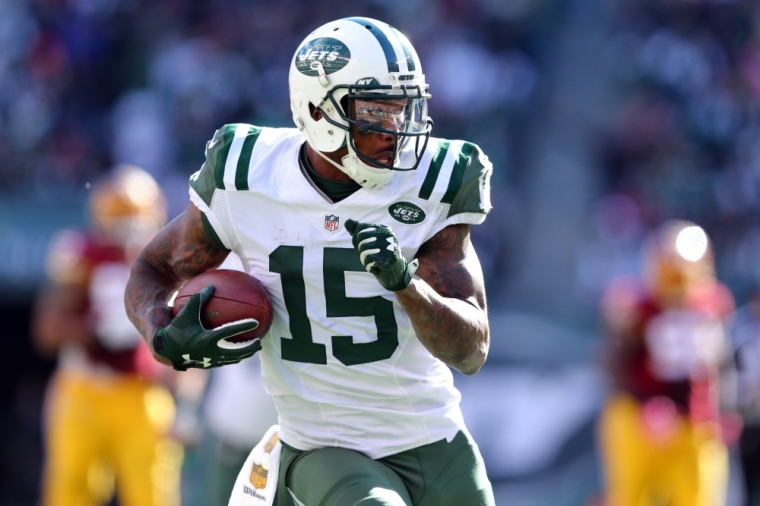 New York Jets wide receiver Brandon Marshall almost got penalized for praying after scoring a touchdown during last Sunday's game against the Washington Redskins.
During the 34-20 win against the Redskins, 31-year-old Marshall scored a touchdown that resulted in him dropping to his knees in prayer. When a referee caught the wideout performing the act, he almost received a penalty flag.
"Sunday, I score a touchdown and I fall to the ground and I put my hands up and I pray, like I always do," Marshall said during an interview on Showtime's "Inside the NFL."
"The ref comes to me and said, 'Brandon, that's a celebration. I can throw a penalty on you. Were you praying? Because if you weren't, we're going to have to throw that flag.'"
Marshall was stunned to learn that he could be flagged for such a move, and insisted that he was doing nothing more than praying.
"I've been doing it for three years," Marshall said.
In the NFL, it is considered unsportsmanlike conduct if a player falls to the ground to celebrate his touchdown. The exception to this rule is falling to the ground in prayer.
In recent years, Marshall has boldly proclaimed his faith, speaking about receiving a spiritual epiphany after being diagnosed with a borderline personality disorder in 2011. ESPN's "First Take" host Skip Bayless has even spoken publicly about Marshall's spiritual growth.
"I have said many times on the show that you have undergone a spiritual conversion which I believe to be genuine," Bayless said to Marshall during a 2012 interview  "I think that conversion saved, effectively, your life. Saved you from yourself. Yet in a phone conversation with Stephen A. your Evangelical Christianity became a big part of the conversation."
Bayless' Christian co-star Stephen A Smith admitted that he felt Marshall was doing too much preaching. Still, the previous Chicago Bears wide receiver defended himself.
"Biblically, it says: 'as iron sharpens iron, so does one man sharpens another. Christianity is a lifestyle. We have to live in accordance of the Word," Marshall previously told Smith on "First Take." "That's the only way to live, to align ourselves with the teachings in the Bible. And when we do that, you know, you'll see I Corinthians 13-13, God illustrates what love is, and if we perfect our love we're in accordance with all of his commandants ..."
In the 2012 interview, Marshall then went on to speak against the way the "First Take" hosts were negatively speaking about Christian quarterback Tim Tebow.
"It would be hard for you if you were filled with the spirit to go on there and talk about Tebow like you do. I told you it's OK for you to say, 'You know what, Tim Tebow, I do not think he's the best quarterback,'" he said. "But when you say, 'Tim Tebow is garbage. Tim Tebow is this.' And you're just tearing down and destroying, as Christians, we're charged to bring life to each other. We're charged to ..."
After a history of arrests, Marshall said he has now found purpose in his life as a Christian speaking positively for others with mental disorders.
"Before this ordeal I kept asking God to show me my purpose. He gave me this," Marshall said in 2011. "I'll be the face of BPD. I'll make myself vulnerable if it saves someone's life because I know what I went through helped save mine."