NYPD Investigates as Megachurch Pastor's Ex Says She Was Threatened With Blackmail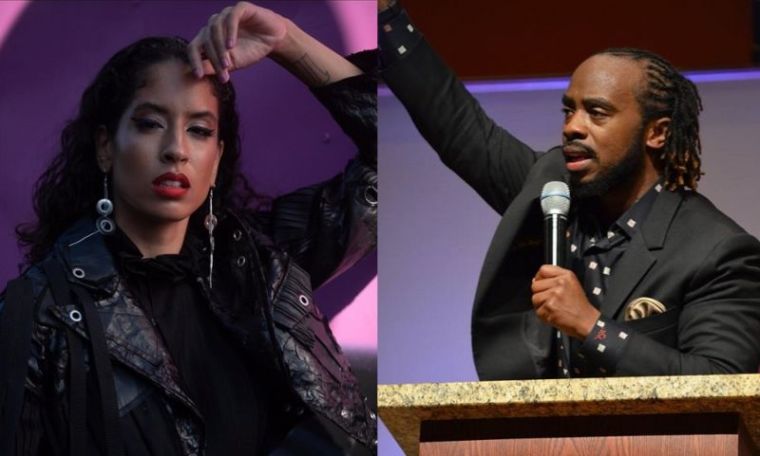 NEW YORK — The New York City Police Department confirmed Wednesday that detectives are investigating a complaint filed by 29-year-old model Andrea Garrison who alleges she was threatened with blackmail unless she recants certain claims about a sexual relationship she had with Bishop Victor Couzens, leader of the 5,000-member Inspirational Bible Church in Cincinnati, Ohio.
"There is a complaint report for aggravated harassment on file. Investigation ongoing by the 52 Precinct detective squad," the NYPD's Office of the Deputy Commissioner, public information, said in a statement to The Christian Post.
Aggravated harassment is a class A misdemeanor, punishable by up to one year in jail if convicted.
Garrison, who is one of several women who have publicly said they engaged in long-term sexual relationships with Couzens, told The Christian Post that Couzens might also face charges for making explicit videos of her without her consent.
The model, who is the only one of the pastor's lovers to make her identity public, said up until about three weeks ago, she had planned to move in with the preacher but was blindsided when she learned he was engaged to another woman and tried to lie about the nature of their relationship online.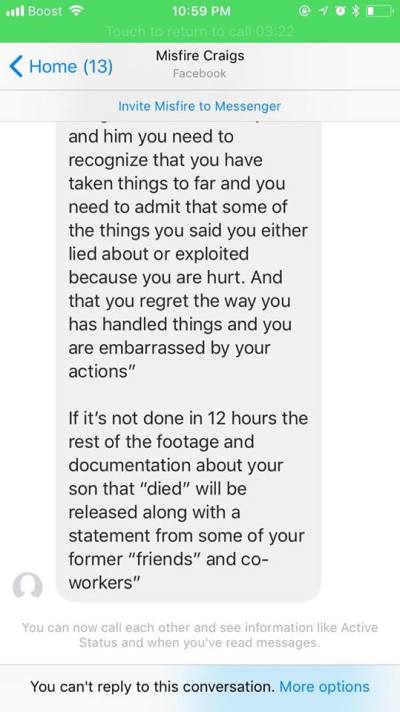 Garrison shared screen shots of an explicit video with CP that she says was sent to her on social media at about noon on Tuesday. The images were accompanied by a threat to make the recording of her public unless she recanted certain statements about the bishop.
"You need to recognize that you have taken things too far and you need to admit that some of the things you said you either lied about or exploited because you are hurt. And that you regret the way that you handled things and you are embarrassed by your actions,'" the threat said.
"If it's not done in 12 hours the rest of the footage and documentation about your son that 'died' will be released along with a statement from some of your former 'friends' and co-workers," the message ended.
Garrison, who says she has retained an attorney, told CP that the recording appears to have been made in Couzens' bedroom but insists she never gave him consent to make any explicit recordings of their time together.
She further noted that she is refusing to recant her public statements because nothing she has said about the preacher is untrue.
"I had to go and get an extra phone because he (Couzens) leaked my phone number and my address on the internet," Garrison alleged. "I have been getting calls, he gave my number to just random people. He gave my number to his family. His family has been calling me [asking] 'what is it that you want?' And why don't you just stop.
"At this point, I didn't do anything. He's now blackmailing me to change my statement. I'm not changing my statement. If I had something to hide or had something to come out in the press that would make me look so terrible I don't think I would be going this far," she said.
"One of the officers asked me why don't you just apologize and change your statement. I said, 'That's not fair to me. Why do I have to lie? Why do I have to be him? Why do I have to go on the stand in front of everybody and say that I lied when I really didn't, just because he don't want his reputation ruined? No!'" she said defiantly. "That's not fair to me. I'm not changing my statement. If he wants to leak the tape, let him. Then the FBI is gonna be involved."
Couzens has served as the senior pastor of Inspirational Bible Church since July 2000. He previously held many high-profile positions such as the role of third vice president of the National Baptist Convention USA, Inc. – Young Pastors and Ministers Division.
He has also been a recipient of the Ohio Humanitarian Award presented by former Gov. George Voinovich, a member of the Governor's Task Force on welfare reform, and a community liaison concerning nonviolence. Couzens further served as a member of the Northern Kentucky University African American Advisory Board, the Springfield Township Strategic Planning Committee, National Heritage Advisory Board, and has been a host and co-host on The Word Network.
As chatter about his lifestyle exploded online, Bishop Paul S. Morton, founding presiding bishop of The Full Gospel Baptist Church Fellowship International which encompasses some 5,000 churches which included Inspirational Bible Church – City of Destiny, confirmed on Saturday that his "spiritual son" had "multiple" sexual relationships that had concerned him. He apologized to the women affected by Couzens' behavior and said the pastor had resigned from a leadership role in the organization. Morton also noted in an earlier statement that Couzens had promised to step down as pastor of his church.
"I was recently made aware of a situation involving one of my spiritual sons, Bishop Victor Couzens, being involved in multiple relationships that caused me concern. I spoke with Bishop Couzens about his actions as they were not in alignment with the level of character I expect of pastors, especially one that is my spiritual son. He has repented and tendered his resignation as the Bishop of College of Elders of Full Gospel Baptist Church Fellowship," Morton said in a statement.
A source told CP that they were informed that Couzens' church was also no longer a part of The Full Gospel Baptist Church Fellowship International organization.
When asked on Wednesday morning if Inspirational Bible Church – City of Destiny is still a part of The Full Gospel Baptist Church Fellowship International, a representative from the organization said: "You need to call the church. We don't have any comment with any of that. We don't have anything to do with that."
Tracy Lee, an elder at Inspirational Bible Church – City of Destiny who also serves as executive administrator, declined to comment on Garrison's allegations as well as Inspirational Bible Church's relationship with the Full Gospel organization.