NYT Columnist Argues Porn Should Be Banned; Some Ask If That's Even Possible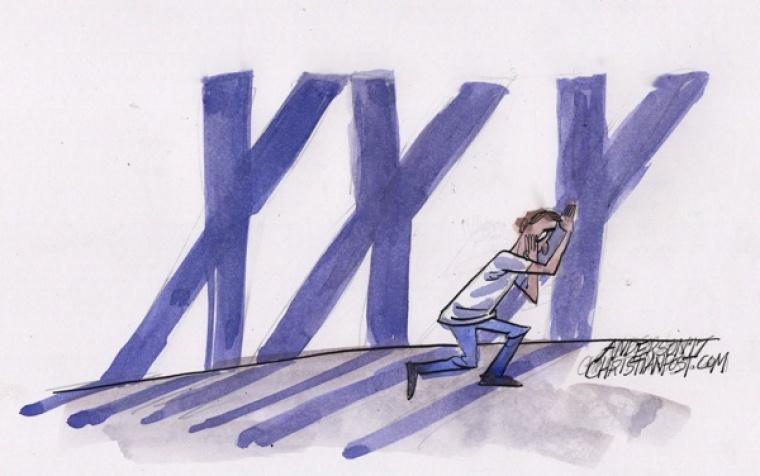 A conservative New York Times columnist has set off a debate following a column he wrote in which he suggested the United States ban pornography, an idea he says makes sense, especially given the #metoo movement.
Ross Douthat's column, "Let's Ban Porn" which appeared Saturday in The New York Times, explained how hardcore, sexually violent porn now functions as an instruction guide for many young people, especially young men, when it comes to sex.
Despite how liberal idealists have considered themselves as enlightened ones pushing sex education efforts to ensure safety and equal pleasure for everyone, he argued, they have taken for granted the world that porn aggregator websites like Pornhub have created. And that porn-saturated world is all but impossible to avoid, he said; educators are now teaching "porn literacy" classes — a subject featured in a lengthy Feb. 7 profile in The New York Times — so students can know that certain kinds of porn are indeed inappropriate.
"[W]e are supposed to be in the midst of a great sexual reassessment, a clearing-out of assumptions that serve misogyny and impose bad sex on semi-willing women," Douthat opined, alluding to the #metoo movement and the recent slew of sexual misconduct allegations against influential men.
"And such a reassessment will be incomplete if it never reconsiders our surrender to the idea that many teenagers, most young men especially, will get their sex education from online smut."
He went on to describe the harmful effects of porn on society and decried the notion that it ought not be restricted as mistaken, stressing that we should not have to accept enslavement to our screens as technology continues to develop.
"That we cannot imagine such censorship is part of our larger inability to imagine any escape from the online world's immersive power, even as we harbor growing doubts about its influence upon our psyches."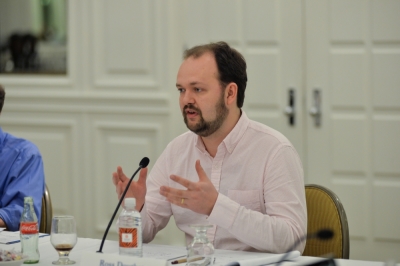 Reason magazine, a libertarian publication, argued Monday that an outright ban is unworkable from a criminal justice standpoint, that even if a legal restriction somehow succeeded in reducing overall porn viewership, a black market would likely emerge that would skillfully evade detection from law enforcement.
The Week's senior writer, Damon Linker, who once wrote for Christian journal First Things, argued Tuesday that Douthat's column is an indication that the Religious Right is no longer pursuing ambitious goals. Americans, quite simply, like and use pornography too much to even consider regulating, much less banning it, he said.
"Short of a widespread revival of conservative religious piety (like the one that preceded and inspired the push for Prohibition in the early decades of the 20th century), it's hard to imagine any set of circumstances that would lead large numbers of Americans to pine for the state to protect them from exposure to images of other human beings engaged in sex acts — just as it grows more unlikely with every passing year that the rising tide of support for gay marriage will reverse itself."
"Outright atheism is still relatively rare in the United States, but a generally libertarian outlook on sexual morality isn't at all."
Meanwhile, reaction from the left-wing corner of the internet was incredulous and spurned the idea of restricting smut. 
Alternet mocked Douthat's call for a porn ban, snarking, "Yes, it appears he is serious."
"Even in the age of Trump, with a president accused of paying hush money to a porn star to hide an affair, conservatives continue to find ways to shame sex and embrace censorship."
Similarly, Slate predicted that, "thank goodness," the United States would never ban porn since it violates free speech laws which give "adult-media makers a wide berth to create and disseminate to consenting adults nearly any pornographic content they can dream up," and because "many, many, many people watch it." The article further accused Douthat of patronizing the #metoo movement and maintained that under ethical circumstances porn can be beneficial and that banning it would "do more harm than good."
Past anti-porn efforts have not produced many results legislatively, though in recent months some state governments have moved to declare that pornography constitutes a public health crisis in light of its addictive effects on the brain and its links with sex trafficking and increased domestic violence.
Last week, the Kansas state Senate resolved that porn is a public health hazard and was summarily ridiculed by outlets like The Huffington Post, which claimed the legislature arrived at their conclusion using "fake science."
Yet the editorial board of Kansas City Star defended the legislative body in an article Monday, which praised Douthat's column, asserting that "we need to at least examine the kind of commercial regulation that we use to limit tobacco and alcohol use, and that at least reduces consumption by kids" when it comes to porn.
While the resolution went too far in drawing lines between porn and other social ills, the editorial board continued, if readers do not think its consumption, as the resolution establishes, "'perpetuates a sexually toxic environment' or 'often serves as a child's and a teen's sex education and shapes their sexual understanding' or 'treats women and children as objects,' then perhaps you're purer of such exposure than Kansas lawmakers.
"But you're also wrong."