Obama Bypasses Congress on Immigration Reform: 5M Illegal Immigrants Given Temp Legal Status But No Pathway to Citizenship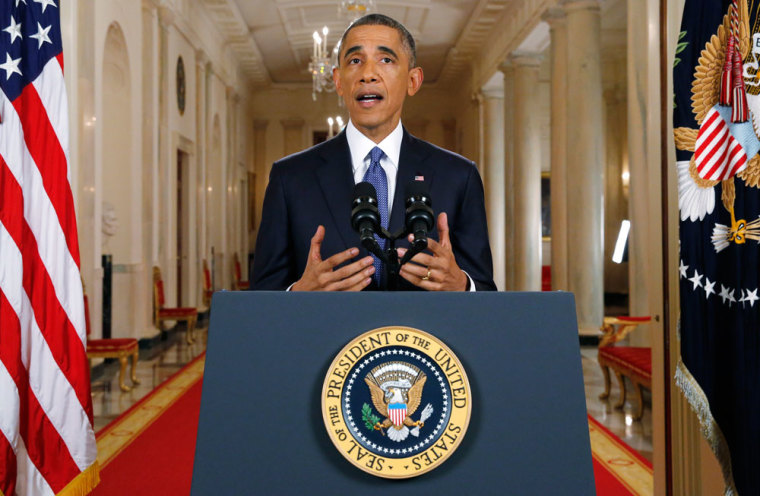 President Barack Obama announced in an address Thursday evening that his executive order on immigration will focus on deporting illegal immigrants with a criminal background, and said that it is not realistic to deport all illegal immigrants in the U.S. He will instead offer temporary legal status to parents of American children and to more "DREAMers," children who entered the country illegally with their parents but have been raised in the U.S., which could affect up to 5 million immigrants, effectively protecting them from deportation.
"If you've been in America for more than five years; if you have children who are American citizens or legal residents; if you register, pass a criminal background check, and you're willing to pay your fair share of taxes – you'll be able to apply to stay in this country temporarily, without fear of deportation. You can come out of the shadows and get right with the law," Obama explained.
"That's what this deal is. Now let's be clear about what it isn't. This deal does not apply to anyone who has come to this country recently. It does not apply to anyone who might come to America illegally in the future. It does not grant citizenship, or the right to stay here permanently, or offer the same benefits that citizens receive – only Congress can do that. All we're saying is we're not going to deport you," he continued.
The president insisted that America has been tightening its borders, and noted that deportations of criminals have gone up by 60 percent over the past six years. He said that enforcement resources will continue being focused on people who are actual threats to American security.
"Felons, not families. Criminals, not children. Gang members, not a mother who's working hard to provide for her kids. We'll prioritize, just like law enforcement does every day," Obama said.
"But even as we focus on deporting criminals, the fact is, millions of immigrants – in every state, of every race and nationality – will still live here illegally. And let's be honest – tracking down, rounding up, and deporting millions of people isn't realistic. Anyone who suggests otherwise isn't being straight with you."
Obama also stated that the executive order will seek to tighten the flow of people illegally coming into the U.S., and make it faster for highly skilled legal immigrants to stay and contribute to the economy.
Republicans have strongly opposed Obama's move to reform the immigration law without Congress, calling it unconstitutional. Kentucky Sen. Mitch McConnell, who is set to take over as majority leader in January in the new congressional class, warned the president that there will be consequences for such action.
"If President Obama acts in defiance of the people and imposes his will on the country, Congress will act," McConnell said ahead of the primetime address.
House of Representatives Speaker John Boehner added: "The president has said before that 'he's not king' and he's 'not an emperor,' but he sure is acting like one."
In his speech, Obama argued that his executive action is indeed lawful, and consistent with actions taken by recent Republican and Democratic presidents.
"And to those Members of Congress who question my authority to make our immigration system work better, or question the wisdom of me acting where Congress has failed, I have one answer: Pass a bill," Obama stated. "I want to work with both parties to pass a more permanent legislative solution. And the day I sign that bill into law, the actions I take will no longer be necessary."
Some legal organizations, such as the American Center for Law & Justice, responded to Obama's announcement by calling the executive order an "unconstitutional power grab of historic proportions."
"The President is changing the law by executive fiat – something that he does not have the power to do. By granting substantive rights such as work permits the President is exceeding his authority – a move that is unconstitutional and violates the rule of law," said Jay Sekulow, chief counsel of the ACLJ.
"While we support comprehensive immigration reform – which must begin with border security – such immigration reform must be done lawfully and with the participation of Congress. We're now discussing options with members of Congress – including the possibility of litigation – to challenge the President's unconstitutional action."