Obama Creates 'Constitutional Anarchy' With 'Obamacare' Changes, Says Michele Bachmann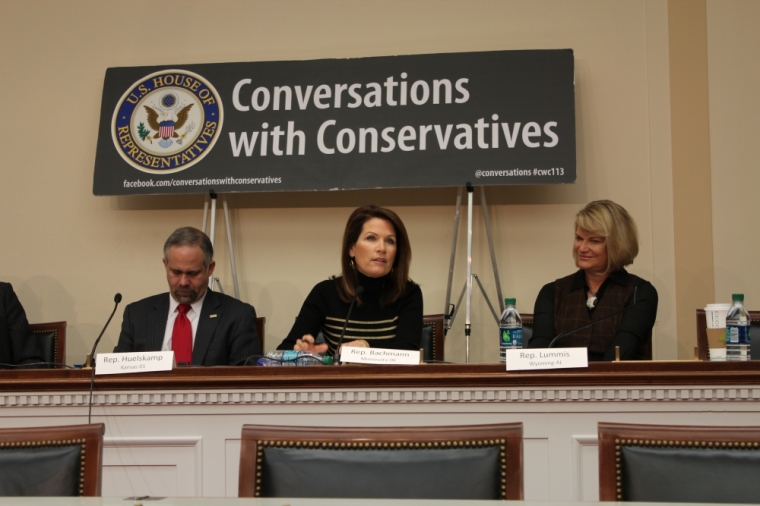 WASHINGTON – Congresswoman Michele Bachmann (R-Minn.) accused President Obama of causing "constitutional anarchy" similar to former Egyptian President Mohammed Morsi, by constantly changing the Affordable Care Act, or "Obamacare," as it is being implemented. She and other conservative Republicans presented alternatives to Obamacare at a Wednesday panel hosted by The Heritage Foundation.
"Obamacare is being played out in exactly the way the activist courts deal with the Constitution — Obamacare is this living law that no one knows what it means, and whatever the President says at a press conference or in a tweet reveals what's in the law," former presidential candidate Bachmann declared. This process of "legal constitutional anarchy" is much like former Egyptian President Mohammed Morsi declaring that "whatever he said was law," the Congresswoman argued.
When asked about the plans for a House Republican retreat at the end of January, Ohio Congressman Jim Jordan laid out four broad categories — a Republican alternative to the Affordable Care Act, tax reform, welfare reform, and privacy.
Republican Alternatives to Obamacare
"What's our alternative to this terrible thing called Obamacare?" Jordan asked.
"This is the time for Republicans to lead," Wyoming Congresswoman Cynthia Lummis declared. Lummis praised her colleagues for raising the importance of a general vision for the party, but encouraged them to do more as well — "I want to see us devote considerable floor time to implementing that vision." She called for a debate on the Republican Study Committee's healthcare bill on the floor of the House.
At the event, the members of Congress suggested conservative alternatives to Obamacare. Reform ideas included a return of control over Medicaid to the states, an abolition of federal requirements for health plans individuals can purchase, the ability to purchase health plans across state lines, and a liability shield for doctors who want to provide care to the poor for free.
When asked what the conservative alternative to Obamacare would be, Kansas Representative Tim Huelskamp mentioned many proposals which have never made it to the house floor. "How do you set a vision, much less make it a reality, if you don't actually bring the bills to the floor?" Huelskamp asked. He suggested giving control of Medicaid back to the states, and encouraged a debate on healthcare reforms.
Bachmann called Obamacare "the greatest illustration we could possibly have of what doesn't work." Mentioning a new social media network that allows users to send pictures which disappear after a short time, the Congresswoman called Obamacare "the healthcare version of Snapchat — now you see it, now you don't." She criticized President Obama for promising more than he could deliver and then letting those promises fade away.
Bachmann argued for less federal control of the healthcare system. "Let any American buy any health insurance policy they want … with no minimum federal requirements," the congresswoman suggested. This reform would "give you complete innovation in the health insurance industry, and you get the highest quality at the lowest possible price to the greatest number of people."
Bachmann also suggested a governmental liability shield, to protect doctors who want to provide free healthcare for poor people. "People are in healthcare because they love people, they care about people, they're healers," Bachmann insisted. She called for legal protection for any doctor or drug manufacturer who wants to provide for the poor.
Maryland Congressman and physician Andy Harris explained that, contrary to President Obama's assertions, Republicans do not want a "return to the status quo" before Obamacare. He supported the "American Health Care Reform Act of 2013," which would include many new reforms.
"We didn't have individual tax deductibility before," or "a level playing field between corporations and individuals buying health insurance," or "purchase across state lines," each of which a Republican bill calls for. Even more than these reforms, however, Harris insisted that Americans should oppose President Obama's proposal to "bail out huge, large insurance companies that get between you and your doctor."
Oklahoma Gay Marriage Bill
When asked about the Oklahoma ban on gay marriage struck down by a federal judge on Tuesday, Texas Representative Louie Gohmert said gay marriage is "a state issue, and it's up to the states to decide, according to the Supreme Court."
"This is not about a legal agenda, this is about a political agenda," Bachmann declared. She argued that President Obama's decision not to defend the federal Defense of Marriage Act is contrary to the spirit of the Constitution. "We've completely gone askew from what the Founders bled and died and fought for," she lamented, calling for a limited government under the Constitution, not the President's whim.
More Conservative Issues for the Republican Retreat
In addition to the Republican alternative to Obamacare, Representative Jordan suggested tax reforms aimed at improving "the environment for job creation and job growth."
Jordan also advocated for welfare reform. "Let's actually help the poor," he urged, mocking the thirteenth extension of unemployment compensation benefits in five years. "The first twelve didn't work, but the thirteenth one, that'll be the magic one that will actually fix things," the Congressman quipped. Jordan joined a new Republican effort to focus on poverty issues, led by Florida Senator Marco Rubio and others whom The Christian Post has dubbed "The New Populists."
"It is hard being poor in this country," Congresswoman Lummis declared. She explained how poor, single women in New York City have to travel from agency to agency just to receive government benefits. "It is like a full-time job to be poor in Harlem, and that's unconscionable," Lummis proclaimed. While the government needs to streamline services to the truly poor, she also argued that it needs to "weed out of the safety net those who have lost their way in the cultural dignity of work."
Finally, Jordan mentioned the issue of privacy. "Americans are a little nervous about their government watching everything they do — they want to protect this country, but they're nervous about that too," he explained.
Also mentioning the issue of privacy, Michigan Representative Justin Amash called for Republicans to focus on two issues, "ending corporate welfare and protecting civil liberties."