Obama Widens Lead Over Romney in Crucial Battleground States, Polls Find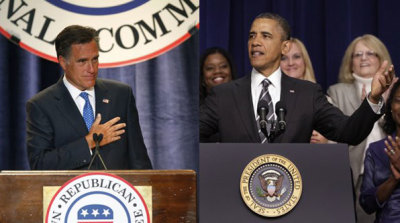 New polls in three swing states show President Barack Obama leading over Republican challenger Mitt Romney by nine to 12 points. However, the former Massachusetts governor says the results do not worry him too much.
No Republican has won the presidency without winning Ohio, where both Obama and Romney campaigned Wednesday. In the battle for the state's 18 electoral votes, the Quinnipiac/CBS News/New York Times poll released early Wednesday puts Obama at 53 percent and Romney at 43 percent among likely voters. That's up from the president's 50 percent to 44 percent lead in a similar poll released last month.
In Florida, which has 29 electoral votes, the survey shows the president leading the Republican candidate 53 percent to 44 percent among likely voters. In Pennsylvania, which has 20 electoral votes, the poll indicates Obama at 54 percent and Romney at 42 percent.
A CNN Poll of Polls that averages five surveys, all conducted after last week's release of secretly recorded video of a May fundraiser, shows the president at 51 percent and Romney at 44 percent among likely voters in Ohio. In Florida, it puts Obama at 50 percent and Romney at 45 percent. In Pennsylvania, it puts the president at 51 percent and Romney at 41 percent.
The video showed Romney saying at a Florida fundraiser, "There are 47 percent of the people who will vote for the president no matter what. All right, there are 47 percent who are with him, who are dependent upon government, who believe that they are victims."
In his campaign events on Wednesday, Obama told supporters that a candidate who calls half the nation "victims" was unlikely to be of much help.
However, the wide difference between Obama and Romney is not just a result of the release of the video, said Peter A. Brown, assistant director of the Quinnipiac University Polling Institute. "In Ohio and Florida, votes are basically split down the middle on whether the country and they and their families are worse or better off than they were four years ago."
Brown added that if voters don't think they are worse off, "it is difficult to see them throwing out an incumbent whose personal ratings with voters remains quite high."
Romney doesn't seem too concerned about the polls, though, saying he is "pleased with some polls, less so with other polls." "Frankly at this early stage, polls go up, polls go down," he said in an interview with ABC's David Muir on Wednesday.
Romney hopes to close the gap in the first presidential debate a week later. "We have a chance during the debate to make our message clear to the American people," he said. "And I'm absolutely convinced that when people see the two of us talk about our direction for America they're going to support me because I know what it takes to make the economy going again, and the president has proven he does not."
The Republican nominee is also counting on national poll results. "I'm tied in the national polls, both Gallup and Rasmussen have the numbers at even," he said. "State by state you've got some advertising going on from the Obama people, which expresses their views on my positions which frankly, I think are inaccurate, and in some cases, dishonest."
President Barack Obama DNC Speech Complete: Romney in 'Cold War Mind-Warp' - DNC 2012