Octomom Nadya Suleman House Foreclosed: Mother and 14 Kids Facing Homelessness?
Octomom Nadya Suleman's house has been foreclosed on, meaning she and her 14 children will soon be without a place to live, barring some sort of miracle. The house was auctioned Tuesday, but no buyers stepped up to purchase the California home.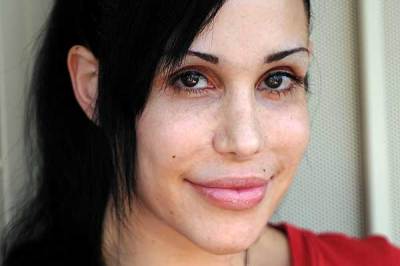 Octomom Nadya Suleman's house, a La Habra, Calif. home with three bedrooms and four bathrooms, had zero bids when it was offered for $355,643, according to KTLA. Despite the price being significantly less than the price at which it was purchased- $565,000- and Octomom's "celebrity," the house had no takers.
The result of the Priority Posting and Publishing auction means the large home, originally purchase by Suleman's father for his daughter two years ago, will go back to the bank. It is currently unknown how long the foreclosure process will take, but is virtually a closed case: Suleman owes $475,000 on the house still, and has only $50,000 in assets, according to her bankruptcy filing.
Although Suleman's father, Ed Doud, originally gave her the first $115,000 down payment on the home and promised $4,000 a month thereafter, he couldn't deliver. Doud couldn't cover the $450,000 balloon payment in March of last year, so Octomom was on her own, according to Gather news.
Suleman isn't the only one in trouble over the unpaid mortgage. Amer Haddadin, who lived in the home for 11 years before selling it to Suleman and Doud, never received the payments, so he could in turn pay the mortgage.
His credit has been "destroyed" because of the fiasco, according to the Associated Press.
Though Suleman and her 14 offspring will eventually be evicted by the bank, she tried to earn money, albeit it in the most unscrupulous of ways. A topless photo shoot, a gig at a strip club, and an adult video all failed to produce the kind of capital she needed.
Suleman currently has debts in excess of over $1 million. It is unknown where she and her children will live, especially since the parents she had previously relied on are now unable to help.
An Inside Look at Octomom's Desperate Situation
'Octomom' Nadya Suleman Files for Bankruptcy