Octomom Stripper Gig Confirmed: 'She Must Be A Little Crazy' (VIDEO)
Representatives for Nadya Suleman have confirmed that the "Octomom" will strip for a weeklong gig in July.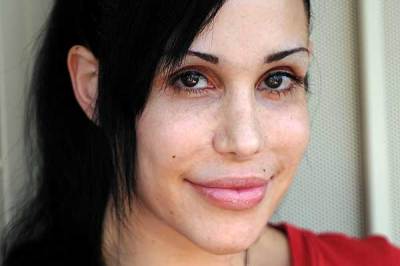 In the most recent announcement, Suleman's representatives have confirmed that she will now take on the lewd gig in order to earn more money and promote her new adult video. Suleman will take the stage in West Palm Beach, Florida at T's Lounge, from July 11 - July 14.
Managers worked to persuade the Octomom to go topless for months, according to CBS News 12.
"She's got a lot of mouths to feed so it was only a matter of time," Michelle, a bartender at the lounge, told CBS. "She must be a little crazy, normal people don't have that many children, but we're all curious."
While the manager admitted that headliners and strip clubs no longer draw much attention, she said that Suleman could be a special case.
"Everyone will come to see her -- it's not just a gentleman's club anymore it's a party place -- it's somewhere to have fun and meet people you wouldn't otherwise get a chance to meet," Stacy told CBS. "I wouldn't say she's going to be experienced when it comes to the polework, but I'll say she's going to be entertaining."
The manager also revealed that Suleman would only be going topless for now, however hoped that "after a couple of shows she gets comfortable and we get to see more."
Nadya Suleman, the famous octuplet mom, who now has 14 children altogether from a single donor, has been desperate to make money in the past few months. After foreclosing on her house and declaring bankruptcy, Suleman considered more drastic ways to find employment options.
The Octomom, who originally said she would never resort to adult entertainment for money, changed her tune last month when she agreed to make an adult film. The announcement came less than a month after the mother of 14 had agreed to pose nude for a magazine cover. Suleman defended her actions by saying that she would do "whatever it takes" in order to support her family.
OctoMom Suing Over Stripper Lies (VIDEO)