Ohio Gov. John Kasich Signs Law Banning Abortion of Down Syndrome Babies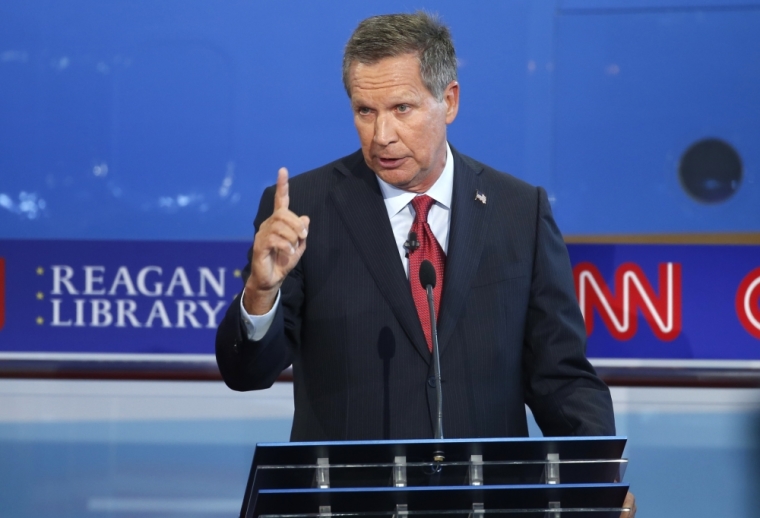 Ohio Governor John Kasich, a Republican, has signed into law a state bill that would ban abortions based solely on a Down syndrome diagnosis.
Gov. Kasich signed the bill, known as the Down Syndrome Non-Discrimination Act, which makes it illegal for a doctor to perform or induce "an abortion on a pregnant woman who is seeking the abortion because an unborn child has or may have Down Syndrome," on Friday.

"Now that the Down Syndrome Non-Discrimination Act is law, unborn babies prenatally diagnosed with Down syndrome are given a shot at life," Mike Gonidakis, president of the pro-life group Ohio Right to Life, said in a statement.
The fourth-degree felony would punish doctors with up to 18 months in prison and a $5,000 fine. Women who break the law would face no penalties.
The American Civil Liberties Union of Ohio has called it a "blatantly unconstitutional bill."
"This bill does nothing to improve the lives of people with disabilities, nor increase their access to health care or other services, nor does it educate a woman and her family about having a child with a disability," Gary Daniels, chief lobbyist for the ACLU of Ohio, said earlier in a statement. "It only further restricts a woman's ability to make a decision about ending a pregnancy."
Sponsored by Republican Reps. Sarah LaTourette, Derek Merrin and Sen. Frank LaRose, the bill was passed 20-12 by the Ohio Senate.
An identical law in Indiana, enacted in 2016, has been blocked by a federal judge, who said the state has no right to limit women's reasons for terminating pregnancies. A similar law in North Dakota went into effect in 2013 and has not been challenged.
A 2012 study published by Prenatal Diagnosis suggests that while termination rates for Down syndrome pregnancies were trending downwards nationally in recent years, up to 85 percent of babies diagnosed with Down syndrome are killed.
The American Center for Law and Justice recently accused the abortion industry in countries like Iceland and Denmark of carrying out "evil eugenics," pointing to very high abortion rates for unborn babies with Down syndrome.
"The abortion industry is once again using abortion to accomplish an evil eugenics agenda worldwide. One nation even claims to have used abortion to eradicate Down syndrome — proudly slaughtering innocent babies," ACLJ said in a statement.
The ACLJ reported that its affiliate, the European Center for Law and Justice, has delivered an oral intervention at the 36th regular session of the U.N. Human Rights Council, speaking out on the plight of unborn children affected with Down syndrome.
The law group warned that the rise of prenatal screening tests across the world has led to Down syndrome people "facing the threat of eradication and some countries, such as Iceland, are on the verge of eradicating all Down syndrome births."
"This systematic elimination of affected children before — or even at birth — is a contemporary form of eugenics and racism," it continued.
The ACLJ said that in Denmark, 98 percent of all unborn children suspected of having Down syndrome are terminated, along with 77 percent in France, and 67 percent in the U.S.