Ohio Gov. John Kasich Rejects Bill Banning Abortions Once Heartbeat Can Be Detected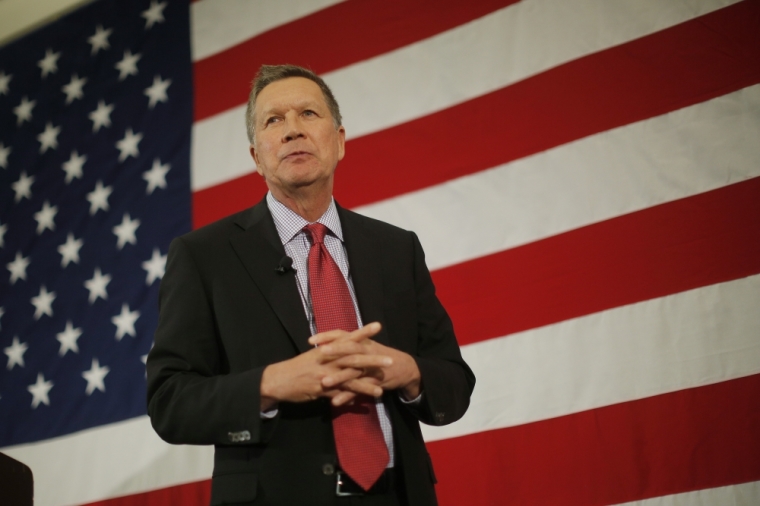 Republican Ohio Gov. John Kasich vetoed a bill Tuesday that would have banned abortions in the state once a fetal heartbeat is detectable, usually around six weeks.
While he believes in the sanctity of human life, in defense of his decision Kasich argued that the bill would have been declared unconstitutional in federal court and a waste of public money.
"As governor I have worked hard to strengthen Ohio's protections for the sanctity of human life, and I have a deep respect for my fellow members of the pro-life community and their ongoing efforts in defense of unborn life. Certain provisions that were amended into Am. Sub. HB 493, however, are clearly contrary to the Supreme Court of the United States' current rulings on abortion," Kasich said in a statement on his decision.
"Similar legislation enacted in two other states has twice been declared unconstitutional by federal judges, and the Supreme Court declined to review those decisions. Because the federal courts are bound to follow the Supreme Court's rulings on abortion, the amendment to Am. Sub. HB 493 will be struck down," said Kasich.
He further added: "The State of Ohio will be the losing party in that lawsuit and, as the losing party, the State of Ohio will be forced to pay hundreds of thousands of taxpayer dollars to cover the legal fees for the pro-choice activists' lawyers. Furthermore, such a defeat invites additional challenges to Ohio's strong legal protections for unborn life. Therefore, this veto is in the public interest."
Kasich signed into law however, a 20-week gestation limit for abortions which pro-life advocates praised.
"On behalf of Ohio Right to Life and our statewide members, we sincerely thank Governor Kasich for his unwavering support for the unborn and our pro-life mission. By signing S.B. 127, the 20-week ban, Governor Kasich will save hundreds of unborn lives each year and he positioned the state of Ohio to directly challenge Roe v. Wade," said Mike Gonidakis, president of Ohio Right to Life in a statement.
"The 20-week ban was nationally designed to be the vehicle to end abortion in America. It challenges the current national abortion standard and properly moves the legal needle from viability to the baby's ability to feel pain," he added.
Reacting to Kasich's decision on the abortion bill however, Planned Parenthood said Kasich is on a mission to make abortion illegal in Ohio and he is using "smoke and mirrors" to do it.
"Don't let John Kasich fool you. He is one of the most extreme anti-abortion governors in this country. Kasich is on a mission to make abortion illegal in Ohio, and he's intent on using smoke and mirrors and backdoor politics to do it," said Dawn Laguens, executive vice president of Planned Parenthood Action Fund, in a statement.
"He may hope that by vetoing a six-week ban – which would have virtually banned abortion with almost no exceptions – he comes off as moderate. But Ohio women see right through this and reject this extreme agenda. The 20-week ban will force women to travel long distances and cross state lines in order to access safe, legal abortion –– a barrier that many women simply cannot afford," she added.
Iris E. Harvey, president and CEO of Planned Parenthood Advocates of Ohio, agreed.
"Every woman has the right to make her own personal health care decisions. Yet, John Kasich and the Ohio state legislature are intent on taking that right away. In his six years as Governor, Kasich has systematically and incrementally enacted law after law to ban abortion in the state," she said.
"The 20-week abortion ban is yet another example. After the passage of the 6-week and 20-week abortion bans, dozens of activists took to the streets –– showing up at John Kasich's house, his office, and all over the statehouse. Thousands more made phone calls, sent letters, and refused to be silent. That won't stop. Women are tired of politicians telling us what to do with our bodies," she noted.