Oklahoma School District Investigates Football Team's Prayer After Atheist Group Complains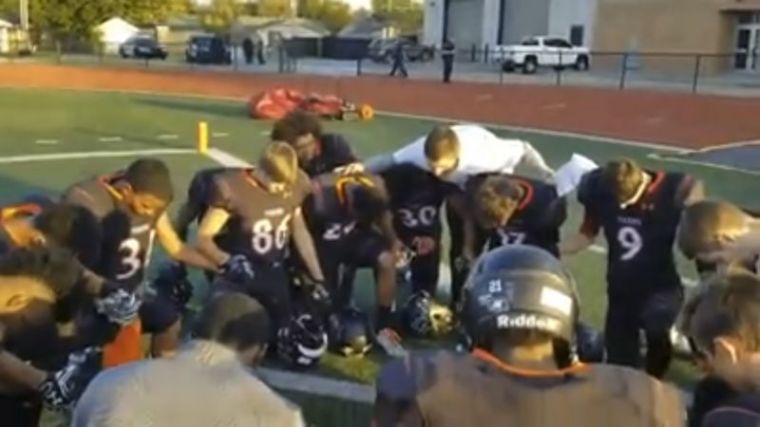 A school district in Oklahoma is investigating a high school football coach after the nation's largest secular legal organization voiced concern that the coach was seen praying with his student athletes before a Nov. 3 game.
Administrators at Norman Public Schools are looking into a complaint issued by the Wisconsin-based Freedom From Religion Foundation, which advocates for a strict separation of church and state.
The Norman Transcript reports that the FFRF complaint came after the Norman High School football team put up a 15-second video on its Facebook page showing what appears to be a team prayer of about a dozen players being led by an assistant coach before the Tigers' game against Edmond Memorial.
FFRF, which regularly pressures school districts to put a stop to football coaches and other school district employees engaging in prayer with students, demanded that the school district investigate the football team. FFRF sent the complaint on behalf of a concerned parent.
"We ask that Norman Public Schools commence an immediate investigation into the complaint alleged and take action to stop any and all staff-led prayers occurring within district athletic programs," the complaint, which was written by FFRF legal fellow Christopher Line, reads. "Please inform us in writing of the steps the district is taking to remedy this serious violation of the First Amendment."
Line's complaint cites a number of Supreme Court cases, including the court's 2000 ruling in Santa Fe Indep. Sch. Dist. v. Doe. The court ruled that school policies allowing student-led and student-initiated prayer over a loudspeaker before the start of football games is unconstitutional.
"There could be a member on the team who doesn't agree with this Christian prayer that goes on, and they're not going to speak out about it," Line said in an interview with KOCO-TV.
Alesha Leemaster, NPS executive director of communications and community relations, told the Norman Transcript last week that the school district is investigating the matter.
Leemaster and Superintendent Nick Migliorino did not respond to The Christian Post's request for an update on the investigation by press time on Monday. An update will be provided if a response is received.
Last month, FFRF issued a similar complaint after John Small, a football coach at East Coweta High School in Georgia, was seen participating in a team prayer before a game.
Due to the FFRF complaint, the Coweta County School System called on its lawyer, Nathan Lee, to issue guidance on prayer in school. The guidance, which was sent to every school in the system, explained that "[r]epresentatives of the school cannot participate in any student initiated/student led prayer or worship while acting in their official capacity."
"The courts have left open little leeway in this area, where the historical context of the employee's actions would not cause the perception of government endorsement, but has not definitely articulated what that would look like," the memo states. "Accordingly, it is best to avoid the perception of government endorsement by all employees refraining from any action that may be perceived as endorsement, silent or otherwise."
"Nevertheless, nothing compels an employee to make their non-participation vehemently obvious or to leave or flee the religious observance or prayer," the memorandum added. "Additionally, an employee is allowed to have supervisory or custodial role in student initiated and run organizations, so long that it is clear that role is custodial."
As Small told CP last week, coaches do not have to "flee" from the scene of a team prayer.
"We are not allowed to be in the middle of it but we have a right to be there with our players. We don't have to flee," Small said. "If my head is bowed, nobody can tell me what I am thinking. I am not leading the prayer. I am there supporting my kids. Whether I am praying or not, nobody can say I am or I ain't."