Olympic Gold Medalist Katie Ledecky: 'I Say a Prayer or 2 Before Any Race'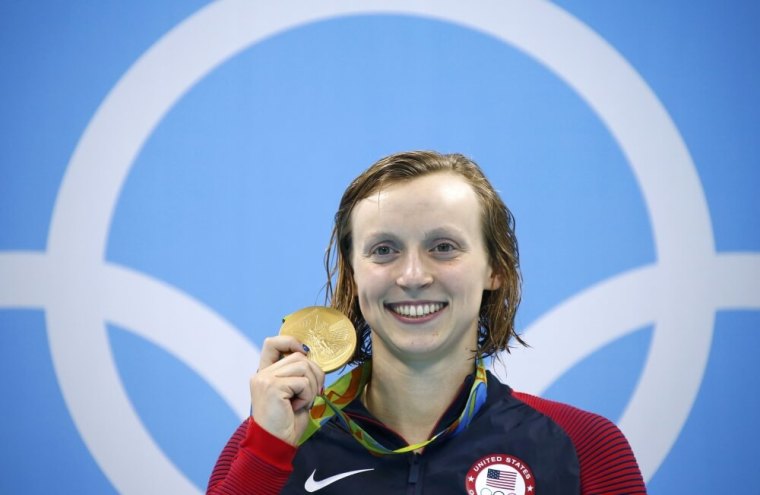 As United States Olympian Katie Ledecky continues to set world records and etch her name in the swimming history books, she doesn't forget to say a prayer before every race.
After Ledecky broke her own world record in the 400-meter freestyle on Saturday, she claimed another victory in the 200-meter freestyle on Tuesday night, setting her up for the chance to become the first woman since 1968 to win the 200, 400 and 800-meter freestyle events in the same Olympics.
Having won the gold medal in the 800-meter freestyle at the London games in 2012 as a 15 year old, Ledecky is the favorite to again take home the gold in the event this Friday.
But as she takes to her block on Friday and attempts to make history again, Ledecky, a Catholic, will likely ask for the intercession of the Blessed Virgin Mary.
"I do say a prayer — or two — before any race," Ledecky said in an interview with the Catholic Standard last month. "The Hail Mary is a beautiful prayer and I find that it calms me."
"Hail Mary full of Grace, the Lord is with thee. Blessed are thou among women and blessed is the fruit of thy womb Jesus. Holy Mary Mother of God, pray for us sinners now and at the hour of our death Amen," the prayer reads.
As the world record holder in the 400, 800 and 1,500-meter freestyles and the American record holder in the 500, 1,000 and 1,650-yard freestyles, Ledecky added that it is her Catholic faith that helps her "put things in perspective."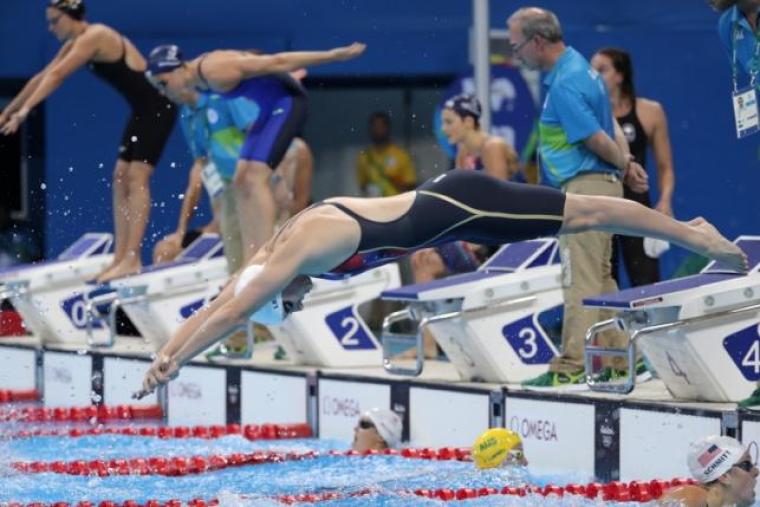 "My Catholic faith is very important to me. It always has been and it always will be," she added. "It is part of who I am and I feel comfortable practicing my faith. "
Having attended Catholic schools all the way from preschool through high school, Ledecky was asked how the things she learned in Catholic schools are translating into her life as an international swimming superstar.
"Having the opportunity to attend academically rigorous schools has facilitated my interest in the world and in serving others, and has enriched my life so that it is not solely focused on my swimming and athletics," she explained. "Nevertheless, going to these schools was important to my swimming — my Catholic schools challenged me, they broadened my perspective and they allowed me to use my mind in ways that take me beyond just thinking about swim practices, swim meets and sports."
Much has changed for Ledecky since she last competed in the Olympics, as she has since graduated from high school at Stone Ridge School of the Sacred Heart and accepted a swimming scholarship to Stanford University. Ledecky said she has gained a "broader view of the world" since the London games.
"I have traveled more internationally. I have competed in two world championships [in Spain and Russia] and in the Pan Pacific Championships in Gold Coast, Australia. It has been fascinating to see other cultures, and to see how sports can serve to link these cultures together, even if just momentarily," Ledecky said.
"An interesting common thread I see is the importance of sports in these cultures, the passion that exists for sports and athletic accomplishment. It is wonderful that sports can have this kind of impact on people, and one can only hope that sports and competition will therefore have a positive impact on how various nations view each other."
"But I also do hope that people in our nation look beyond sports and beyond athletes to find inspiration," she continued. "For example, our country has such brave, dedicated military and service personnel around the world who put themselves in harm's way to protect our nation and other nations — these are true heroes."
Even though Ledecky was victorious in the 200-meter freestyle on Tuesday, she admitted afterwords that she wasn't sure she had won. Additionally, she admits that she nearly vomited in the pool.
"I came pretty close to throwing up the last 50. Everything was hurting," The New York Times quoted Ledecky as saying after the race. "I just had to dig deep. I had no idea whether I had touched first."