Ordination of Atlanta Teen Called to Preach at Age 5 Sparks Debate About 'Needing a Degree to Preach God's Word'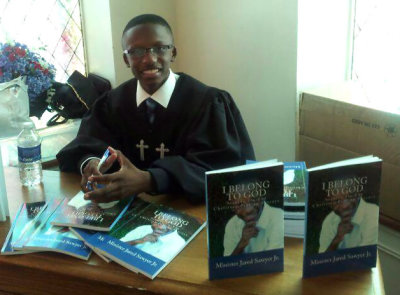 Jared Sawyer Jr., a 16-year-old from Atlanta, Ga., who has been preaching for more than half of his life, was ordained as an associate minister at his Baptist church over the weekend and among supporters on Facebook offering him praise were others concerned about his lack of formal theological training.
"I like his ambition but he really should get a seminary degree first or study Theology....too many incompetent self-proclaimed pastors here," wrote Marion Morris on WSB-TV's Facebook page featuring video coverage of Sawyer's ordination. The news item had about 5,700 "likes" and more than a thousand shares, and the on-going about debate about Sawyer's ordination has led to hundreds of comments.
"You do not need a 'degree' to preach God's word. When He (God) calls and we answer, the only documents we need comes from the word of God, not a seminary," wrote Dennis Bates, who made frequent comments on the social network in defense of Sawyer.
The Atlanta teen, who has been helming his own ministry for six years (Jared Sawyer, Jr. Ministries), was ordained by leaders at Center Hill Baptist Church in northwest Atlanta on Sunday, in a moment his mother, Sabrina Sawyer, said she never thought would have been realized.
"I never would have thought the end of this would be happening," said Sawyer's mother. "I'm grateful that I'm alive to see my son do something he's always said that he was called to do."
His mother says minister Sawyer started praising God at age 2, started reading the Bible at age 3 and was baptized at age 5, the same time he told her he wanted to be a preacher.
"I'm very grateful to be in this particular position," the young minister told WSB-TV. "I'm very grateful to be called by God to be in this position because I could be doing something else."
"What I've been doing for the past 10 years of me preaching is definitely right, and it's what God has called me to do," Sawyer added.
The teen, who has his sights set on Morehouse College, reportedly plans to study Theology and Religious Studies when the time comes.
Critics, however, insist Sawyer should have received theological training before being placed in the pulpit, where he once preached at the age of 11 on the sermon subject, "Even Though I Am Young Send Me."
"Too many self-proclaimed pastors don't have sufficient knowledge of the Scriptures," added Marion Morris, countering a commenter who suggested that "the education of man is not what guides us as leaders in the word of God."
"Educational theological background is necessary to teach and preach," Morris continued. "While the young man's interest in becoming a minister is commendable, he needs to understand that a 'calling' doesn't make one a good pastor."
There were others who responded to news of Sawyer's ordination by suggesting that he could be a "great preacher" with or without a seminary degree.
"A few here have said he needs to study Theology or go to seminary school," wrote Andrew Mckinney. "I agree and disagree. I have known many preachers (great preachers) who didn't go to school to be a minister and preached the Word like it is supposed to be preached. Now, if he chooses to go to seminary....great for him...nothing wrong with that."
Despite the debate over whether he might have put the cart before the horse, Sawyer thanked supporters online for their well-wishes.
"Today was a life changing event. So much love. So much support," the teen minister wrote on his Facebook page. "New level in my ministry. Ordained Minister! God bless all those who have blessed me for 16 years and in my ministry for 11 years!"
Sawyer, who published last summer I Belong to God: Staying On the Christian Path to Success, stands among several other young men who say they have been called to preach or pastor. Last year, 19-year-old Courtney Meadows, who has been preaching since he was 6 years old, was installed as pastor of First Missionary Baptist Church in White Hall, Ala. The youngest ordained minister in the U.S., Ezekiel Stoddard, is just 12 years old and hails from his parents' independent Fullness of Time Church in Capitol Heights, Md.
Watch an 11-year-old Sawyer deliver a sermon in the video below ("Even Though I Am Young Send Me"):