Oscar winner Mira Sorvino to star in new faith-based film 'The Girl Who Believes in Miracles'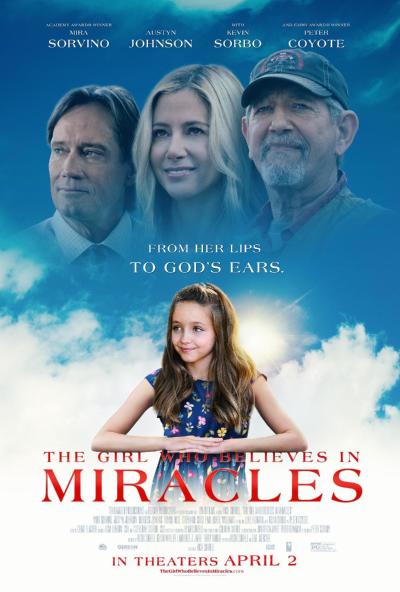 Oscar-winning actress Mira Sorvino, Emmy Award-winner Peter Coyote and "God's Not Dead" actor Kevin Sorbo are the stars of the new faith-based film "The Girl Who Believes in Miracles," which highlights the miracle-working power of God.
"The Girl Who Believes in Miracles" was created by 98-year-old Laurence Jaffe, who decided to start a new career as a filmmaker much later in life. It is now available to stream across all platforms.
"When Sara hears a preacher say faith can move mountains, she starts praying," the synopsis reads. "Suddenly people in her town are mysteriously healed! But fame soon takes its toll — can Sara's family save her before it's too late?"
Jaffe's first feature film brought together a star-studded cast, including Sorvino ("Mighty Aphrodite," "Do You Believe?") Austyn Johnson ("The Greatest Showman," "The Post"), Sorbo ('Let There Be Light") and Coyote ("E.T. The Extraterrestrial," "A Walk to Remember").
The Christian movie will premiere in theaters nationwide on Easter weekend. 
"I guess I've never been one to look back, only forward. That's the secret to a full life." Jaffe's said in a statement shared with The Christian Post. "Both young children and old people possess the same innocent and beautiful quality: they trust. I think that after the year we've all endured, the world needs an uplifting movie like this to give us the capacity to trust once more."
The nonagenarian, who's now making movies in Hollywood, has been known to take risks. He joined the Marine Corps during World War II because he wanted to "serve with the toughest and the best." Following the war and his service with the medical units, he received a master's degree from Columbia University. 
He then began a career in marketing during the "Mad Men" era with his bride of 72 years by his side. She died in October 2020.
The trailer of "The Girl Who Believes in Miracles" shows Sara's childlike faith. Her prayers are seen helping several animals come back to life, a lame boy walk, and a girl gets cured of cancer. 
"I'm just a lucky girl who God decided to visit," she says in the film. 
"Truth is, all you have to do is believe in God and pray to Him. He's listening." 
The 98-year-old filmmaker revealed that he hopes to use the money generated by the film to help the poor through a program he created to help disadvantaged children in Gainesville, Florida. 
"My dream is to close the gap in income disparity that threatens the social fabric of our democracy," he said. "That would truly be a miracle to me — and for so many others."
Despite his age, Jaffe said he intends to continue making films. 
"The joke on the set was that Moses and I went to Hebrew school together," he shared. "I may not be a spring chicken, but I am still clucking."