Over 1,000 People Take Part in Guinness World Record Breaking Living Nativity Scene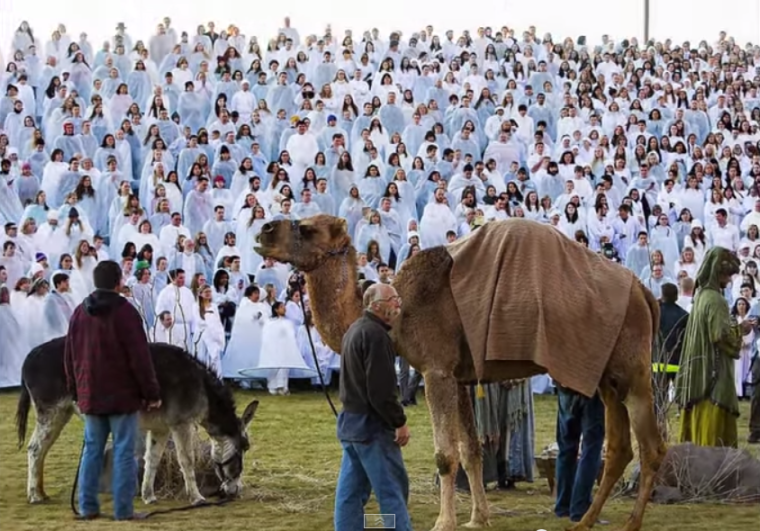 A living nativity display in Utah has broken the Guinness World Record for the largest nativity in the world, with 1,039 people taking part in the display that was presented to the city of Provo Monday evening. Volunteers and YouTube stars played roles like Mary, Joseph, the shepherds and numerous angels.
"Mary, Joseph, Baby Jesus, angels, shepherds ... and A LOT of angels, really," Austin Craig, one of the organizers of the record making living nativity scene, told KUTV. "It's a great way to bring focus to Christ and we wanted to spread that message as widely as possible."
In addition to the 1,039 human participants, there was also a camel and a donkey added to the scene, which was held at Rock Canyon Park from 2 to 8 p.m. MST.
David Archuleta from American Idol season seven, the Mormon Tabernacle Choir and The Piano Guyswere also part of the event and recorded a musical track for the production that will be posted online before Christmas Day, the Deseret News reports.
Among those who came out to Rock Canyon to behold the sight was Michael Empric, an adjudicator with Guinness World Records.
In an interview with the Daily Herald, Empric explained that the previous record holder had a total of 898 participants.
"It was set in Lancashire in the United Kingdom in December 2013," explained Empric, who confirmed the number of volunteers at the Provo nativity.
The Provo group breaking the record for most people involved in a living nativity was not the only seasonally-related record broken this year.
A family in New York broke the record for highest number of Christmas lights found on a residential property, according to a story published Wednesday by Kevin Lynch of Guinness.
The Gay family of LaGrangeville put up a display that had a total of 601,736 lights, reclaiming the record they made in 2012, but lost last year.
"Something of an annual event in the neighborhood, for the past 20 years dad, Tim, along with his wife, Grace, and their three children, Emily, Daniel and John have marked the beginning of the holiday season by decorating their house with ever-more elaborate festive lighting," wrote Lynch.
"The holiday light display, which spans 2 acres and took roughly two months to build, is set to more than 200 songs, including top-40 hits and holiday favorites. Passersby can tune into an FM frequency on their radio to hear the music while driving through the spectacular light show."