Over 7,000 make decisions for Christ at Greg Laurie's SoCal Harvest Crusade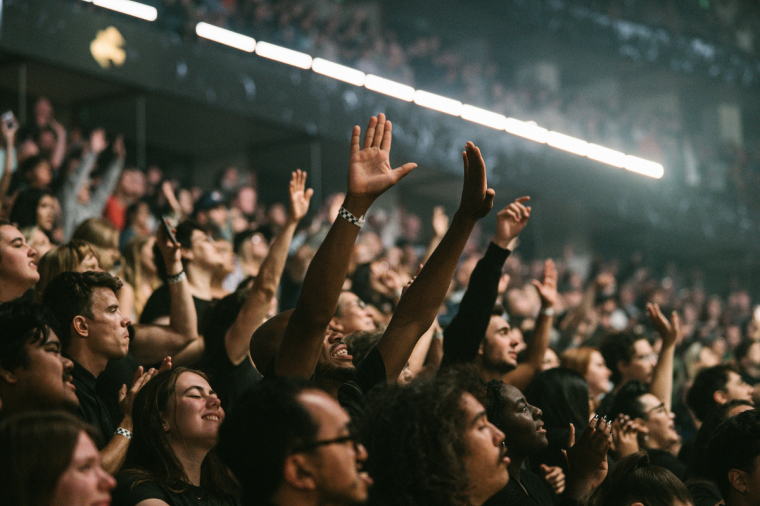 Over 7,000 attendees made public declarations for Christ over the weekend at the 34th annual SoCal Harvest Crusade evangelistic outreach in Southern California, hosted by megachurch pastor Greg Laurie of the multi-campus Harvest Christian Fellowship.
The Honda Center in Anaheim was packed to the brim for worship on Saturday and Sunday, with over 32,000 attendees in-person for the two-day crusade and an additional 215,000 guests live-streamed the event virtually. 
Last weekend was the first time SoCal Harvest was held in the Honda Center after being held annually at Angel Stadium. 
The outreach's theme for 2023 was "Jesus changes everything."
The event was described as a chance for people in California and across the globe to encounter faith for the first time or rediscover faith in Jesus through "online fellowship and live worship music." Both days aimed to serve as an "opportunity to get your biggest questions about life answered." 
Saturday included worship performances by award-winning worship singers and musical artists Phil Wickham, Passion worship band and singer Taya. The night concluded with a sermon message from Laurie on the topic of "Jesus and you." 
Sunday featured performances from Harvest Worship and Grammy-award-winning singers Chris Tomlin and Michael W. Smith. 
Following Saturday's music sets, Laurie took to the stage, thanking the crowd for attending the event and reflecting on over 121 Harvest crusades that he's led in the past three decades. 
"We've done 121 crusades all around the world. And we've had the opportunity to bring the Gospel in person to 6 million people, and best of all, we've seen 600,000 people make a profession of faith to follow Jesus Christ. Isn't that great?" Laurie said as the crowd erupted in applause.
Harvest crusades have been held in the United States, Canada, New Zealand and Australia since the 1990s, with over 8 million in-person participants and millions of others who have virtually taken part in the Christian events.
Laurie encouraged the crowd on Saturday to open their hearts to receive Jesus Christ. He opened up about what his life was like before he knew God. 
The 70-year-old pastor referenced the Christian drama film released in theaters in February titled "Jesus Revolution," which told the true story of his faith journey and his early life through adolescence, and how he achieved his rise to his pastoral leadership role.  
"Before I was a Christian, I was really searching, searching for meaning and purpose in my life. My mother was a raging alcoholic. Maybe you saw the story. How many of you have seen the 'Jesus Revolution' film?" Laurie said, followed by roaring cheers from the audience. 
"Yeah. So, you know my story. … I was searching. I saw the alcoholic haze of my mother's bad choices. And I knew I didn't want to live that life. But then, I made some bad choices myself. I got into drugs," Laurie continued. 
"It wasn't long until I concluded, — I'm only 17 at this point —  but, I concluded I don't want the life of my mother's generation. I don't want the life I've been living. It was sort of like a process of elimination. I knew what I didn't want to do. But what did I want? Why was I on this earth? Why did I exist?" 
Laurie detailed that before he knew Christ, at age 17 in high school, he told his "druggie friend" that he would never become a "Jesus freak." 
"I said, 'the last thing you will ever see is Greg Laurie become a Jesus freak.' Famous last words, right? But here's what happened. I was walking across my high school campus, and I saw a group of Christians sitting in a circle singing songs to Jesus," Laurie recounted.  
"They were simple songs, maybe like four chords in the song. But there was something there that I thought; 'that's real. I want what they have.' I never thought of knowing God in a personal way, and it opened my heart." 
Addressing those in attendance who were new to the faith, Laurie said he was pleased to welcome them and guide them on a journey to knowing their Father in heaven. 
"Tonight, for you, that [is] a visitor  — especially if you're not a believer yet,  — I'm especially glad you're here. In many ways, this night is here for you, OK? You are our special guest of honor," Laurie said.  
"I'm hoping what you will experience is something similar to what I experienced many years ago. And that you will sense God's presence in this place because Jesus said: 'when two or more are gathered together in my Name, I'm there in the midst of them,'" he added.   
"Jesus Christ is in the Honda Center Tonight. Jesus Christ is going to change lives tonight. Listen to me. Jesus Christ is going to change your life tonight if you will open your heart."
Laurie shared four main things that all Christians should do. 
"No. 1, read your Bible. … The Bible is the Word of God. God will speak to you through the Bible each and every day," Laurie said. 
"No. 2, pray. Prayer is just talking to God. It's listening to God. It's bringing your problems to God, your needs to God, asking for wisdom from God. The Bible says: 'Pray without stopping.' It's a beautiful communication you have with the Lord," he added.  
"No. 3, go to church. … Go to church because, at church, that's where we grow together spiritually. And we need church, and the Church needs you. And then lastly, tell somebody about Jesus. Tell someone about what Jesus has done for you." 
Laurie also delivered multiple prayers throughout the event, one of which he prayed that those participating in both days would share the Voice of the Lord. 
"Let's all pray. … Now, I pray for every person who has joined us and those who are watching and listening all around the world really, that they will hear your voice. And I pray that many will come to put their faith in Jesus tonight. We pray that you'll be honored in this time of worship that we have, that you'll be glorified. And we just commit it all to you now," Laurie prayed.  
"Lord, You rule over this place. We declare your Name as the King of Kings and the Lord of Lords. And we are here to honor and glorify your name. So we commit this night to you." 
While leading seven thousand people in a prayer of repentance, Laurie encouraged the crowds "to follow Jesus from this day forward." 
"Lord Jesus, I know that I'm a sinner. But I know that you're the Savior who died on the cross for my sin and rose again from the dead. I'm sorry for my sin. I repent of my sin. I choose to follow Jesus from this night forward. Thank you for hearing this prayer and answering this prayer. In Jesus' name, I pray. Amen. Amen," Laurie prayed as the crowds recited each line, repeating after him.
SoCal Harvest promotional materials advertised a mass baptism event at Pirates Cove Beach on July 8. 
Nicole Alcindor is a reporter for The Christian Post.