Parents Outraged After School Counselor Shaves Boy's Head
Parents in Lehigh Acres, Florida are outraged after a guidance counselor at their local middle school shaved the head of their son after he arrived on campus with an inappropriate haircut.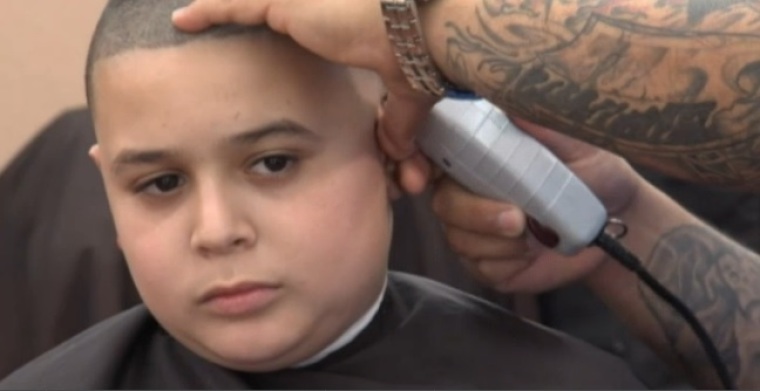 Danny Valdes, a sixth grader at Harns Marsh Middle School, arrived at school last week with a new haircut his stepfather, Arnaldo Fernandez, had designed for him in preparation for the Miami Heat game the boy attended over winter break. The haircut included a design of the Miami Heat logo, the Miami skyline, and the numbers 305, Miami's area code.
When Valdes, 11, arrived on campus, the school's assistant principal called him into her office because his haircut was in violation of school policy. The assistant principal reportedly contacted the boy's stepfather, who said he would fix his stepson's hair after school when the boy returned home. Then, a school counselor reportedly shaved Valdes' hair so he could return to class, saying the stepfather had approved of the in-school haircut.
Fernandez says he did not give the school permission to cut his son's hair. "Our agreement was he would come to the barber shop after school, get his hair cut and that was it," Fernandez told NBC Miami.
"Where did the clippers come from? How sanitary were they? Who's used them before?" questioned the boy's mother.
Amity Chandler, director of communications for the Lee County School District, told WFTX-TV that several witnessses have verified that Fernandez did give the school counselor permission to cut Danny's hair to avoid an in-school suspension. Still, Chandler admits that the action should not have been taken.
"While the School Counselor followed the wishes of the student and instructions of the student's stepfather that were provided over the phone in the presence of several witnesses, the District acknowledges the action taken by personnel were not appropriate," she said.
The school district is reportedly investigating the incident to see if any further disciplinary action needs to be taken, and Danny's mother has confirmed that she is in process of switching her son to a different middle school.