Passion 2020: John Piper reveals 'the most outrageous thing Jesus ever said'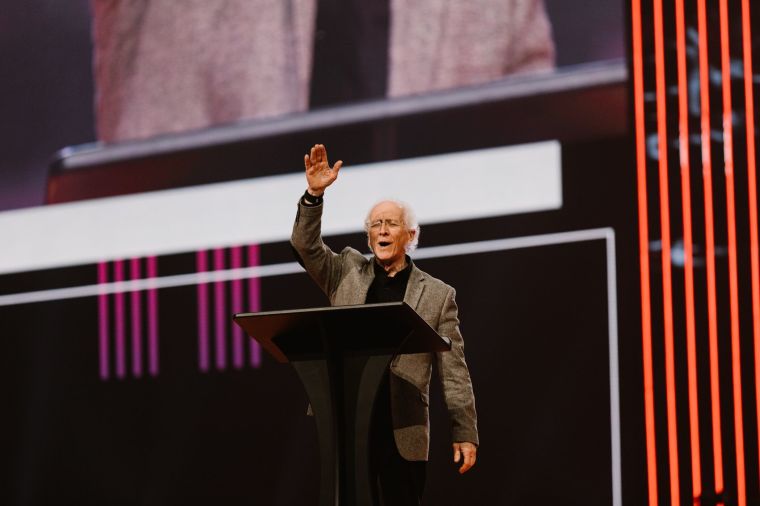 Theologian John Piper shared what he considers to be Jesus' "most outrageous" statement as he delved into the topic of fame during his sermon before tens of thousands at Passion 2020 in Atlanta on Wednesday. 
Piper, an American Reformed Baptist pastor and founder of DesiringGod.org, kicked off the annual young adult gathering's New Year's Day session with a 45-minute sermon stressing why Christians must desire the name and fame of Jesus more than anything else in their life. 
"For over 20 years now, the flag that's been flying over Passion Conferences is from the Prophet Isaiah 26:8," the 73-year-old Piper explained. "You'll find it on the website and you can read on the screen. It goes like this. 'Yes Lord, walking in the way of your truth, we wait eagerly for You, for Your name and Your renown are the desire of our soul.'"
"It's never changed from 1997," Piper added. "So yes, Lord, we wait for you. We want You, we desire You. And the reason that I say You and not just Your name or Your fame is first because that's what the text says — we wait eagerly for You — [and also] because that's what the name means. Your name is Your being in the Bible." 
Piper explained that when God revealed His name as Yahweh in Exodus 3, He said, "I am who I am" as if to say "my name is my being." 
"So when you desire the name, you desire the person. When you desire the renown, you desire the fame of the person," Piper stressed. "Now, on this side of the incarnation, He has another name. The name is Jesus. I don't know if you're as amazed as I am by these outrageous things Jesus said."
Piper continued by referencing Jesus' words from John 8:58: "The most outrageous thing Jesus ever said was 'Before Abraham was, I am.'" 
"So when you desire the name and you say, 'Your name and Your fame are my desire.' You mean Yahweh … who is Jesus," Piper said.
Piper went on by saying that Passion, which was founded in the 1990s by Louie and Shelley Giglio, is "built on the deity of Christ."
Piper said he is praying for those in attendance and watching at home for their greatest desire to be for Jesus to be globally renowned. But he warned that it should not be a "private desire." 
"If it's only you and Jesus, you don't know Jesus," Piper stressed. 
"The passion for His fame is right there in the verse. Your name and your renown are the desire of our souls. And when we say that His name and His fame are our desire, we don't mean [to say] maybe He'll be famous. There's no maybe about it."
Piper said that the "God-man," Jesus, is coming again, at which time the haughty will be humbled and those who truly desire the name and fame of Jesus will have the desires of their souls fulfilled.
"There is no maybe about it," he reiterated. "If you don't desire it, you won't have it."
Piper contended that in order to truly be born again as a follower of Christ, one must desire God more than anything else. 
"Nothing is more important in your life than the awakening of this desire," he said. "The triumph of this desire over all other desires is the most important thing in your life. If the name and the fame of Jesus the Savior, the Son of God, the King of Kings does not become your greatest desire, you will not only waste your life, you will lose it."
The words of Isaiah 26:8 are the "mark of a Christian," Piper told the audience.
"Not a mature Christian, a Christian," he added. "There's a lot hanging here in the balance."
Passion Conferences are targeted for students ages 18 to 25. 
Since the first Passion Conference in 1997, the ministry has encountered millions of students. Other speakers at the three-day event include the likes of "Duck Dynasty" star Sadie Robertson, pastor Levi Lusko, Christian athlete Tim Tebow, apologist Ravi Zacharias and evangelist Christine Cain. 
The event also features worship and performances by Hillsong United, Lecrae, Kari Jobe, Elevation Music, Crowder, and others.