Pastor Who Said Black America Losing Its Soul at Aretha Franklin's Funeral Stands by Comments
Pastor Who Said Black America Losing Its Soul at Aretha Franklin's Funeral Stands by Comments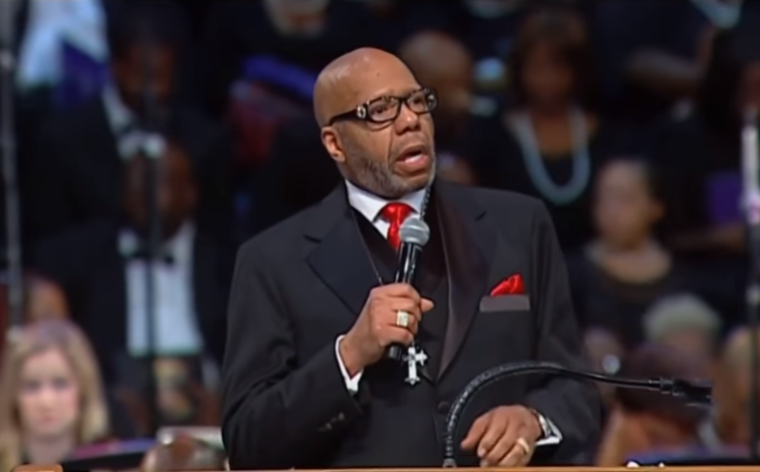 Pastor of Salem Bible Church in Atlanta, Jasper Williams Jr., is standing by recent comments criticizing black America for losing its soul at music icon Aretha Franklin's funeral.
"I was trying to show that the movement now is moving and should move in a different direction," Williams told the Associated Press after he was accused of being homophobic, sexist and demeaning to other black people.
"... What we need to do is create respect among ourselves. Aretha is the person with that song 'R-E-S-P-E-C-T' that is laid out for us and what we need to be as a race within ourselves. We need to show each other that. We need to show each other respect. That was the reason why I did it," he said of his message.
In his controversial eulogy Friday, Williams slammed black-on-black crime, Black Lives Matter, and argued that single mothers are incapable of raising sons well by themselves.
"It amazes me how it is that when the police kills one of us, we're ready to protest, march, destroy innocent property," he said. "We're ready to loot, steal whatever we want. ... But when we kill 100 of us, nobody says anything. Nobody does anything."
He continued: "If you choose to ask me today — Do black lives matter? Let me answer like this. No. Black lives do not matter. Black lives will not matter. ... Black lives should not matter. Black lives must not matter. Until black people start respecting black lives and stop killing ourselves, black lives can never matter."
Williams who also argued against the prevalence of single mothers in the black community said that it is "now time for black America to come back home" to their values which have strong Christian roots.
"Anytime we stray away from God's design for what the home is supposed to be, heavy will be our results," he said. "God has told us what to do with our home. He designed the home. I mean God put in a home a man and a woman, a father and a mother. God put in the home a husband and a wife. A provider and a nurturer."
According to the AP, some critics of Williams' critique on single mothers thought he was taking a dig at Franklin, who was a single mother of four boys. He argued however that his words about black women being incapable of raising sons well alone were taken out of context.
"Here's the root of what I've been talking about: In order to change America, we must change black America's culture," he said. "We must do it through parenting. In order for the parenting to go forth, it has to be done in the home. The home."
Media commentator and professor of Media Studies and Urban Education at Temple University, Marc Lamont Hill, was among the pastor's many critics who dismissed he message as "right-wing talking points."
"It would've been amazing if Pastor Jasper Williams had centered [on] Aretha Franklin instead of her father and right-wing talking points," Hill noted on Twitter.
Williams insisted however that much of the flak he is receiving is due to people not understanding what he is talking about.
"I'm sure much of the negativity is due to the fact that they don't understand what I'm talking about," he told the AP. "Anybody who thinks black America is all right as we are now is crazy. We're not all right. It's a lot of change that needs to occur. This change must come from within us. Nobody can give us things to eliminate where we are. We have to change from within ourselves. It is ludicrous for the church not to be involved. The church is the only viable institution we have in the African-American community. We must step up and turn our race around."