Pastor Chuck Smith of Calvary Chapel Reveals Cancer Diagnosis (VIDEO)
The congregation of Calvary Chapel in Costa Mesa, Calif., was left stunned on the first Sunday service of the new year when Senior Pastor Chuck Smith announced that he has been battling lung cancer.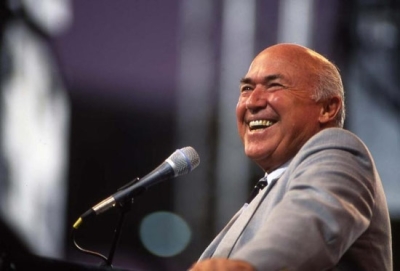 Following Sunday's service at the church, Smith's son-in-law, Brian Brodersen, and other pastors joined together to anoint Smith with oil and offer prayers for his healing. Pastor Smith is 84 years old and has never smoked, Assist News Service reported. Smith faces a biopsy on Tuesday and surgery the following week.
Calvary Chapel confirmed the news on its Facebook page over the weekend, writing:
"Please pray for Pastor Chuck Smith, Sr.! Today it was announced cancer has been found in his lung; there is uncertainty as to the extent. We are expecting to know more regarding prognosis and treatment after Tuesday. Please pass on this request of prayer for him, Kay, and the rest of the family."
Hundreds of supporters responded to the post, offering their prayers for Pastor Smith and strength for his family.
Smith has been at Calvary Chapel since 1965, and has made great contributions to the development of the church. When he started, the congregation had 25 members, but has since grown to have a weekly attendance of 9,500. It is now the 67th largest church in America, according to the Hartford Institute for Religion Research. Smith has suffered other major health problems in the past, including a mini stroke in 2009.
After the pastor's stroke, Brian Nixon, a correspondent for ANS who co-hosted Pastors Perspective with Smith on KWVE 107.9 FM, wrote in a tribute:
"I was blessed to have worked side-by-side with Pastor Chuck for almost eight years, covering numerous fields: education, publishing, radio, and television."
"Not only was I able to glean from his words, thoughts, answers, and actions, on a weekly basis, but I was also able to watch him in a variety of situations: answering questions on a radio program we hosted together, cooperating with him on books, brainstorming and praying with him through tough educational situations. And, most special of all, to watch his interaction with other human beings."
KWVE broadcasts sermons and Bible teachings from the Calvary Chapel church
After the news of Smith's stroke was reported, some went on the Facebook page of KWVE to express their support for the pastor.
Debbie Morgan Cromwell wrote: "I love Pastor Smith. I listen to him in Fort Worth and he has answered so many questions I have had about the bible. He has had a huge impact on my beliefs. God bless him and his family during this time."
Mark Schellhaas expressed: "Our prayers will be directed to God for Chuck Smith. We love the ministry God has given him . We also pray that this year is one of revival for me personally, my family, our Church, the Calvary ministry and for our country. May we all turn to God bent knees, wet eyes and a broken heart for the lost."
A post by the KWVE reminded readers of a quote by Pastor Greg Laurie of Harvest Ministries:
"It may come as a surprise to some people that the Bible does not promise a life that is free from suffering. But it does promise the presence of God for the person who believes. The Bible promises that God will help us through that suffering if we allow Him to."
The Christian Post Daily Report 01.02.12