Pastor in Tirade Caught on Tape Both Commended and Rebuked
Christians React to Jim Standridge Calling Out Church Members During Sermon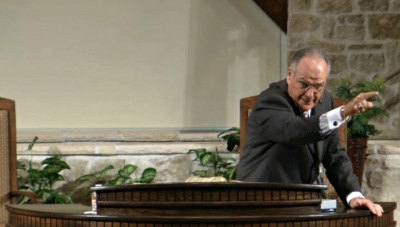 Oklahoma pastor Jim Standridge's outburst during a Sunday sermon that was caught on tape and published on the Internet has brought responses of shock, rebuke and disappointment from other Christian ministers who say they found it appalling that the preacher would publicly castigate his own congregants in such a manner.
The sermon given on May 19 was first reported on by The Christian Post in June (read "Baptist Preacher Blasts Congregant During Sermon for Sleeping; 'Hissy Fit' Goes Viral") and in that report Pastor Standridge insisted he was a "loving and caring guy" and that "you can't judge a man by one message." That message, however, involved the Immanuel Baptist Church leader veering off from his Sunday sermon to tell off, "in love," a sleeping congregant, suggesting to a woman that her husband was "smarter than you ever thought about being" and calling a truant congregant "the sorriest church member I have" who is "not worth 15 cents."
While Standridge has said that he was only doing his duty of keeping parishioners accountable, the Skiatook, Okla., minister has nonetheless set many heads shaking over his outburst, dubbed a "hissy fit" in the original YouTube excerpt.
On ChurchLeaders.com, a reader named Enoch wrote, "I've been a pastor 30 years. My fellow laborer here needs serious counseling. Definitely not Christlike. He pastors with fear. He's a good man but needs psychological therapy. That is not love, that's intimidation."
Josh Pennington, lead pastor of More Life Church in Newark, Ohio, suggested that Standridge's tirade was a good way to "destroy a church in less than five minutes."
CP reader Bruce Standfest, a pastor for 40 years, commented, "He holds the church people accountable? Who holds him accountable? Nothing he said, was said in love. It was meant to shame and condemn. Romans 2:4 says 'it is the kindness of God that leads to repentance,' not shame, ridicule and humiliation. Shame on him. Praise in public, confront in private!"
Despite the strong responses to Pastor Standridge's outburst, there were some CP readers who commended him for keeping parishioners in check.
"Love him!! It's about time!! There is nothing wrong with what this pastor did!! He rebuked people where they needed to be rebuked and in front of others to put fear into the others not to do this too," commented CP reader Rose Graham. "It is completely biblical. The Bible teaches us sometimes we have to point out a sin and rebuke it so others will not commit the same thing so if he had to embarrass him to get his attention, so be it!! It's over now and I personally think that the people offended should not be anymore and learn from it, and I guarantee you this pastor would have welcomed him with open arms as if it didn't even happen . My pastor once did the same thing to two diff[erent] people and both were in the wrong and he rebuked them publicly and I think he most certainly taught both of them to respect the preacher while he is preaching the word of God!!! Way to go Preacher I completely support you!!"
Another reader, Theo Morton, commented, "I see nothing wrong. He's got eccentric ways of doing things, but that's fine. He's using shocking rhetoric to break patterns of being. He's being very artful with the craft of persuasion. He's a teacher/preacher after all. Only those without a relationship with him would be offended."
Standridge, who has been serving as pastor of Immanuel Baptist Church for 24 years, made a similar statement last month, and said he really did not expect complete strangers to understand what he described as a "family meeting" that has since garnered national attention.
"It was hard (the message), but you can't say it wasn't loving," Standridge previously told CP, insisting that the sermon "brought order" to unresolved issues affecting the church.
Watch the five-minute excerpt of "Jim Standridge Throws a Hissy Fit" below:
Watch Pastor Jim Standridge's full May 19, 2013 morning sermon: