Pastor Jamal Bryant Calls R&B Singer Girlfriend 'Tweet' His 'Last Lady'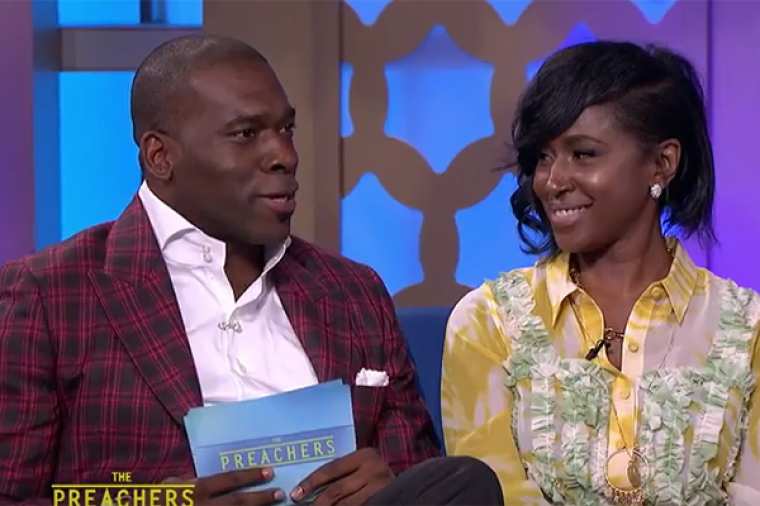 Pastor Jamal Bryant proclaimed on national TV that he has met his "last lady" in R&B singer "Tweet," eight years after his divorce.
"A year ago I was walking through Times Square going to an Oprah Winfrey movie premiere and I bumped into R&B Singer Tweet, who is my absolute favorite female singer in the world," said Bryant in the final test episode of "The Preachers" on Friday. "And, I pulled an Orrick [Quick] move and asked for a picture. We have grown into an incredible friendship; I call her my 'last lady.'"
The singer, whose real name is Charlene "Tweet" Keys, took to Instagram to call her appearance on the show an honor.
"This show is much needed. Such an honor to be there to witness greatness," she wrote last week.
Gizelle Bryant, who stars on the Bravo series "The Real Housewives of Potomac," divorced the Baltimore pastor in 2008 after infidelities led to him reportedly fathering a child with a woman in their congregation. For Tweet, the singer has gone a decade without calling someone her significant other.
Earlier this year, she told XONecole that she is ready for a husband.
"I have this idea that God will whisper or say, 'Hey, that's your husband!' and that'll be that and I won't have to go through all of that and he'll just be perfectly made for me," said the singer who released her fourth studio album Charlene earlier this year. "And then all that dating will be out the way and I'll just know it's for sure. But that's in my perfect world, you know."
Until that day comes, the songstress who rose to fame with her popular song called "Oops" about sexual escapades in 2002, is working on a gospel music album.
"I'm doing gospel. I rededicated my life to Christ so that's something that's important to me and I really need to do that," she told Gospel Goodies in an interview. "It won't be traditional gospel. ... But my message will be different than it was before and I think people right now are hurting. They want something real and they want to relate."
She concluded by saying, "I think that's what gospel is and I think I'm going to bring them God in a different way that they can relate to."
Bryant co-hosts "The Preachers" with fellow pastors E. Dewey Smith Jr., the senior pastor at The House of Hope churches in Atlanta and Macon, Georgia; John Gray, an associate pastor at Lakewood Church in Houston, Texas, and Orrick Quick, pastor and founder of God Seekers Church in High Point, North Carolina, introduced their wives. The pastor of Empowerment Temple AME Church in Baltimore, Maryland, was the only preacher on stage who is not married but he did give some details about his relationship.