Pastor Jamal Bryant Ordered Off Block, Told to 'Get Out of Baltimore,' by Activist PFK Boom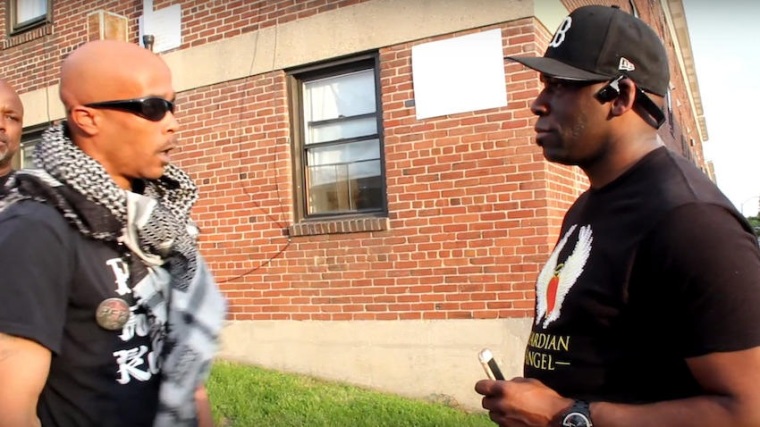 Embattled megachurch pastor and social activist Jamal Bryant was dismissed as disgraceful, opportunistic and ultimately browbeaten into taking flight from a Baltimore street rally Wednesday after an ugly confrontation with grassroots activist PFK Boom.
PFK Boom, whose real name is Davon Neverdon, is co-founder of a group called "300 Gangstas," which seeks to reach the most dangerous people in the city of Baltimore.
Neverdon, who was arrested and ultimately acquitted of murder in 1993, spent more than three years in solitary confinement while doing time and now regularly speaks and testifies about the effects of such punishment, according to The Guardian.
Neverdon's wincing confrontation with Bryant, who leads the 12,000-member Empowerment Temple megachurch in northwest Baltimore, is captured in this YouTube video. It occurred during the 148th staging of a weekly event called West Wednesday, organized by the family of Tyrone West, who died in a struggle with police officers during a traffic stop in July 2013.
Several of the grassroots activists did not appreciate Bryant's presence at the event because they don't believe his support is genuine.
"Jamal Bryant gets G CHECKED by PFK Boom & Shy Lady Heroin after showing up to the 148th consecutive West Wednesday... for the first time," explains a description of the confrontation on the YouTube video posted by Baltimore BLOC, another grassroots group.
"Why did Jamal Bryant finally show up to a West Wednesday after dodging and disrespecting the West Family for the last 3 years? Where was he when the family of Tyrone West first asked him to help? What happened that time Tawanda Jones (Tyrone West's sister) and Abdul Salaam were supposed to speak on a panel at Bryant's church during the Ferguson Solidarity protests in Baltimore in 2014, and he cut them from the program just minutes before it was scheduled to begin? Yeah, we still remember," it ended.
In the YouTube video, Neverdon stops Bryant as he walks by and immediately begins calling him out for his alleged sins against the movement with strong language.
"You said you for the people. You got our people all up in your church. You suppose to lead these people man. I understand that you are somebody but you don't ask… you disrespect our streets. You're f**king with our apostles," said Neverdon.
"I know you can take your henchmen…get the henchmen, don't come down here no more. Boom said it. Me as a man. The streets don't want you here," demanded Neverdon as Bryant meekly agreed.
He further mocked a T-shirt Bryant was wearing with the words "Guardian Angel" printed on it.
"Don't bring your a** down here no f**king more. I mean it yo. On my f***ing kids yo. You's a f**king disgrace. A guardian angel…? For who? Cause you damn sure ain't guarding me…," said Neverdon.
"Get the f**k up outta here. F**king clown," he continued as Bryant turned around and walked away with the words EMPOWER blaring from the back of his T-shirt.
Shy Lady Heroin, who describes herself as an underground rapper on Twitter, also dismissed Bryant as he walked away for "selling out your people."
"Jamal Bryant you should be ashamed of yourself for selling out your people for your fame and your wealth," she said before calling him out.
"SRB we know where them perks went, take Davis and your war room and your cousin Brandon Scott, men and their payments, they love a photo-op. We taking back our city, one step at a time. Walk in solidarity this is the front line. Mosby's gotta go, Billy Murphy you can leave. Got my right fist high saying f..k the police," she said.
Bryant in response to the takedown, reacted Friday with a post on Instagram comparing a group of gangsters and storeowners with the message: "Don't be confused a lot of people who claim strength....really don't have any power! #inthesestreets"
In a profile in The Guardian last month, Neverdon revealed that he was working hard at getting away from the grassroots brand of politics for a more policy-oriented approached.
"Right now, I got a bill on the table that a person can only do 15 days in solitary, and it might get pushed," he told The Guardian while highlighting that Maryland had double the national average of inmates in solitary. "We're saying that once a man or a lady is confined like that, you're dealing with a mental imbalance and you're turning man to beast or woman to beast, inhumane."
He was also instrumental in the passage of a new Maryland law that will allow ex-felons who are still on parole to vote and is mulling a run for office.
"As you know, [Robert] Wolfe (300 Gangsta's co-founder) is a street ambassador – that's what he do. Myself, I'm that as well, but for this vehicle to move, somebody got to get in the seat … I beat them in court with the acquittal I got on the charges they gave me, but see, I want more," he said.
"That's why I'm coming for their seats. I play for keeps. I'm coming for all theirs h*t. I used to run blocks ... now I'm about to run this whole mother**king Maryland. They gonna have to kill me. I'm dead already."
According to the Baltimore Sun, Neverdon was tried in the death of Joel J. Lee, 21, a Korean-American who was fatally shot during a robbery Sept. 2, 1993, outside a northeast Baltimore apartment complex. The jury in the case rejected testimony of four witnesses who said they watched Neverdon shoot Lee in the face. He was found innocent of murder, robbery and deadly weapons charges.
[WARNING: VIDEO CONTAINS STRONG LANGUAGE]