Pastor Jamal Bryant Says God Has Anointed Him to Serve a Crass Generation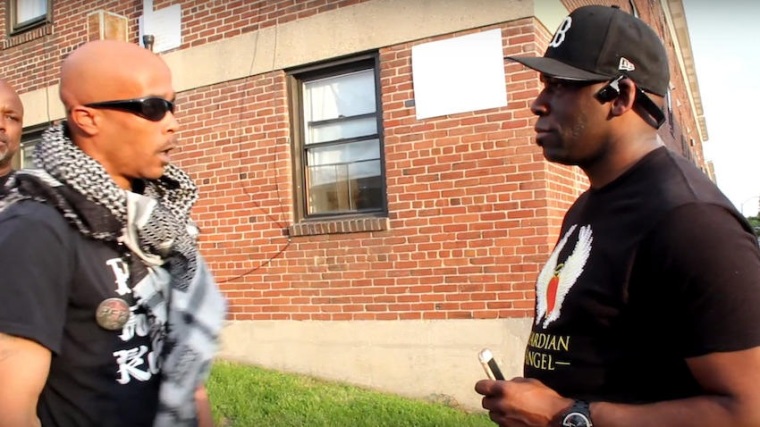 After suffering an expletive-laden verbal assault from grassroots activist PFK Boom who bluntly told him to get out of Baltimore last Wednesday, one of the earliest reactions from megachurch Pastor Jamal Bryant was that God has anointed him to serve a generation "reared to eat out of a paper bag."
In a periscope session recorded just a day after his hair-raising encounter with Boom, whose real name is Davon Neverdon, Bryant explained that God told him that sometimes he has to be prepared to serve people who don't know how to behave.
Using table manners to explain his point, Bryant said he was called to serve a generation of people who don't know appropriate etiquette because of their "paper bag" upbringing.
God revealed to him, Bryant says, that "sometimes you've gotta prepare for people who will eat your food but won't eat at your table."
"God will bless you in such an overwhelming capacity that the Spirit of Christ compels you to feed people who don't have table etiquette. You have a responsibility of being a follower of Christ of blessing people who do not have table etiquette. As a consequence, you've gotta feed people who do not know how to use a napkin. And because they don't know how to use a napkin, they don't know how to wipe their mouth. They'll eat with all of the food coming out not knowing that they are messing up the resource of what was blessing them," said Bryant.
In the now viral video of Bryant and Neverdon posted on YouTube, the activist is seen telling Bryant to take his henchmen and get out of Baltimore. The incident took place during the 148th staging of a weekly event called West Wednesday, organized by the family of Tyrone West, who died in a struggle with police officers during a traffic stop in July 2013.
"I know you can take your henchmen…get the henchmen, don't come down here no more. Boom said it. Me as a man. The streets don't want you here," shouted Neverdon at Bryant, as the Baltimore minister meekly agreed to the demand.
"Don't bring your a** down here no f**king more. I mean it yo. On my f***ing kids yo. You's a f**king disgrace. A guardian angel…? For who? Cause you damn sure ain't guarding me…," said Neverdon further mocking a T-shirt Bryant was wearing with the words "Guardian Angel" printed on it during the encounter.
"Get the f**k up outta here. F**king clown," he finally slammed the pastor as he turned around and walked away with the words EMPOWER blaring from the back of his T-shirt.
Neverdon charged that Bryant is a disgraceful and opportunistic member of the Baltimore community who is part of the system oppressing the disenfranchised. Bryant however has dismissed those claims pointing out that he is a relentless advocate of community building who most recently invested $5,000 to help with community gardens and facilitated a job fair with the Johns Hopkins University system at his Empowerment Temple Church, which attracted some 1,500 job seekers on the weekend.
In the Periscope session, Bryant doesn't mention Neverdon, but appears to address the aggression aimed at him last Wednesday.
"Not only do you have to feed people who do not know how to use a napkin, regrettably part of your Christlike responsibility is to feed people who only know how to eat with a knife. They have absolutely no idea that for apple sauce a spoon is appropriate. But because they have learned only how to fight they don't know how to eat," said Bryant.
He then noted that Christians need to understand that engaging with people who don't agree with the church is also a part of ministry.
"My dear friends, we come at an hour where because we live in an alleged Christian community, we expect everybody to agree with us. We expect everybody to want a seat at our table. And you don't know that the call of Christ, sometimes is to put you in a place where you have to feed people who don't know how to use a napkin and only know how to use a knife," he said.