Pastor John Gray Reveals How He Broke News to Joel Osteen That He'll Lead His Own Church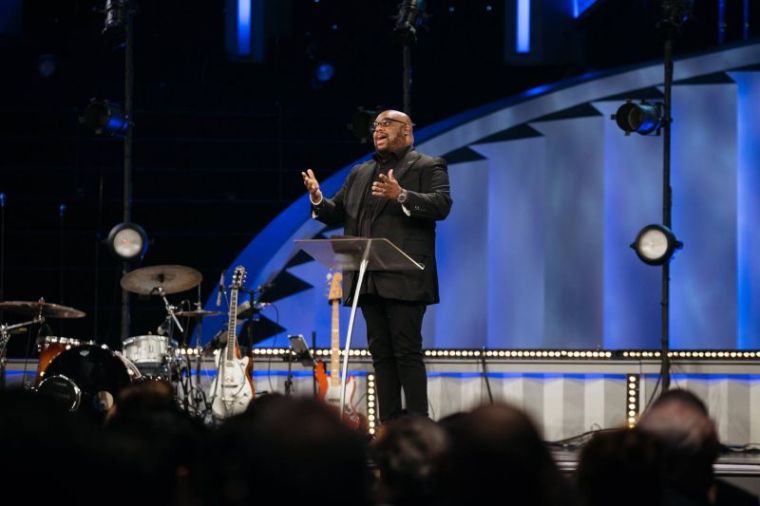 Pastor John Gray is sharing the emotional moment that he told Lakewood Church Senior Pastor Joel Osteen that he would be moving to lead his own church in South Carolina.
After serving in Houston for five years, the Lakewood Church associate pastor accepted the opportunity to lead his own congregation this year as the senior pastor at Redemption Church in Greenville, South Carolina. Ron Carpenter Jr. has been leading the 21,000-member multi-campus Redemption Church, but announced last year that he would be moving his headquarters to the Jubilee Christian Center in San Jose, California.
While Gray has used social media to keep people in both of his ministries informed about the changes taking place, they will get a chance to witness the moment he broke the news to Osteen on the second season of his OWN show, "The Book of John Gray."
The reality series does not premiere until March 13. OWN has already premiered the first episode along with a glimpse of what to expect this season. During a preview of what's to come on the show this season, Gray gets advice about the matter from Pastor A.R. Bernard of Christian Cultural Center in Brooklyn, New York.
"If you don't pursue this opportunity, you're going to suffer the rest of your life," Bernard tells Gray about the opportunity to leave Osteen to lead his own church.
In another scene, Osteen is shown wiping his eyes when Gray begins to break the news to him.
"God has presented something to my wife and I that I wanted to talk to you about," Gray says during the sneak peak.
While viewers will have to wait until the new season airs in order to see Osteen's initial reaction, he had nothing but well wishes for Gray in a statement obtained by The Christian Post last year.
"John Gray is becoming one of the most respected and influential voices of this generation. His scriptural insights are brilliant and his charismatic speaking style is like no one else," Osteen said. "I can promise you that Greenville, South Carolina, will never be the same once John Gray rolls into town."
Lakewood also noted in its statement that Gray will not be replaced and will "continue preaching on various Wednesday nights at Lakewood. Gray and his wife, Aventer, are expected to assume responsibilities as pastor and first lady of Redemption Church in the the spring.