Pastor Outraged After Costco Labels Bibles '$14.99 Fiction'
A California pastor is now expressing outrage at a Costco in Simi Valley, Calif., after he stumbled upon a shelf in the store that had Bibles on display as "$14.99 Fiction" while shopping for a gift for his wife last Friday.
"All the Bibles were labeled as fiction," Caleb Kaltenbach, lead pastor at Discovery Church in southern California, told Fox News' Todd Starnes. "It seemed bizarre to me."
The pastor explained that he tried discussing the matter with Costco representatives at the store but no one was available to discuss it. So he snapped a picture of the display and tweeted it to his followers on Twitter.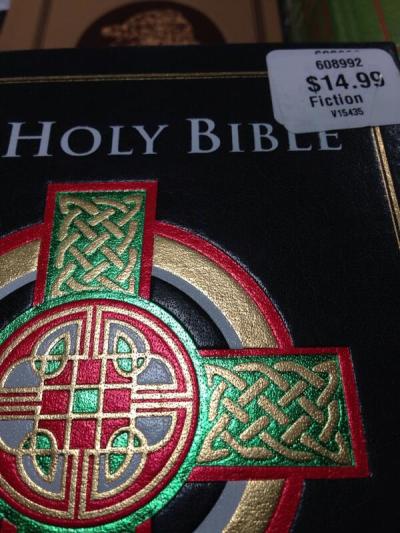 "Costco has Bibles for sale under the genre of FICTION Hmmmm," Kaltenbach tweeted along with a copy of the photo.
"People are pretty shocked and upset," he said in the report. "We are supposed to be living in an era of tolerance, but what Costco did doesn't seem too tolerant," he added, while arguing that he doubted Costco would have treated the Quran in the same way.
"If they don't believe in the Bible, that's fine, but at least label it as 'religion' as some bookstores do, or 'inspiration,'" he said.
So does the warehouse store that sells laundry detergent by the gallon have a problem with the word of God?
Starnes said in the report that he called Costco headquarters in Issaquah, Wash., to query the display and he was told the fiction label was "human error at a warehouse."
"It's all fixed," he said a female representative at the company told him.
He, however, disputed the claim that the error had been fixed because "there's a boatload of Bibles in the Simi Valley store still marked as fiction."
In response to the incident, pastor and author Robert Jeffress, said, "Let's hope Costco's explanation is true and not the result of having been caught attempting to marginalize the very foundation of Christian beliefs, the Bible."
"Christians need to call out organizations like Costco whose actions undermine Christianity, regardless of whether those actions are accidental or intentional," he added.
"To label the Bible fiction is a practical front for an ideological foundation that assumes things spiritual are unreal," Steven Smith, of Southwestern Baptist Theological Seminary said in the report. "What is odd about this choice is the glut of books in the 'religion and spirituality' sections in mainstream book stores. However, as large as 'spirituality' sections are, there must not be any room for Christianity. Modern thinking on spirituality is too exclusive to allow for the Bible," he noted.