Pastor Overwhelmed After Decades-Old Bible Survives Blast That Leveled Church, Killed 5 Members in East Harlem, NY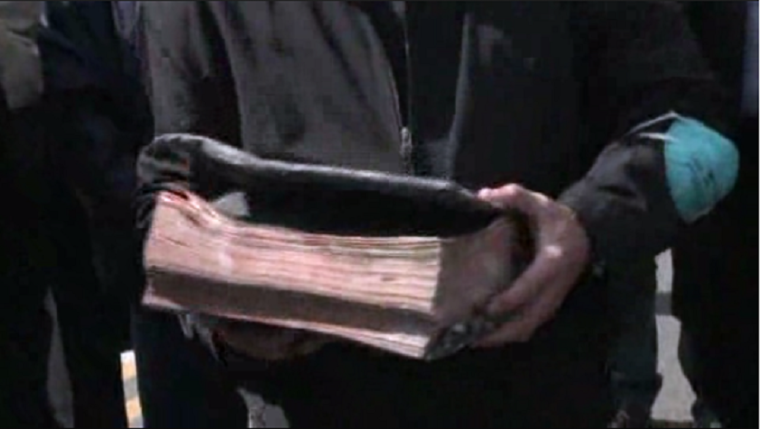 Members of the Spanish Christian Church leveled by a gas explosion that has so far resulted in the death of eight people, including five from their 60-member church, celebrated Saturday when firefighters discovered a symbol of hope beneath the rubble: a decades-old Bible.
After finding corpse after corpse, since the deadly blast on Wednesday, the discovery of the Bible, which the church has reportedly used since its founding 80 years ago, became a symbol of hope for the faithful who displayed it at a celebratory procession in the street, according to the NY Daily News.
The discovery was so overwhelming for the church's 83-year-old pastor, the Rev. Thomas Perez, he started having heart palpitations and had to be taken to a local hospital by ambulance.
"When he saw this Bible that's when he had the palpitations," said New York City Public Advocate Letitia James to the News. "Through all of the rubble, through all of the destruction, his Book survived."
Financial secretary of the church, Carmen Vargas-Rosa said she never thought anything made from paper would survive the blast.
"I thank God. It was wonderful. I really didn't think that anything that was paper would survive," Vargas-Rosa told the News.
Supportive clergy at the scene like the Rev. Rick Del Rio of Abounding Grace Ministries thanked God for preserving the Word.
"The Word was preserved. We thank God for that," he said. "The building has come down, but the spirits are alive."
One supporter of the church is now trying to raise $2.5 million in a youcaring.com campaign to help the church and victims of the blast. So far the campaign has raised just over $8,000.
"Amongst [sic] the victims was my aunt Carmen Tanco. What is not easy to see or know is this is a place I was raised. Where I went to Sunday school. It's where my parents were married, where my mom was raised and learned to play the guitar. It's a place that has kept a community together for decades," wrote campaign organizer Damian Rivera.
"Because of the close community, although others that were lost may not have all been blood, they were all family," he continued.
"As we prepare for funeral arrangements, we also are trying to help the survivors move forward. Many have truly lost everything. They have lost their loved ones, their homes, and for some, all of their possessions. Please help us to help them move forward," he said.