Pastor Robert Jeffress: Securing US Border Is 'God's Idea'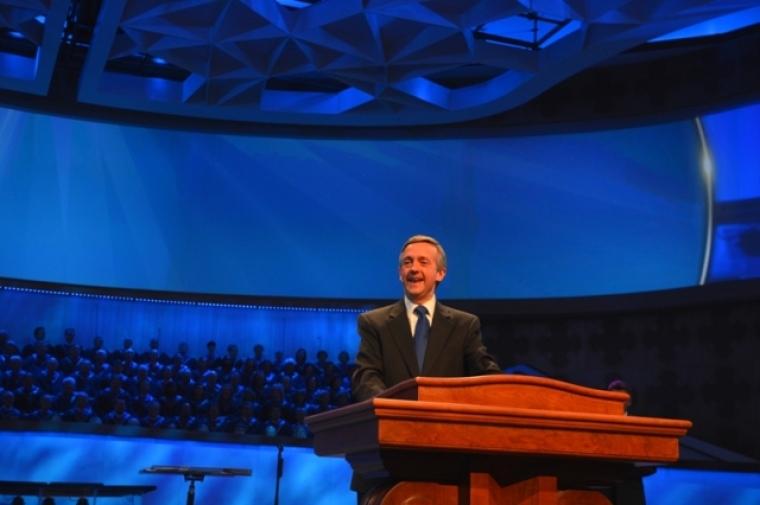 The United States government has a "God-given responsibility" to secure its borders and "protect its citizens" from extremists trying to infiltrate the country, Dallas megachurch Pastor Robert Jeffress has said.
Following the Islamic State's attacks in Paris earlier this month, Americans remain largely divided on whether the U.S. should allow Syrian refugees to resettle inside the country.
As the Obama administration gears up to resettle up to 10,000 Syrian refugees in the next fiscal year, many Christian conservatives have argued that granting them asylum in the U.S. will make the nation more susceptible to attacks from jihadis who have infiltrated the resettlement program.
In a sermon given last Sunday at the First Baptist Dallas megachurch, the 59-year-old Jeffress asserted that although Christians have the "individual responsibility" to help and pray for the suffering refugee communities that have fled their homes to escape violence and barbarity, God does not require government to put its citizens in danger in order to help thousands of persecuted refugees.
"Many Christians confuse their individual responsibilities as Christians with government's responsibilities as a government. As individual Christians, we are called upon to love, to give, to pray, to share the Gospel — that is our individual responsibility. But government has a different God-given responsibility," Jeffress, a Fox News contributor, explained. "Government is never called upon to forgive. Government is never called upon to turn the other cheek. The responsibility of government, according to the word of God, is to protect its citizens. One way that government protects its citizens is by securing the borders. It is government's responsibilities to secure the borders."
Jeffress continued by stating that tight border security is "God's idea," as stated in Acts 17:26.
"Lets just go ahead and say this and make it clear. Having secure borders is not anti-Christian, as some people would lead you to believe. Did you know that borders are God's idea?" Jeffress asked the congregation. "God doesn't mean for us to live as one people and one nation without any borders around the world. That is not God's plan. Acts 17:26 says it is God Himself who established the boundaries, the borders in which people should live. That was God's idea and it is government's responsibility to secure our border in order to protect us."
Following IS' attack in Paris, the militant organization released a video last week promising to attack Washington, D.C. and other Western cities with Paris-style assaults.
Jeffress, who has made headlines for offering an invocation at a Donald Trump campaign rally, argued in his sermon that God would support Trump's plans to militarily defeat IS.
"Not only that, it is government's responsibility to punish evil-doers," Jeffress stated. "Romans 13 said God has empowered the government, the military to bring wrath against those who practice evil. You may not agree with everything that Donald Trump says, but Donald Trump was absolutely correct Thursday night, when he said 'It is time to start bombing the you know what out of ISIS. That is a biblical response."
As a few conservative politicians and presidential candidates have a called for the federal government to allow only Christian refugees to resettle in the U.S., leading evangelist Franklin Graham, the president of the Billy Graham Evangelistic Association, recently wrote on his Facebook page that the U.S. should not open its doors to Muslim refugees.
"We cannot allow Muslim immigrants to come across our borders unchecked while we are fighting this war on terror," Graham wrote. "If we continue to allow Muslim immigration, we'll see much more of what happened in Paris — it's on our doorstep."
Of the approximately 2,184 Syrian refugees that the U.S. has resettled since the start of the Syrian civil war, 96 percent of them have been Muslims, State Department statistics show. Meanwhile, only 53 Christians were allowed to resettle in the U.S. during that time.
Although Graham, Jeffress and others are skeptical of the Syrian resettlement program, other Christian leaders are more supportive of allowing Syrian refugees, including Muslims, into the U.S.
Stephan Bauman, president of World Relief, which is the humanitarian arm of the National Association of Evangelicals' and one of nine agencies authorized by the State Department to resettle refugees in the U.S., recently told The Christian Post that it is the Christian moral imperative to allow these persecuted refugees to resettle in the U.S.
Additionally, Bauman decried the notion that allowing Syrian refugees into the country would make the U.S. more vulnerable to terrorist attacks, stating that such a notion is not based in fact.
Bauman explained that the U.S. State Department's 18-month vetting process is so extensive that it is just about impossible for an aspiring terrorist to gain entry into the country through the resettlement program.
"If you look at the 35 years of refugee resettlement in our nation, over 3 million since the mid to late-'70s, and there has been no one from that group of people that are terrorists or have carried out a terrorist attack," Bauman said. "If there are radical elements that come into our country, and I am sure there are, the last place they would want to seek entry is through the refugee program because it is so sealed tight from a security perspective."