Pastor Spraying 'Doom' in People's Faces, Claims to Heal Cancer, HIV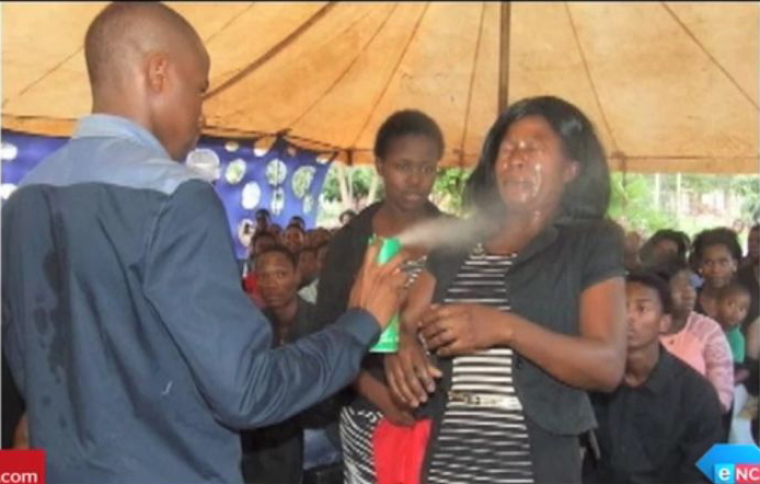 A controversial South African pastor has been spraying a pesticide called Doom at his congregants, claiming to heal a variety of illnesses, including HIV and cancer, and has insisted that his belief comes from God despite the condemnation of several organizations.
"We are glorifying God. We want God to be seen. We are saying with God anything is possible," Pastor Lethebo Rabalago of the Mount Zion General Assembly in the Limpopo province told Herald Live about the pesticide he's been spraying on people during services since Nov. 18. 
Rabalago's church explained how the method works, and said the pastor "begins to speak to demons in order to address problems people face each day. He then drives them out of their bodies to free the people."
The church's staff added, Doom is just a name, and insisted that it can be used as a healing product.
The pastor has shared several photos on his social media account that show him spraying Doom in people's faces, and told TMG Digital that he has faith in God that he is doing the right thing.
"It's not a matter of inspiration. When one is inspired you are copying. It's not a matter of inspiration. No one inspired me. I just believe in God for anything. We can use anything that you believe to heal people," Rabalago said.
"In the book of Genesis the spirit of God was hovering over the water. [Therefore] everything here on Earth belongs to God. Petrol belongs to God. Doom belongs to God," he added.
"Some people came with injuries but we sprayed them and they were healed."
BBC News reported, however, that the company that produces Doom has warned of the risks of spraying the substance at people, and is urging the pastor to stop the practice.
"[We] want to make very clear that it is unsafe to spray Doom or any aerosol onto people's faces," the Tiger Brands company said.
"Doom has been formulated to kill specific insects which are detailed on the cans, and the packaging has very clear warnings which must be adhered to," they added.
South Africa's Commission for the Promotion and Protection of Cultural, Religious and Linguistic Communities also accused the practice of being "detrimental" to people's health.
"The CRL Rights Commission encourages everyone whose rights and beliefs have been violated to report such to the Commission," the organization said in a statement.
The broadcast news site eNCA.com interviewed the pastor who said that several believers have shared their testimonies online of being healed by the Doom spray, including people who claimed to have been healed from ulcers, waist and ear pains, among other ailments.
Rabalago told eNCA that although many people find his practices controversial, he is using the spray much like others use oil or water for blessings, and at the end it is God who is performing the healings.