Pastor Told to Move Out for Saying Gays Should Be Lined Up and Shot After Orlando Massacre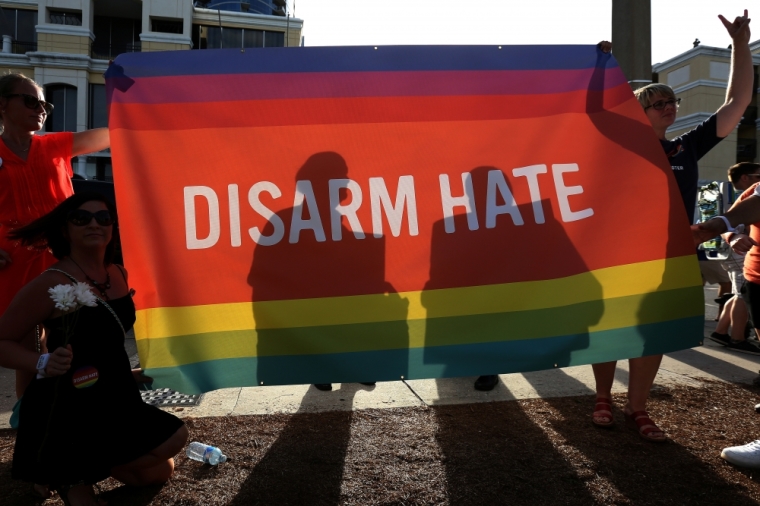 A property management company in Sacramento is asking controversial Pastor Roger Jimenez and Verity Baptist Church to move out of its building after Jimenez told his congregation last week that it was a "tragedy" that more gay clubgoers didn't die in the Orlando massacre.
Harsch Investment Properties, which owns the business park where Verity Baptist is located, has informed the church that the company will not be renewing its lease because it can't tolerate "tenants who advocate hatred and the taking of innocent lives."
Since the company cannot legally force the church to move until its lease is up on March 31, 2017, ABC 10 reports that company officials announced in a press release that they have simply asked church leaders to move out.
"We have many places of worship and other religious organizations in the properties we manage," the company continued in the press release. "Like all our tenants, their occupancy rights are protected in their leases."
The company added that the church would be allowed to move out without any penalty for cancelling the lease.
Just hours after the worst mass shooting in U.S. modern history, Jimenez ignited controversey when he told his church last Sunday that he wished Orlando gunman Omar Mateen would have killed more gay people during his shooting at the Pulse nightclub.
"There's no tragedy," Jimenez was quoted as saying. "I wish the government would round them all up, put them up against a firing wall, put a firing squad in front of them, and blow their brains out."
Even though Jimenez's comments have been condemned by many Christians, including National Hispanic Christian Leadership Conference President Rev. Samuel Rodriguez, the pastor doubled down on his comments last Tuesday by saying that although he wasn't trying to incite hate, he believes gay people should be punished by death.
"As far as the Bible is concerned, they crossed a line," he was quoted as saying. "The sin they performed is worthy of death."
Hundreds of protesters gathered outside Verity Baptist Church on Sunday to voice their opposition to Jimenez's remarks.
"Just as we respect the right of individuals to speak their views, as distasteful as they may be, we also respect the right of others to protest as a reflection of their values," the Harsch Investment Properties press release states.
The property management company allowed the protest to occur on its property but asked that the protests be peaceful and respectful of other tenants.
"For decades, the owners and staff at Harsch Investment Properties have supported the LGBT community and many other organizations whose missions are to further respect, dignity and the ability for all individuals to live their lives as they wish," the company stated.
In a joint statement released last week, Rodriguez and William Jessup University President John Jackson said that Jimenez's statements "do not reflect genuine Christian faith."
"It is the heart of Jesus to save, heal, and deliver," the men wrote in the statement. "Christian leaders lead people to the love, grace, truth and healing hope of Jesus, not to insensitive judgment. We pray for the gay community to experience the love and grace of Jesus and His people, both in Orlando and across the United States. We pray for safety for their community and for all Americans during this violent and unsettled time."