Pastoral Succession Plan 'More Urgent Than You Think,' Say Authors of Book 'Next'
Pastoral Succession Plan 'More Urgent Than You Think,' Say Authors of Book 'Next'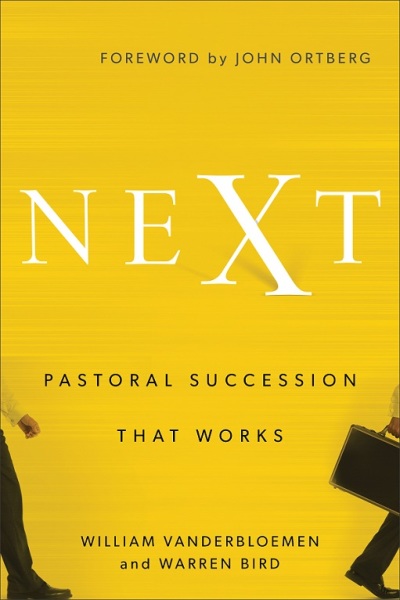 Authors of the recently released Next: Pastoral Succession That Works say the book was written after discovering that Christian leaders and churches are often looking for resources to help them with the process of finding a successor for the lead pastor, and that most pastors do not have a plan in place.
"The culture has recently shifted. Pastors are both willing to think about their own succession and also are looking for resources to help them, their families, and their boards to wisely handle their preparation," Warren Bird, research director for the Leadership Network, told The Christian Post.
"We tried to balance the book with a brief biblical foundation that affirms ways good leaders plan ahead, with numerous real-life specific stories, and with solid research."
Bird wrote the book with William Vanderbloemen, president and CEO of the Vanderbloemen Search Group. Published by BakerBooks in September, Next looks at the specific issues that churches need to examine when planning out a pastoral succession.
In the beginning of the book, the authors stress that planning a succession cannot wait, regardless of the present status of congregational leadership.
"The sobering reality is that the majority of pastors do not have a plan for the inevitable moment when they leave their current church," wrote Vanderbloemen and Bird.
"In reality, succession is more urgent than you think and probably more important than you have imagined."
Points of advice for churches include having a plan in advance for unforeseen departures of senior pastors, church leaders anticipating their eventual retirement, a sharing of leadership and teaching roles among pastors and elders, and annually evaluating the plan of succession in the event that updates are required.
As in the book, Bird stressed to CP that planning for pastoral succession is important regardless of what church system a congregation is under.
"We document a number of denominational examples where succession has become more collaborative, such as the bishop or district superintendent working more closely with the church and outgoing pastor to optimize likelihood for positive succession," said Bird. "We also know of denominational leaders who have read it, looking for guidance about how best to handle successions, especially high visibility or long-tenured pastors."
Next appears to be well received by those in ministry, with the book headed toward a second printing, according to Bird.
"We've both received calls from pastors who eagerly read it and are now discussing it with their boards," said Bird.
"Many books write to the search committee or to the pastor already in transition, but none approach it the way we do, speaking to the pastor who wants to create the kind of culture that will make for an optimal, smooth and even seamless baton pass."