Peaceful #NMOS Vigils Take Place All Over America in Support of Ferguson, Missouri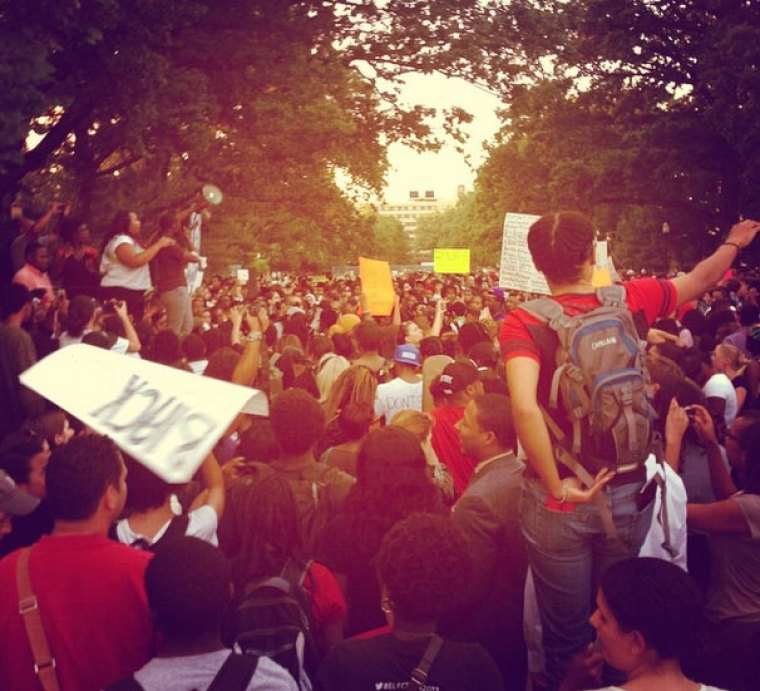 WASHINGTON – National Moment of Silence peace vigils took place in over 90 cities across the United States last Thursday. Cities from New York to Los Angeles held a moment of silence at 7:20 pm to respect and remember those who died by the hands of police.
These vigils formed in light of the continuing situation in Ferguson, Missouri after Michael Brown, an unarmed teen, was shot to death by a police officer. They also were a platform for citizens to voice their opinions on how to keep incidents like these from happening again.
As police withdrew their militaristic response in Ferguson, the protests and vigils went back to being peaceful demonstrations. Gov. Jay Nixon (D) announced that the Missouri State Highway Patrol would take over security operations in Ferguson, led by Capt. Ronald S. Johnson, an African American who grew up in the area.
Participants who attended the vigils took to social media to share their experiences and pride that the events all represented peace and love. In Baltimore, participants marched to different points of the city. Derek Davis attended the vigil, and says the event was orderly.
"The event was very peaceful," Davis told The Christian Post. "It started with a march to the event site (Inner Harbor). Next, there were a few people that spoke about their dealings with police brutality with the Baltimore City Police Dept. Then, we marched through Downtown Baltimore and ended up at the Baltimore City Central District Police Station Downtown where a few more people spoke then protesters started to go home."
To Davis, attending was just a springboard for him to get involved in events like these in the future. "To me, attending meant taking standing up for the rights of myself and others," Davis stated. We can all sit at home and talk a good game but actually getting out there and just making your voice heard makes all the difference. I feel more inspired to help out with future efforts."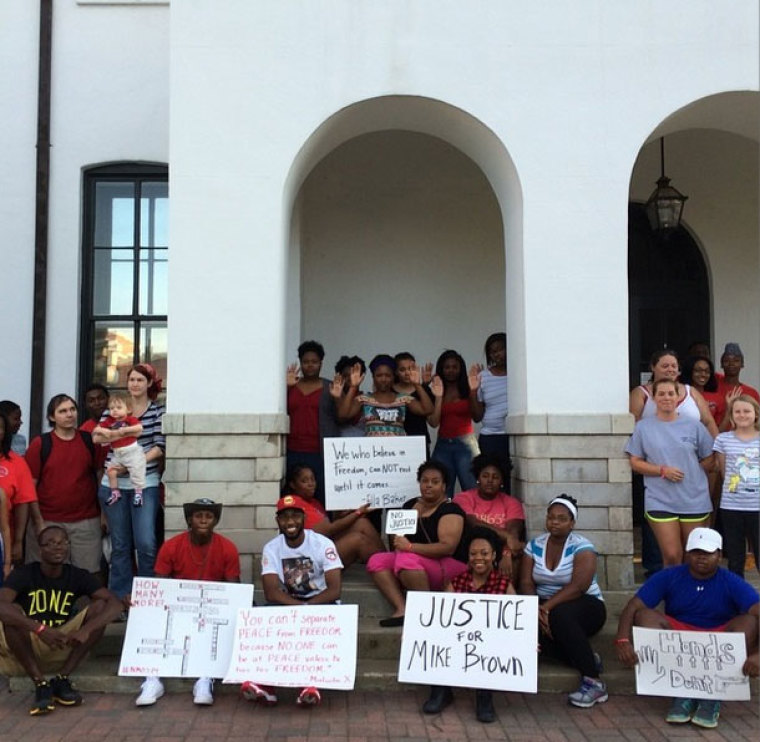 In Oxford, Mississippi, Justin Long appreciated that such an event could be held peacefully in such a racially torn state. "I found out about the event via Facebook search," Long explained to CP. "It started at 6 pm in front of the city courthouse in the downtown Oxford Square. The event was pretty calm and very informal, considering the nature and circumstances surrounding it."
A student at Ole Miss, Long acknowledges the issues the institution has had with race in the past, and hope this is a start to turning the tide. "It meant a lot to attend. Being born and raised in Mississippi, and attending arguably the most racially stratified university in the nation, I relish opportunities to stand against oppression and social injustice," Long said earnestly. "Ole Miss definitely has its fair share of imperfections, so anything done in the city where students can have an outlet to open dialogue and positively unite on an issue is a step in the right direction."
In St. Louis, the vigils were no different. But the peaceful demonstrations meant much more to residents like Ashley Yates, who had been on the ground in Ferguson since the beginning. "The event was on West Florissant Ave, which is the main street that Canfield feeds into (where Mike Brown was murdered) along the entire street," Yates said. "It's our 'Ground Zero', the place where tensions overflowed into looting and rioting on Sunday and the street where the Ferguson PD first decided to wage war against the community."
Yates felt a civic duty to be there, especially since she feels media outlets aren't reporting all of what is going on in Ferguson. "I felt an obligation to my twitter family/followers who have been looking to people like me for the unfiltered truth. I have been there since before the media showed up and I will be here long after," Yates said. "I was tear gassed and put in literal crosshairs during peaceful protests and today was the first day that the Missouri authorities made a promise to respect our rights"
Yates also knows that there will be a long road ahead. "Tonight was a win for people like me, whose rights have been violated and lives placed in peril while peacefully attempting to seek answers and justice," she said triumphantly. "Tomorrow we go back to demanding a win for Mike Brown and justice overall."