Pence at Louisiana church attacked by arson: 'Attacks on communities of faith must stop'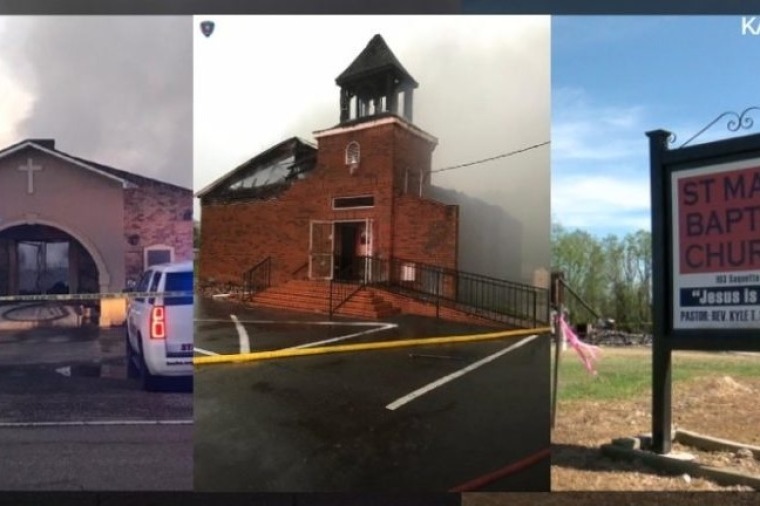 Vice President Mike Pence gave remarks at a church in Louisiana that was recently the victim of arson, stating that "these attacks on communities of faith must stop."
In a speech given at Mount Pleasant Baptist Church in Opelousas last Friday, Vice President Pence stated that "we live in a time when attacks on communities of faith have become all too frequent."
"The fires here at Mount Pleasant, at Greater Union, at Saint Mary's are part of a story that continued last week in California at a synagogue; last fall, in Pittsburgh; at a mosque in New Zealand; and at churches on Easter Sunday in Sri Lanka," said Pence.
"No one should ever fear for their safety in a house of worship anywhere in this country, anywhere in the world. And these attacks on communities of faith must stop."
Pence went on to commend the congregation for its faith and courage, noting that they and the other two Louisiana churches hit by the recent arson attacks "overcame evil with good."
"And to think of churches burning one day after another, and how people might have responded, and to see the way people, here in these churches and this community and across Louisiana, responded is an inspiration to the nation," he continued.
"I'm deeply inspired, as people are all across this country, by the courage and the resilience of these communities of faith, these families of faith, but also by the generous support of the people of Louisiana and people all across the country."
From March 26 to April 4, three historically African-American congregations, Mt. Pleasant Church, St. Mary Baptist Church in Port Barre, and Greater Union Baptist Church in Opelousas, were set on fire.
Police arrested a suspect, 21-year-old Holden Matthews, the son of a sheriff's deputy who had a strong interest in Black Metal, a musical genre known for anti-Christian themes, and reportedly often used racial slurs.
Matthews was charged with three counts of arson on religious buildings with each carrying a prison sentence of as high as 15 years.
The churches eventually set up a GoFundMe page to raise money for the approximately $1.8 million needed for repairs to their respective buildings.
Eventually, their fundraising page was promoted by notable public figures like former NFL player Benjamin Watson and former Secretary of State Hillary Clinton.
"As we hold Paris in our thoughts today, let's also send some love to our neighbors in Louisiana," tweeted Clinton, referencing the fire at Notre Dame Cathedral.
"Three historically black churches have burned in recent weeks, charring buildings and scattering communities."
A former member of the New Orleans Saints roster, Watson encouraged his social media followers, tweeting last month that it was "imperative that we show this community and the entire country that these types of acts do not represent who we are."
"And most importantly as the body of Christ, we suffer alongside our brothers and sisters whenever tragedy, persecution or loss happens," he stated.