Pence Vows Trump Admin Is Aiding Middle East Christians, Fighting Bureaucratic Delays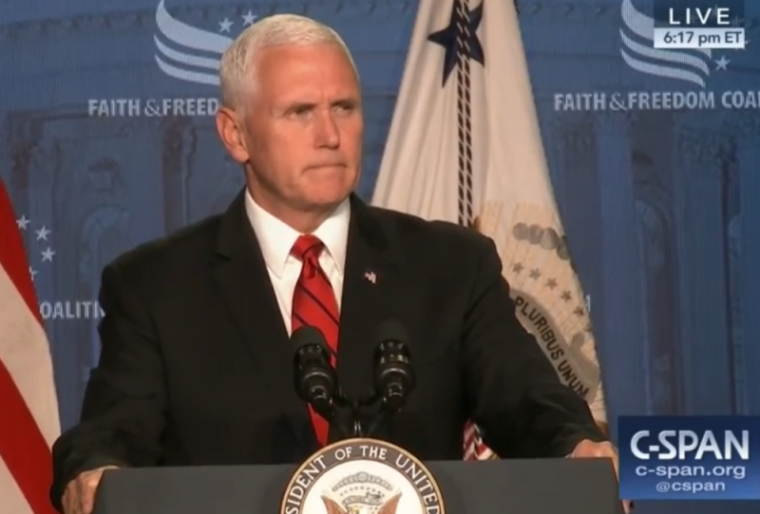 Vice President Mike Pence assured conservative Christian activists and donors Saturday night that the Trump administration is still following through on its promise to provide direct assistance to Iraqi and Syrian Christians despite complaints that some religious minorities groups have not seen the promised aid.
About seven months ago, Pence first declared a major policy change in which the U.S. government would bypass the United Nations and provide direct humanitarian assistance to persecuted Christians and other religious minorities that faced genocide at the hands of the Islamic State.
It was a promise he made while giving a keynote speech last October at a solidarity dinner attended by dozens of prominent human rights and international religious freedom activists who had spoken out about the lack of aid religious minority communities were receiving from the United Nations and the international community for their efforts to rebuild their destroyed ancient communities.
Although the decision was celebrated when it was first announced, some Christians groups are still waiting for international assistance. It was reported earlier this week that funding for proposed projects to aid some Christian groups have even been rejected by the United States Agency for International Development.
Speaking Saturday at the annual Road to Majority Conference Patriot's Gala hosted by Ralph Reed's Faith & Freedom Coalition, Pence assured the crowd that the President Donald Trump administration will do everything they can to make sure that the persecuted Christians and other minorities get the help they need.
"Now, we made some progress here in the first seven months," Pence declared. "Across our administration, we have already devoted $110 million to this effort but there is much more work to be done. And, we are about that work."
Pence mentioned how on Friday he, at the direction of President Donald Trump, ordered USAID Administrator Mark Green to travel to Iraq "immediately" and present "a comprehensive assessment on the best means to deliver and distribute American aid to rebuild devastated Christian communities across the Middle East."
"I want to assure all of you, we will give our fellow Christians and persecuted communities across the region the resources and support they need to recover, rebuild and flourish in their ancient homeland once again," Pence said, followed by a standing ovation.
A statement issued Friday by Pence's press secretary Alyssa Farah explained that "restoring the rights and property of Iraq's Christian and Yazidi communities" is a "top and unceasing priority" of the administration.
She suggested that "bureaucratic delays" are to blame for the administration's slow pace in delivering the aid to the communities.
"While progress has been made to help these beleaguered people, there is more to do to fulfill the commitments made to them and not to mention – our own consciences," Farah asserted. "The Vice President will not tolerate bureaucratic delays in implementing the administration's vision to deliver the assistance we promised to the people we pledged to help."
In a statement, Green admitted that his agency must do more to "meet the urgent needs of these endangered populations."
"Good work is being done, but we will work even harder to accomplish exactly what the president and vice president have directed," he stated.
At the Road to Majority conference, which was attended by about 2,000 conservatives, Pence also stressed how important the upcoming midterm elections are to the administration's agenda.
"I think a lot of Democrats see this election as a do-over," Pence said. "They have been waiting for it and they have been organizing and they have been raising money and working since about 3 a.m. on November 9, 2016. They are hard at it and so must we be."
"You don't have to wonder what would happen if Nancy Pelosi became speaker of the House again. I was there the last time it happened. I know what I am talking about," he added. "When the Democrats ran Congress, they nearly ran America into the ground."
The Faith & Freedom Coalition, a socially conservative ecumenical Christian nonprofit advocacy organization, plans to spend about four times as much in the 2018 midterms for its get-out-the-vote efforts than it did for the 2014 midterms.
Reed told reporters Friday that the organization plans to knock on as many as two million doors in states with key Senate races in hopes of helping conservatives expand on its slim majority in the upper house.
"Much of what we have been able to accomplish would not have been possible without strong majorities in the House and the Senate," Pence explained in his speech. "They stood with us shoulder-to-shoulder to rebuild our military, to cut taxes, to roll back regulations, to protect the unborn and confirm conservative judges to our federal courts who are transforming our judiciary for generations. This Republican Congress deserves your thanks. This Republican Congress deserves your support for re-election in 2018."