Pennsylvania school board votes to ban activist flags, teachers' partisan views from classroom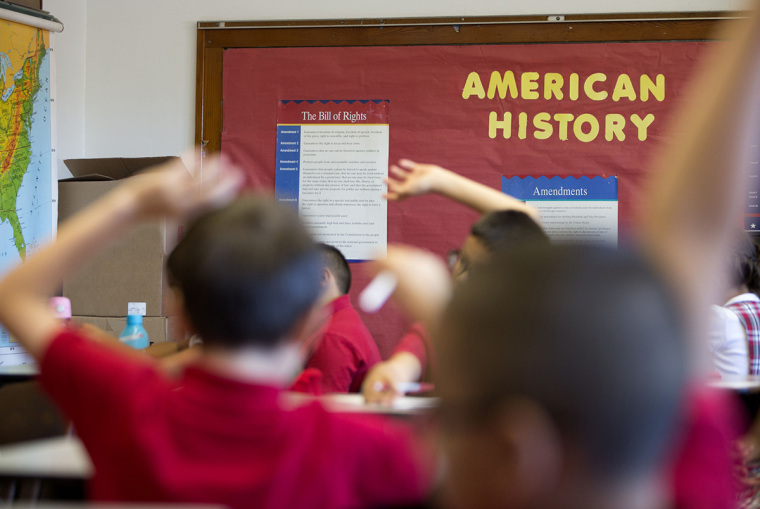 A Pennsylvania school board has implemented a policy requiring teachers to refrain from engaging in political advocacy in the classroom as concerns about the promotion of LGBT ideology and critical race theory in public schools loom large in American politics.
The board of directors for the Central Bucks School District in Bucks County voted to approve Policy 321 at a school board meeting Tuesday, according to NPR news station WESA which reported that the board voted 6-3 in favor of implementing the policy.
"Neutrality and balance in classroom instruction are desired in order to create an optimal learning environment and atmosphere of inclusiveness, where all students are welcome," the policy states. "Because views and beliefs about partisan, political, or social policy matters are often deeply personal, employees should not, during assigned work hours, advocate to students concerning their views or beliefs on these matters." 
"Such advocacy does not contribute to a positive learning climate and may be disruptive, divisive, and distracting. Rather, classroom instruction should relate to approved curriculum. The district's role is to teach students how to think, not want to think, thereby keeping classrooms places of education, not indoctrination," the policy adds. 
Under the new policy, employees of the Central Bucks School District cannot "advocate to students concerning any partisan, political, or social policy issue nor engage in partisan, political or social policy electioneering or campaigning unrelated to employee representative elections." District employees must also refrain from displaying "any flag, banner, poster, sign, sticker, pin, button, insignia, paraphernalia, photograph, or other similar material that advocates concerning any partisan, political, or social issue."
Employees are also forbidden from distributing political literature such as leaflets, brochures or petitions and requiring students to do the same. The ban on flags has an exception for the American flag and the flag of the Commonwealth of Pennsylvania. However, district officials are permitted to discuss political topics "when directly relevant to the curriculum and appropriate to classroom studies given the students' age, class year, and course of study."
Policy 321 did not single out any particular ideology by name or give specific examples of what might constitute banned material or advocacy. It does give teachers and school staffers permission to wear "small pieces of jewelry, consistent with the professional dress code, that symbolically represent an individual's personal beliefs."
"This policy is not a prohibition on topics of speech," the document adds. "Rather, it is designed to promote education instead of indoctrination or endorsement of partisan, political or social policy matters. In an analogous context, the district has long educated students about world religion but cannot endorse a particular religion. When implementing and enforcing Policy 321, District employees, the Superintendent and principals may be guided by that existing and familiar non-endorsement principle."
The Central Bucks School District previously found itself the subject of a complaint filed by the American Civil Liberties Union of Pennsylvania to the Civil Rights Division at the U.S. Department of Justice and the Office for Civil Rights at the U.S. Department of Education after the school board and district administration ordered the removal of LGBT pride flags from classrooms and common areas, which they described as "inappropriate political symbols."
Other actions cited as concerning in the complaint include the implementation of a policy designed to eliminate "sexualized content" from school libraries and textbooks, which the ACLU of Pennsylvania condemned as an effort to advance "censorship of LGBTQ+ content." On Oct. 20, 2022, two weeks after the ACLU of Pennsylvania filed the complaint against Central Bucks School District, the U.S. Department of Education's Office for Civil Rights announced it was opening an investigation into the district.
The complaint characterized the ordered removal of pride flags as one of many examples of "policies that exacerbated the existing hostile environment for LGBTQ+ students." The ACLU of Pennsylvania attributed the development of such policies to "several new directors [joining] the school board following the November 2021 election."
The implementation of policies designed to reduce political advocacy in Central Bucks School District comes as parents and community members across the U.S. have descended on school board meetings to express outrage over public schools' embrace of critical race theory and inclusion of sexually explicit material as part of the curriculum. For example, the mayor of Hudson, Ohio, called on members of the school board to resign for allowing the use of a book with sexually explicit writing prompts in a college-level English class.
Stacy Langton of the Washington, D.C.-area Fairfax County Public Schools in Virginia, confronted her school board over the presence of two books with sexually explicit content in the library at her son's high school: Gender Queer and Lawn Boy. She noted that "one book describes [the illegal act of child sexual assault of] a fourth-grade boy performing oral sex on an adult male" while "the other book has detailed illustrations of a man having sex with a boy."
As a result of concerns surrounding the content schools are teaching to students, several advocacy groups have emerged in an attempt to draw attention to the problem and change the makeup of the bodies that decide what material is taught to students in public schools.
One such endeavor, the 1776 Project PAC, works to elect "school board members nationwide who want to reform our public education system by promoting patriotism and pride in American history" and "abolishing critical race theory and 'The 1619 Project' from the public school curriculum."
While the list of endorsed candidates on the 1776 Project PAC's website does not include the Central Bucks School District, several of the group's preferred candidates running for school board seats in other Pennsylvania districts during the same election cycle won their races. The organization has also seen several of its preferred candidates secure victory in their races in the major states of Texas and Florida ahead of the 2022 general election and more than 100 of its endorsed candidates win in the November 2022 general election.