Perry Noble Still Biblically Unfit to Preach, NewSpring Leaders Say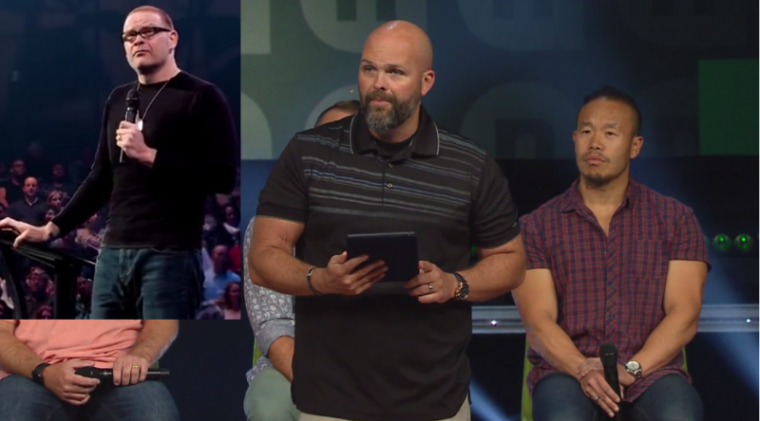 Despite Perry Noble's return to preaching after successfully completing rehab, leaders of NewSpring — South Carolina's largest church — say their founder, who was fired from his job as senior pastor last July for alcohol abuse and other "unfortunate choices and decisions," is still not biblically qualified to preach.
"We have been asked why Perry can preach at other churches but not at NewSpring. We cannot speak for other churches and how they make decisions. For us, Perry currently does not meet the biblical qualifications of a pastor, teacher, shepherd," NewSpring Teaching Pastor Clayton King told the megachurch in what was described as a family meeting last Friday.
Noble returned to the pulpit in February with the blessing of his friend and confidante, Steven Furtick, just over seven months after he was fired by NewSpring. He has continued to preach at other churches, including most recently at Mission City Church in Florida.
King explained that there had been questions in the congregation about whether it was wise to have fired Noble last year. There were also questions on why, now that he is back in the pulpit, he was being invited to preach at other churches and not NewSpring.
"Our desire for tonight is to speak the truth in love and answer the questions you have asked us," said King whose team noted that giving was down since Noble's exit but the church now had more than $15 million in surplus in the bank after paying off debt.
"A little over a year ago we faced a situation that forced us to ask a question. Do we take the Bible seriously? Will we follow what the Bible teaches regarding the qualifications of a leader and the process of trying to lovingly confront sinful behavior that leads to restored relationships? Our founding pastor, our leaders and our governing documents took seriously the scriptures that list the qualifications of a leader, shepherd," he said.
He then went on to highlight three biblical scriptures on leadership — Timothy 3:1-5, Titus 1:5b-9 and James 3:1 — and expounded on them briefly.
"You may not like the standard laid out in Scripture, but would you ever entrust your life to the pilot of an airplane who could not meet the requirement to fly the aircraft you were sitting in? How much more important is it that we take seriously what the Bible says about those who lead us and care for our eternal souls. This does not, nor will ever mean that imperfect people aren't welcome at NewSpring. The truth is none of us are perfect," he said.
With the support of NewSpring's new leadership team, King said they were following Matthew 18 when they made the decision to fire Noble last year.
"As you can imagine, seeing your brother making choices that were hurting his ministry, his family and his personal walk with Jesus was very difficult. There is no doubt he was and is still loved by myself and the men standing with me tonight," King said.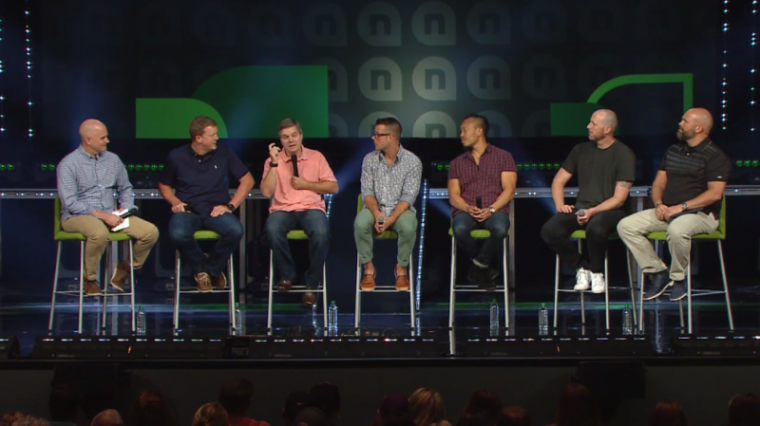 "We knew that to honor God's Word and to love Perry and his family well, we had to act. There were numerous conversations and offers made to Perry so that he could receive the help he needed but he was unwilling to accept them. This left the leadership of the church with only one option — a decision that no one wanted to make. We believed that we had done all we could do to help Perry remain as our senior pastor. So in July of last year, we released him from that position. This is when we brought the situation before you, the church, as outlined by Jesus in Matthew 18," he continued.
"Some have questioned our decision to remove Perry especially in light of his return to preaching and speaking. He's been vocal about how he feels, that we didn't reach out to him in the days following his release. We understand how that has caused some to question whether we offered forgiveness and grace to our friend. The leaders on this stage have completely forgiven Perry," he said to applause.
King said since Noble's firing, he and others from the church have been reaching out to Noble but said their efforts have been repeatedly rejected.
"The truth is many people did reach out and we desired to spend time with him. In most instances, he declined. I have personally reached out to Perry consistently for 13 months and he has declined to meet with me," he said.
He further noted that Noble's wife, Lucretia, desires to be reconciled with her husband but that is also yet to happen.
"Many of us have walked with Lucretia over the past year and she is 100 percent committed to Perry, their marriage and desires reconciliation," King said.
He told the church that since Noble's exit, God has given the church a new blueprint for team leadership "where Jesus Christ would be the senior pastor and chief shepherd of our church and one man would not have the entire weight and responsibility placed on him."
Lead pastors of the church are now: Brad Cooper, pastor of direction and culture; Shane Duffey, pastor of ministries; Howard Frist, pastor of campuses; and Michael Mullikin, pastor of operations. Along with King, teaching pastors were announced as: Cooper, as well as Dan Lian and Lee McDerment, who is also creative arts pastor. The leadership structure is rounded out by campus pastors.
"This will result in team leadership, team teaching and team ministry where everyone has a part to connecting people with Jesus and each other," King said.
In a series of posts in social media a day after NewSpring's meeting, Noble revealed that many people had reached out to him with support.
"Often times when we are under the weight of accusation and condemnation we forget about God's AMAZING grace, love and mercy! Just because others are done with you - it does not mean God is done with you! Jesus pursued Peter when he denied, Thomas when he doubted and Paul when he flat out got it wrong!" Noble wrote on Saturday. "And if He pursued them He will pursue us! So if you have screwed up - don't look down, look up - God is a God of second chances!"
Noble added: "Wanted to give a HUGE 'thank you' to everyone who has reached out to me over the past 24 hours with encouragement and questions about how I am doing. Honestly - I am doing great! Incredibly encouraged about the future and know greater things are on the horizon!"
Noble recently marked one year since he entered rehab. He revealed last week that he has been sober for 319 days and noted that he does not blame anyone for his public firing.