Pete Buttigieg stops calling Mike Pence a 'Pharisee' because it offends Jews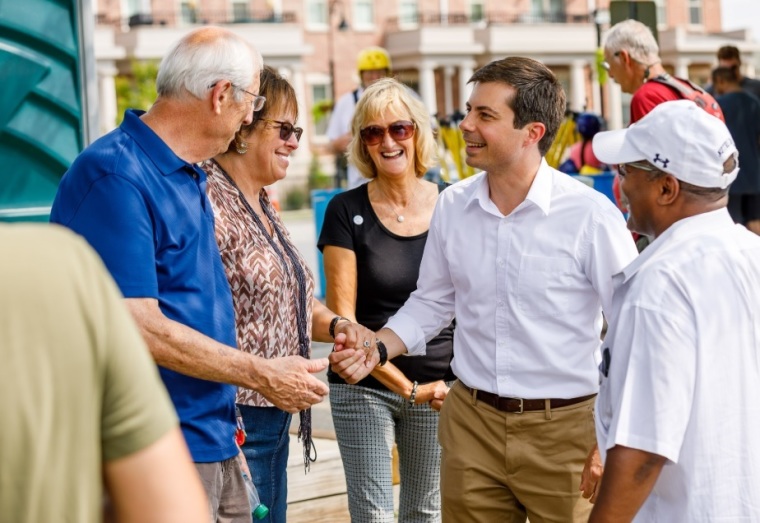 The campaign of Democrat presidential hopeful Pete Buttigieg says that it will no longer refer to Vice President Mike Pence or other evangelical Republican adversaries as "Pharisees" after receiving complaints that the term is offensive to Jews.
Buttigieg, the openly gay mayor of South Bend, Indiana who officially announced his presidential bid Sunday, has taken heat in Israeli media in recent days over his repeated use of the word "Pharisee" to describe what he considers to be the political hypocrisy of Pence and other conservative evangelicals.
In the New Testament, Christ on multiple occasions criticized Pharisees for their acts of hypocrisy and greed. The Pharisees were a Jewish sect whose beliefs became the liturgical basis for known as Rabbinic Judaism, the mainstream belief of Judaism since the 6th Century.
Most recently in speaking to The Washington Post about Pence, a devout evangelical Christian, Buttigieg suggested that the vice president doesn't practice what he preaches because he serves in an administration that Buttigieg and others consider immoral, due to its treatment of immigrants and other policies.
Buttigieg, a Navy veteran of the Afghanistan War, contended that Pence attached himself to the Trump campaign "for the purposes of gaining power" and that "it is alarmingly resonant with some New Testament themes, and not in a good way."
On Tuesday, Buttigieg's communications advisor Lis Smith took to Twitter to respond to complaints that the use of the word "Pharisee" is "harmful to Jews."
"We appreciate the people who have reached out to educate us on this," Smith tweeted. "While intended to highlight political hypocrisy, we listened and learned and won't be using it going forward."
However, Smith's tweet comes after the Buttigieg campaign initially defended the word choice after being criticized for its repeated use by the Jewish Telegraphic Agency.
Buttigieg's national press secretary, Chris Meagher, said in a statement provided to JTA last week that the term "Pharisee" was simply a common expression to refer to hypocrites.
"The Mayor expressed his concern about the hypocrisy on the part of evangelical leaders," Meagher explained. "He invoked this Biblical reference since it is commonly used to show skepticism of hypocritical establishment leaders. That was the way he intended it."
However, that initial response did not satisfy Jewish leaders.
Rabbi Danya Ruttenberg told the JTA that the term "Pharisee" is anti-Semitic and compared it to the word "gay" being used on a playground as a juvenile insult.
Throughout his short campaign, Buttigieg has emphasized how his faith informs his stances on political issues. Left-leaning media have painted Buttigieg as being a "symbol for a rising Christian left."
Responding to Buttigieg's claims, Pence claimed that his faith was being attacked by Buttigieg, who disagrees with Pence's traditional Christian views on marriage and sexuality.
"I hope that Pete will offer more to the American people than attacks on my Christian faith or attacks on the president as he seeks the highest office in the land," Pence told CNN last week.
When asked if he believes that Buttigieg's quarrel with him was over Pence's opposition to the notion that Buttigieg was born gay, Pence argued that Buttigieg's "quarrel is with the First Amendment."
"All of us in this country, have the right to our religious beliefs," Pence said.
Buttigieg responded in his own interview.
"The vice president is entitled to his religious beliefs," Buttigieg told CNN.
"My problem is when those religious beliefs are used as an excuse to harm other people."
On Tuesday at a rally in Iowa, Buttigieg was heckled by a Christian activist who shouted out about "Sodom and Gomorrah," two biblical cities destroyed by God's judgment for their sinful ways.
"The good news is, the condition of my soul is in the hands of God, but the Iowa caucuses are up to you," Buttigieg responded.
Buttigieg also drew the ire of Christian conservatives by saying on Monday that he and his husband, Chasten Glezman Buttigieg, are hoping to have a child soon.
"More accurate title: 'Dem 2020 candidate announces that he will be purchasing eggs selected from catalogue based on race & physical appearance of co-ed, and renting uterus of lower-class (likely) military wife trying to make ends meet to create intentionally motherless child,'" children's rights advocate Katy Faust, founder of the nonprofit Them Before Us, wrote in a tweet.