'Twilight' star Peter Facinelli highlights firefighters' bravery, faith amid flames in thriller 'On Fire'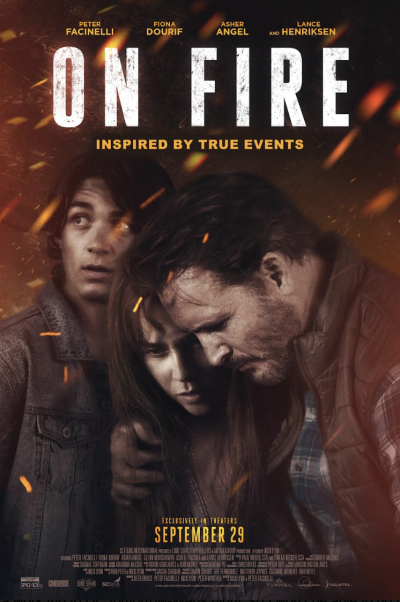 The harrowing tale of a family navigating a devastating wildfire comes to life in "On Fire," a film that highlights faith amid tragedy and pays tribute to everyday heroes — the firefighters and first responders, according to director and actor Peter Facinelli. 
"On Fire," which hits theaters Sept. 29, stars Facinelli as Dave, a father who is desperate to protect his teenage son (Asher Angel), and wife (Fiona Dourif) who is eight months pregnant, from a fire ravaging around them. Based on the true story of one of Northern California's most catastrophic wildfires, the film highlights the real-life struggles faced by families worldwide who find themselves at the mercy of devastating wildfires.
In an interview with The Christian Post, the 49-year-old "Twilight" star recalled the period around November 2021 when the film was made, noting the increasing reports of fires at the time. Yet, he and others involved in the film never could've imagined the wildfires that would engulf Maui in August, killing an estimated 97 people and devastating an entire community. 
"This particular story kind of gives you an inside look as to what some of the families are going through that you see in the news," he said. "You hear them tell their stories on the news, maybe you see video footage, but I don't think you can get a real sense of it."
Based on an amalgamation of true events from multiple families, "On Fire" brings to light the resilience of families faced with tragedies and how communities rally to support one another. 
"Maybe we can come together as a community and try to figure out how to curtail some of these fires," Facinelli said." I don't know the answer, but I know that as human beings we've overcome a lot more. I think if we put our minds to it, we can do that and slow these fires down and figure out ways to protect our homes and protect each other."
"On Fire" is not a faith-based film; it's rated PG-13 for action/peril, disturbing images and some strong language. However, several defining moments in "On Fire" revolve around faith. Characters are shown both praying to God and for another, and in one scene, the family prays as fires rage around them, only to witness a near-miraculous scene where the fire recedes, leading them to their unscathed home. 
"It's almost like a miracle," Facinelli, who co-directed the film alongside Nick Lyon, said. "I believe in miracles, I believe in higher power. I believe that it's important to have spirituality, so this film gives a little bit of that of takeaway as well."
While older survival films often portray the family patriarch as the singular hero, "On Fire" breaks that mold. Each member of the family contributes to their collective survival, leaning on each other's strength and wisdom. 
"Each character ... has heroic moments," the father-of-three said.
The film also highlights the reality that, in the face of adversity, the safety of one's family becomes the utmost priority. 
"At the beginning of the film, my character is saddled with all the stress and pressures of finances, he's got a dad who's sick, he's got a wife who's having a baby, he's got a new business, he's got a son who is going into college and he doesn't know how he's going to pay for that," he said. "And then this fire breaks out, and all of those mountainous issues become hills compared to surviving the night with his family. At the end of that journey, he walks away feeling like, 'If I could get through this night, we can get through anything as a family.'"
Recognizing the crucial role first responders play, Facinelli said "On Fire" seeks to honor their heroism, especially 911 operators. The movie — which at the end is dedicated to firefighters and first responders — draws attention to the challenges they face: the constant battle with their own emotions, the immense responsibility of handling multiple lives over the phone and the haunting aftermath of such distress calls.
Facinelli revealed that first responders and firefighters who have watched the film at several different venues have voiced their appreciation and gratitude for the depiction.
"I think they feel really happy to be acknowledged, and for people to get a sense of their struggles and what they have to face on a daily basis and through these events that are so tragic," he said. "You go to work and you don't know, as a firefighter, you're going to make it that day. So many firefighters lose their lives trying to help others."
Facinelli said he hopes "On Fire" honors those who risk their lives to help others and demonstrates how communities come together amidst unfathomable catastrophes.
"There's a lot of lessons in this film, one of them being a lot of times people think the fires aren't going to come their way, or, there's an evacuation and they think, 'Oh, it won't come to me.' At the beginning of this film, my character is reluctant to do anything … but it happens that fast. And this film shows you just how fast that happens.
He reiterated a poignant line from the movie: "Some things can be replaced, but people can't."
"I think that's a good line to go by," he said. "Don't worry about stuff, just worry about your family and getting them out. Even if it feels silly, or you think, 'Oh, I got to stay back and protect my stuff,' don't. It's more important that you get your family out."
"On Fire" hits theaters Sept. 29.