Petition to Deport Justin Bieber Has Over 105,000 Signatures; White House Must Respond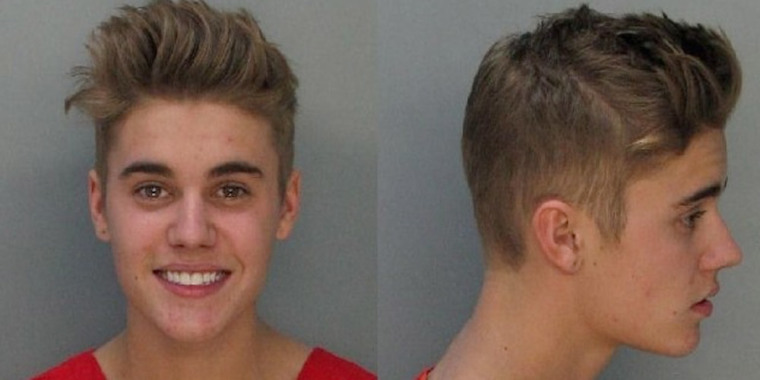 A petition to The White House, asking President Obama to deport Justin Bieber and revoke his green card has found over 106,000 signatures, well over the required 100,000 to merit an official response.
"We the people of the United States feel that we are being wrongly represented in the world of pop culture," the petition states. "We would like to see the dangerous, reckless, destructive, and drug abusing, Justin Bieber deported and his green card revoked."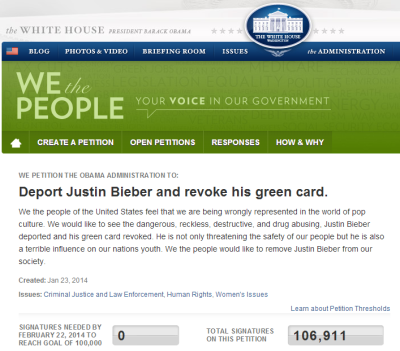 The petition attacks Bieber as "threatening the safety of our people" and as "a terrible influence on our nations [sic] youth." It concludes succinctly – "We the people would like to remove Justin Bieber from our society."
Posted on Thursday, Jan. 23, the petition surpassed the 100,000 mark on Wednesday.
In recent months, 19-year-old Bieber has attracted suspicion due to behavior that might seem incompatible with his Christian upbringing. A Hollywood Life post documents 17 pictures of "Justin Bieber's Bad Boy Moments," in a November trip to South America, including his alleged visit to a brothel which may involve sex trafficking. "He and his crew reportedly paid for two of the brothel's girls to come back to their hotel with them, dropping $1,200 each for one night," Hollywood Life reported.
Bieber was arrested on suspicion of DUI, drag racing and resisting arrest without violence in Miami last Thursday. He has also been investigated for illegal spray painting and an alleged fisticuff incident with a photographer. Earlier this month, police raided his home in relation to an egg-throwing incident on Jan. 9.
He returned from a six-day vacation in Central America on Wednesday, after his manager and longtime friend Scooter Braun issued an ultimatum – "Either we quit and let you try and find a normal life or you realize that this is what this is and we've got to keep fighting."
Following Bieber's arrest last week, Christians tweeted at his pastor, Judah Smith, and his close friend, Carl Lentz (also a pastor), to set the pop artist back on the right track. "Hey @judahsmith I think you need to get your boy Bieber back in church. He needs guidance," tweeted Shawn Riley, a youth minister at Oak Grove Christian Church.
"How many more of these @justinbieber incidents have to occur before you admit he is not displaying the fruit of regeneration?" a Christian blogger asked of pastor Smith. The pastor called Bieber "a spectacular young man," explaining that "I do my best to encourage him," in a Fox interview last February.
"Pastor @judahsmith you need to intervene in @justinbieber's life he really needs you right now more than ever!" one of Bieber's ardent fans tweeted, using the hashtag #prayforJustin.
After the petition to deport Bieber reached 100,000 signatures, twitter users flocked to insult the pop icon.
Mercatus scholar Adam Thierer called the Bieber deportation petition "change we can believe in!"
A YouGov/Huffington Post poll released Tuesday shows a majority of U.S. adults dislike Bieber and want him deported if he is convicted of a crime. Fifty-six percent said they had a "very unfavorable" view of the pop artist, while only 4 percent had a "very favorable" one. Fifty-two percent said Bieber should be deported from the U.S. and returned to Canada if convicted of any of the crimes for which he has been arrested.