Pew: Trump Almost Even With Clinton Among English-Dominant Latinos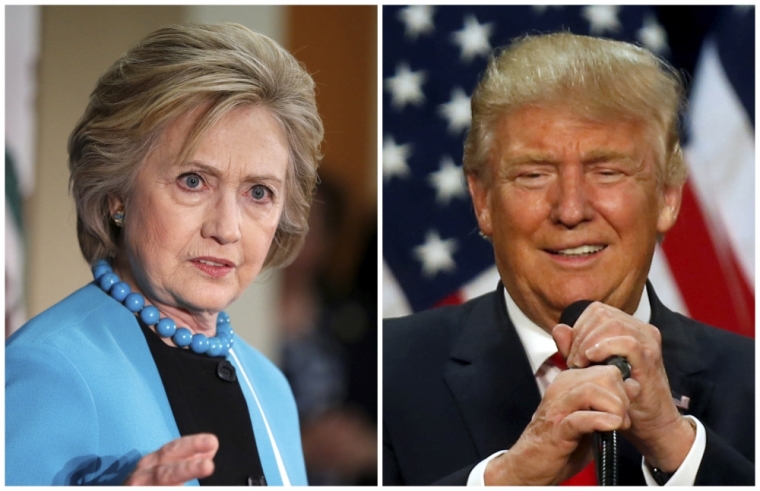 Presumptive Republican presidential candidate Donald Trump is trailing his Democratic contender Hillary Clinton in support among Hispanic registered voters, but Clinton is nearly statistically tied to Trump if the margin of error is taken into account among English-dominant Hispanics, according to a new poll by Pew Research.
Clinton, the presumptive Democratic nominee, has a 66 percent to 24 percent advantage over Trump among Hispanic registered voters, but her Republican rival Trump is almost even with her among English-dominant speakers with 41 percent support, compared to her 48 percent, when the margin of error of 6.7 percent is taken into account, the poll found, which means they are statistically even.
Before the 2012 election, the then Republican presidential nominee Mitt Romney had the support of 21 percent Hispanic voters, and in 2008, the then GOP candidate Sen. John McCain had 23 percent support.
Among millennials, who make up 44 percent of all Hispanic eligible voters, Clinton leads 71 percent to Trump's 19 percent, but her advantage comes down to 65 percent to 26 percent among older Hispanics, according to the poll.
The size of the Hispanic electorate is expected to number 27.3 million eligible voters in this election, making up 12 percent of all eligible voters, a share equal to that of Black Americans among eligible voters.
However, "at this point in the campaign, Hispanic voters lag all registered voters on several measures of engagement," the poll said. "Two-third of Hispanic voters (67%) say they have been following news about the election very or fairly closely. That compares with 85% of all voters. And while 80% of all voters say they have been giving quite a lot of thought to the election, a smaller majority of Latino voters (68%) say the same."
The poll added, "In the current survey, only about half of all Latinos (49%) say they are 'absolutely certain' they are registered to vote. That compares with 69% of blacks and 80% of whites."
Among the reasons why the share of Latinos who are registered to vote is lower than it is among blacks or whites is that many Latino immigrants may be in the U.S. legally but have not yet obtained U.S. citizenship, it said. "Many others are in the country as undocumented immigrants. Both groups are not eligible to vote, yet they make up about 30% of all Latino adults."
The poll found that 86 percent of Hispanic voters say the economy will be very important to their vote, just as 84 percent of voters in general have also said the same. Terrorism is also cited by 80 percent of Hispanic voters, which, too, roughly matches with voters in general.
However, roughly two-thirds of Hispanic voters also say they consider the environment a very important issue, while only about half of all voters in general say so.
While immigration is widely viewed as an important priority among Hispanics, the economy, education and health care often are seen as important or more important, noted the poll.