Phil Robertson Says 'Duck Dynasty' Blocked Praying 'In Jesus Name' in Order To 'Not Offend Some of the Muslims'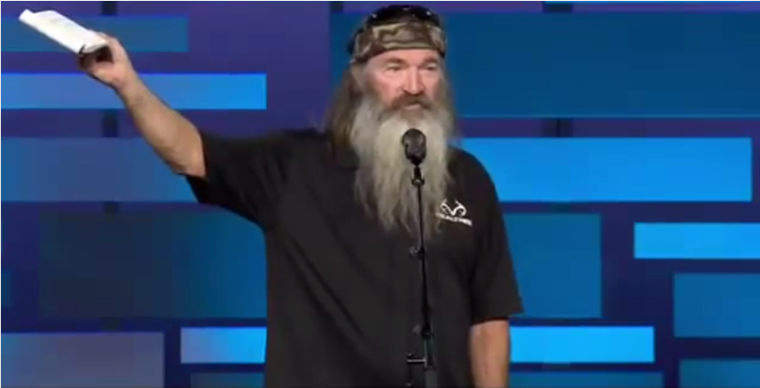 "Duck Dynasty" star Phil Robertson revealed that showrunners removed the words "in Jesus' name" from his family's prayers on the series because the name might offend other religious groups including Muslims.
The Robertson family is well known for their Christian beliefs, and family prayer is commonplace on A&E's "Duck Dynasty." However, when the television series first began in 2012, producers prevented audiences from hearing the name Jesus in what Robertson called "spiritual warfare" in a past interview.
"When we prayed, we said 'In Jesus' name, Amen,'" he explained to Sports Spectrum during a taped interview. "I don't have any verse that says you must always pray in the name of Jesus, but it's a very good idea I think. So they would just have me say 'Thank you Lord for the food, thank you for loving us, amen.' I asked, 'Why would you cut out 'in Jesus' name?' They said, 'Well, those editors are probably doing that, they don't want to offend some of the Muslims or something.'
Robertson, who stirred controversy with comments about homosexuality in 2013, went on to defend his use of Jesus' name by citing that the world's time is kept on A.D.
"I said, Let's see now, what year is it? They said 2012, I said, 'It's 2012 A.D. Anno Domini, the year of our Lord. You Hollywood cats are counting time by Jesus just like I am,'" the Duck Commander CEO said.
The "Duck Dynasty" star also addressed "spiritual warfare" and people "with no moral compass" when it comes to his disagreements with the network before urging Christians to "just be patient."
"We're working on it," he added.
During the same interview, Robertson also explained that L.A. producers had initially added bleeps while editing scenes of "Duck Dynasty," although the Robertson family never curses.
"They inserted bleeps like someone had used profanity, but no one had used profanity," Robertson revealed. "So I'm thinking, 'a fake bleep,' and I asked, 'What's the point?' People thought there was profanity going on but there was zero. Why would you do that? If you want that just turn the station. If we're not using profanity, why make it look like that? So they quit doing that."
"Duck Dynasty" will enter its eighth season on A&E this year. Watch Phil's interview here.