Philadelphia Orchestra Gives 'Musical Surprise' on Plane Delayed on Tarmac in Beijing for Three Hours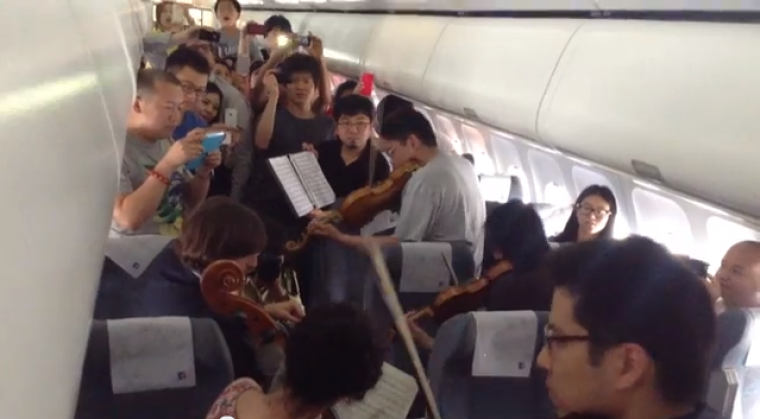 During a three-hour delay caused by bad weather on Friday, members of the famed Philadelphia Orchestra brought sweet relief to fellow passengers on a flight stuck on a tarmac in Beijing by giving an impromptu performance that left the audience clamoring for more.
A video of their performance posted on YouTube on Friday had already been viewed more than 100,000 times early Saturday morning.
"Ni hao," begins a member of the team in announcing the group to the passengers. "The Philadelphia Orchestra is on tour in China and on the way to Macau, and our musicians would like to offer you a musical surprise," she said to cheers from the passengers who quickly brandished cameras and other recording devices to capture the event.
The surprise performance turned out to be a rapturous rendition of Antonin Dvorak's "American" String Quartet No. 12 Finale.
Passengers responded with thunderous applause at the end of the five-minute performance with some yelling, "encore!"
The Philadelphia Orchestra served as the United States' first cultural ambassador to China in 1973 and was reportedly, personally selected for the job by then U.S. President Richard M. Nixon. Their performance at the Cultural Palace of Nationalities was the first by an American orchestra in China.
In celebration of the 40th anniversary of that milestone, the orchestra returned to China for a two-week tour of performances across several cities. The tour concludes on Sunday in Macau.
"In the time that I've been in the orchestra it's definitely grown into a very friendly atmosphere between the managements, the governments and the individual musicians," Davyd Booth, a violinist and one of the nine members traveling on the current tour who participated in the 1973 performance told The New York Times. "I don't think that's happened anywhere else in the world to the extent that it's happened here."
According to the Philadelphia Orchestra's website, the group is noted for "its distinctive sound, desired for its keen ability to capture the hearts and imaginations of audiences, and admired for an unrivaled legacy of 'firsts' in music-making."
It is also one of the preeminent orchestras in the world "focused on inspiring the future while transforming its rich tradition of achievement, and seeks to not simply sustain the highest level of artistic quality, but to challenge—and exceed—that level by creating powerful musical experiences for audiences at home and around the world."