Planet Fitness Revokes Woman's Gym Membership After She Complains About a Man Using Women's Locker Room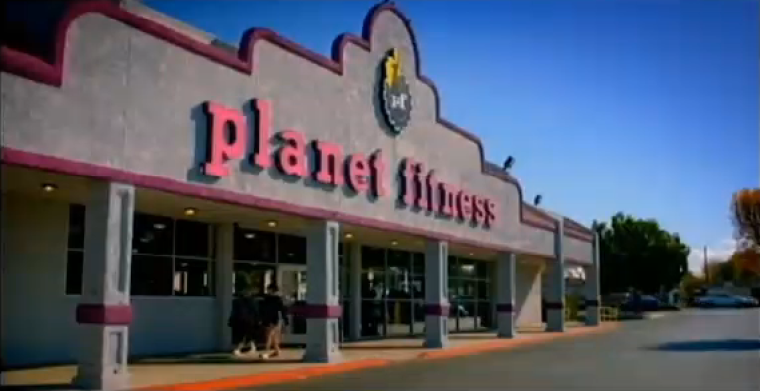 Planet Fitness has revoked a Michigan woman's gym membership because she filed a complaint with the company after seeing a man walk into the women's locker room. The national franchise said the woman is now banned from the chain on the grounds that she violated the company's "judgement free" conduct policy.
Yvette Cormier, who was a member at the Midland, Michigan, Planet Fitness location, told CBS affiliate WNEM about how she lost her membership after voicing her safety concerns when a man walked into the women's locker room as she was getting undressed.
"I was stunned and shocked. He totally looked like a man. He was not dressed like a woman at all," Cormier recalled. "This is very unprofessional and very scary."
Not being aware of the corporation's all-inclusive policy that allows people who identify as transgender to use bathrooms and locker rooms designated for the opposite sex, Cormier was informed of the gym's guidelines, which she had unknowingly violated upon complaining to the front desk staff and later the corporate offices.
"They proceeded to tell me that they have to embrace whatever sex someone thinks they are and that they are allowed to use whatever restroom that they would want to use," Cormier said.
Planet Fitness, which has over 900 locations across the United States, released a statement to WNEM explaining its policy on transgender restroom use.
"Planet Fitness is committed to creating a non-intimidating, welcoming environment for our members," the statement reads. "Our gender identity non-discrimination policy states that members and guests may use all gym facilities based on their sincere self-reported gender identity."
Cormier told CNN that she did not go to the gym that day to take a political stand but was rather forced to speak up for her own safety. .
"This is about me and how I felt unsafe. I should feel safe in there," Cormier contended.
"If you have male parts you don't need to be in the women's locker room. I don't care what you are; I don't care if you're gay, lesbian, transgender or transvestite, I am uncomfortable with you as a male in my locker room, in my restroom."
The man who Cormier saw entering the locker room is believed to be a transgender women who identifies as Carlotta Sklodowska, who spoke out on Sunday in defense of her right to use the women's restroom in an interview with MLive.
Sklodowska further explained that she isn't even a member of the gym but was there for a few days and used a friend's guest pass. Sklodowska added that she only used the changing area to lay her personal items down while she was working out.
Although Cormier lost her membership for violating the company's "Judgement Free Zone," policy, she's not worried about getting her membership back and will continue to warn other women about the gym's policy, which she claims the company failed to warn her about.
"They should point that out before you sign up to join their gym or post it on the front of the bathroom door," Cormier asserted.
According to CNN, Cormier's membership was revoked after she went back to the gym on four consecutive days and informed others of the gym's policy.
"Every day I [told people] 'just so you know, there's a man they allow in this locker room and they tell you that when you sign up,'" Cormier explained.
The Planet Fitness statement described Cormier's concerns and actions regarding the company's transgender bathroom policy as "disruptive" and "inappropriate."
"In expressing her concerns about the policy, the member in question exhibited behaviour that club management deemed inappropriate and disruptive to other members, which is a violation of the membership agreement and as a result her membership was canceled." the Planet Fitness statement continued.
Michael Brown, a nationally syndicated Christian radio host and guest columnist for The Christian Post, wrote that although Planet Fitness touts taking the concerns of its members seriously, the company was quick to ban a memeber who spoke out about a valid concern held by many women.
"Cormier subsequently went back to the gym and reported that every woman in the locker room she talked to about this was 'appalled.' But rather than Planet Fitness revisiting their policy, which is what was getting people upset, they blamed her for making people upset by talking about this," Brown wrote. "Since the gym claims to take the concerns of its members seriously, I would encourage all of you who are members of Planet Fitness to speak to your local gym about this, asking them to inform their corporate offices, politely requesting that they only allow biological males to use the men's locker room and biological females to use the women's locker room."
Although Cormier and LGBT advocates may disagree on the rights of transgenders to use the bathrooms and changing stations designated for the opposite sex, they do agree that a possible solution could be the installation of single-stall, unisex restrooms.
"We are intimately familiar with the fears that others have," Char Davenport, a transgender woman and professor at Saginaw Valley State University and Delta College, told WNEM. "Family changing areas, unisex changing areas and private spaces for taking showers, would really go a long way to resolving almost all of these issues."
Peak Fitness in nearby Flint, Michigan, has offered Cormier a free one-year membership with training.
WNEM TV 5