Planets Aligned to Form Jesus on the Cross With Halo on Day of Crucifixion, Researcher Observes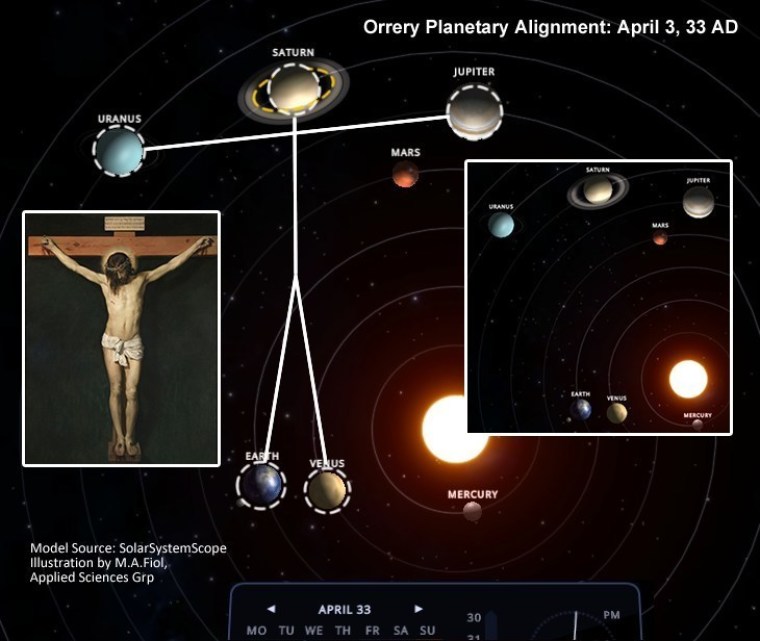 A historical researcher has observed that the planets Saturn, Uranus, Jupiter, Earth and Venus aligned in an orrery model to form what can be seen as a man on a crucifix on the day associated by some with Jesus Christ's crucifixion, namely April 3, 33 A.D.
"More than a few studies have pinpointed that date based on the Bible, calendars, astronomical conditions, even geology," researcher and University of Wisconsin-Madison history major Miguel Antonio Fiol said in a statement.
An illustration released to the public shows the positioning of the planets on the date close to 2,000 years ago, noting that Saturn's rings at the top of the figure could be seen as representing a "halo" or the crown of thrones placed on Jesus' head. Uranus and Jupiter form the stretched hands, while Earth and Venus form the feet.
"Even at first glance I knew it looked like the crucifixion," Fiol added. "But it took time to uncover all the incredible parallels."
The researcher says that the planetary alignment began in mid-March and lasted through mid-April of 33 A.D. The same alignment occurs once every 333 years, and has been observed six times between the year 0 and 2000 A.D.
Fiol admitted that not everyone will see a crucifix in the planetary alignment, which is open to different interpretations.
"People will see what they want to see though I think coincidence is a hard argument," the researcher said.
"It's like spotting Jesus on a Reuben or any kind of sandwich, either you see it or you don't."
The historical date of Jesus' death has been debated among Christian circles, though a number of researchers have pointed to Friday, April 3, A.D. 33 as the likely date.
Scholars Andreas J. Köstenberger and Justin Taylor, who wrote the book The Final Days of Jesus: The Most Important Week of the Most Important Person Who Ever Lived, have also agreed with the April 3, A.D. 33 date.
"To be clear, the Bible does not explicitly specify the precise date of Jesus's crucifixion and it is not an essential salvation truth. But that does not make it unknowable or unimportant," they write in an article for First Things.
"Because Christianity is a historical religion and the events of Christ's life did take place in human history alongside other known events, it is helpful to locate Jesus's death — as precisely as the available evidence allows — within the larger context of human history."