Planned Parenthood Mocked for Forcefully Stating 'Some Men Have a Uterus'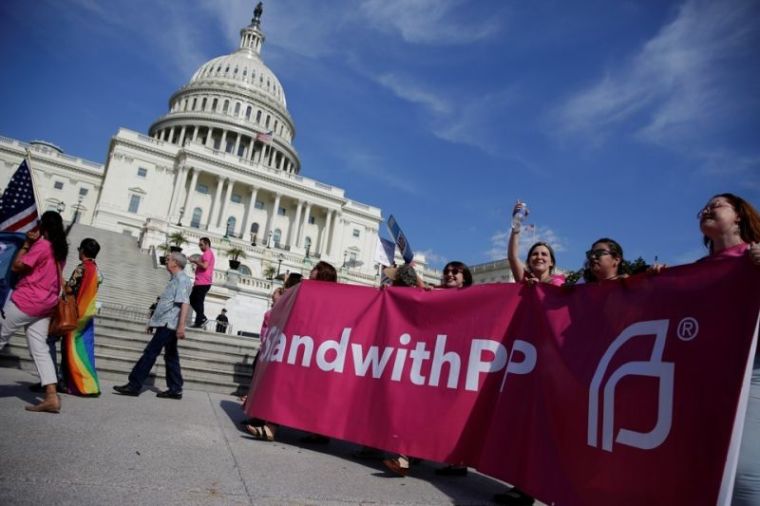 A branch of the nation's largest abortion provider is being mocked on social media for emphatically stating that some males possess wombs.
Planned Parenthood of Indiana and Kentucky posted on Twitter Thursday evening that "Some men have a uterus" 11 times in a single tweet, a post that has since been liked over 77,000 times and retweeted over 17,600 times. The group appears to be serious, pinning this particular tweet to the top of its Twitter feed.
Pro-life advocates and conservative journalists were quick to express their scorn.
This is "madness" tweeted Obianuju Ekeocha, founder and president of Culture of Life Africa and author or the new book Target Africa: Ideological Neo-colonialism of the Twenty-first Century.
CRTV's Allie Beth Stuckey, who spoke extensively about the right to life at CPAC last month, posted her disgust, each word capitalized to convey her incredulity: "Not A Single Man In The Entire World Has A Uterus You Insane Cretins."
Similarly, The American Conservative's Rod Dreher, author of the New York Times bestseller The Benedict Option said: "These babykillers can say this as many times as they want to, and it won't make it true."
Dreher noted Monday that in the current political climate in the United States, women who are put off by President Donald Trump and his supporters appear to be helping Democrats gain an advantage and win recent elections such as the 2017 races in Virginia and elsewhere. But another reader suggested that may be changing given the cultural left's near-total embrace of transgenderism and gender identity ideology. This reader's "left-ish" wife shakes her head in disbelief and "thinks the left is going insane" upon seeing the Planned Parenthood tweet and reportedly gets upset when they discuss how soon their kids' schools will likely adopt policies allowing biological males into their daughter's bathroom and locker room facilities.
"The culture, in other words, may be in the process of transforming my wife into the conservative she never really was," the reader shared. 
Others noted the irony of a group that bills itself as a leading provider of medical care with such little knowledge of basic science.
Economist Eric Weinstein, managing director of Thiel Capital opined: "Either we're talking here about the super obscure autosomal recessive 'Persistent Mullerian Duct Syndrome', in which case that's not how we talk science....or we are just eating our finger paints yet again in hopes of one day pooping a rainbow. I'm just intellectually paralyzed."
Conservative Ben Shapiro, editor of the Daily Wire and host of the Ben Shapiro Show observed in two separate tweets: "It seems like a bad idea to let people who don't understand basic biology perform medical operations," and "Then I guess your argument that men can't have opinions on abortion is destroyed, isn't it."
Bethany Mandel, a multi-platform pro-life journalist asked: "Are these people you want to trust with your uterus."
Even some left-wing feminists were irritated.
Meghan Murphy, editor of Feminist Current, the largest feminist website in Canada said of the abortion group's tweet: "Planned Parenthood doesn't know how babies are made."
The abortion giant started to offer hormone services to transgender individuals in recent years, with soon to be former president Cecile President stating in the groups 2016-2017 annual report that, despite the declining number of abortions and numerous clinic closings, the group was "expanding access to care — from pioneering research on self-injectable birth control to offering new services for our transgender patients."
The Department of Justice is currently investigating Planned Parenthood for its involvement in the exchange of fetal body parts harvested from abortion procedures that were exposed in the summer of 2015 following an extensive undercover investigation by the Center for Medical Progress.