Police, Security Called in at Highpoint Church After Members Revolt at Family Meeting, Witness Says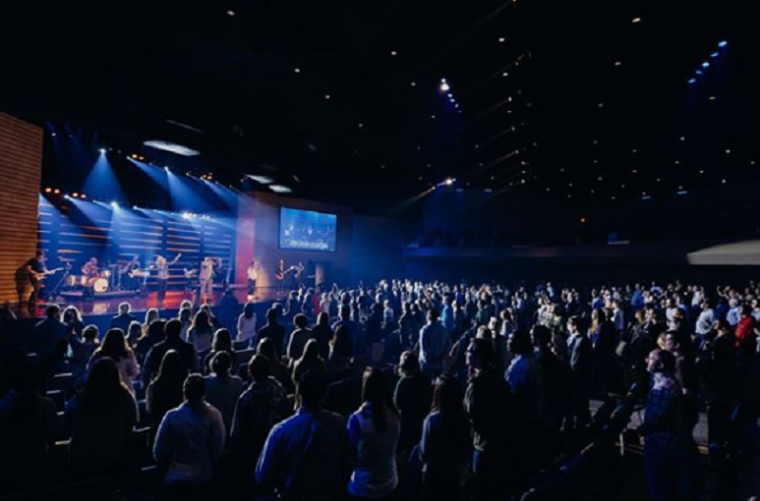 Police and private security officers were reportedly summoned to a family meeting at Highpoint Church in Memphis last Tuesday after members erupted in open rebellion against church leaders over the vague explanation provided about the departure of the church's founder, Chris Conlee.
Conlee delivered an emotional farewell to the congregation on July 15, just days after he announced his resignation from the church following six months of headlines about the sex abuse scandal involving former teaching pastor Andy Savage.
At the family meeting where between 1,000 and 2,000 people showed up expecting a deeper discussion of the circumstances surrounding Conlee's abrupt resignation, Brad McDaniel, a counselor who says he is not a member of the church but attended the meeting, described what happened in a video posted to a public Facebook group called Highpoint Leadership Crisis (Unofficial).
McDaniel said the meeting went on for about one hour and involved the church's board of trustees and several senior staff. The leadership team delivered a PowerPoint presentation on stage, highlighting things like the organizational structure of the church, its governing structure and its finances.
Explaining the reason behind Conlee's departure, Erick Martin, a Highpoint trustee, stated that it was not due to the Savage scandal — during which Conlee had defended Savage as someone who had gone through the "redemptive process." 
Martin made clear, "This is not about sexual immorality. This is not about financial impropriety ... And no, this is not about Andy Savage."
He explained that over the past several months as the megachurch dealt with a past sexual assault accusation against Savage, "flaws" in church governance were exposed. He noted that members of the church also expressed concerns regarding leadership, direction, theology and governance.
After the church brought in a "world-class consultant," they came to understand that while Conlee wanted to move in the direction of innovation, including starting churches and launching projects, the trustees felt what the church needed was more stability.
With that, Conlee offered three options to the staff: stay and continue to lead, stay while some staff who disagree leave, or leave his leadership post.
The family meeting continued with an explanation about the church's financials. When Worship Pastor Josh Maze tried wrapping up the meeting and encouraged those with more questions to come down to the front to personally speak with the trustees, about a third of the congregants stood up and challenged the leaders.
"Unfortunately, this is where the meeting gets pretty nasty. So Josh is trying to pray and wrap things up and about a third of the audience stands up and starts yelling and chanting and saying this is a family meeting. We want to have a discussion," McDaniel described.
The commotion can also be heard in the recording near the end.
"We've heard you, now you need to listen to us. And Josh was basically saying we're gonna bring the board of trustees down here (pew level) so you can go up and ask them any question you want to. The people were not having it. They were saying absolutely not. Why would we break up the discussion? Why would we disunify our voice? We all want to ask the same questions and we all want to hear the same answers," McDaniel continued.
He explained that the banter went on for about five minutes before security personnel appeared.
"The police come in. Armed guards start coming in. There's this one guy whose kinda building a case and the security guard comes over and begins to manhandle him and the members are like 'No! you leave him alone. He's one of us. He's a member. We want to hear from him.' So now Josh Maze is stunned. Jim Pritchard is stunned. Security guard is stunned. Nobody knows what to do. People are streaming out mad. It did not go well," McDaniel said.
The Christian Post reached out to Highpoint's administrator, Jim Pritchard, for comment on the meeting Tuesday but a response was not immediately available.
McDaniel, who is encouraging Highpoint members to stay with the church, said unless Highpoint leaders start having honest conversations with the church their plan to move on from Conlee "is going to backfire."
"I'm a counselor by trade and I'm seeing really hurt and very confused people right now because they are not being given very straight answers," he said.
"I think the Highpoint leadership needs to learn very quickly. Highpoint is not a mob that needs to be managed. The Highpoint family is not a bunch of little kids that need decisions made for them by mommy and daddy. The Highpoint family can handle the truth."
In his message to the nearly 500 members of the Facebook group, he asked them to share his report so they can help get the truth.
"If people like you don't fight for this, who will? Everyone can't just sit around waiting to see if someone else is going to do something. We need to find out the truth about why Chris was fired. We need to find out what was in his plan that was so offensive to those in power. If God has given Chris vision after vision for the last 17 years on what to do, why would we question it now?" he asked.
Conlee's resignation came months after Savage resigned following an investigation of an accusation that Savage sexually assaulted a teen while he was her youth pastor 20 years ago. 
On his final Sunday at Highpoint, Conlee urged the congregation not to turn away from the church because something has happened that "doesn't make sense."
"People will turn from God instead of to God. And people will turn from church instead of to church. Don't do that. Turn to God and turn to the church," he said.