Poll reveals extent of Europeans' reservations towards Islam
Westerners are more suspicious of Islam than other religions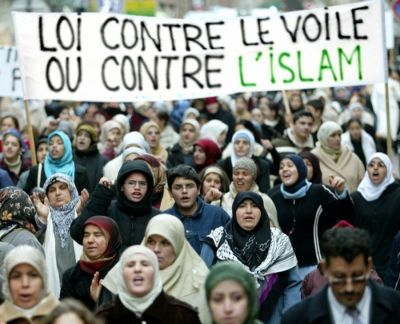 Europeans are far more reserved about Islam than other world religions, new research has shown. 
The poll by YouGov revealed a trend across France, Germany and the UK to view Islam less favorably than other faiths. 
Asked whether 'Islam is generally compatible with the values of society in my country', only one in five agreed in Germany and France (20 percent and 22 percent respectively).  In Britain, this figure rose slightly to just under a quarter (24 percent). 
For the purpose of comparison, YouGov carried out the same poll in the US and found a similar perception of Islam, with only 17 per cent agreeing that Islam was compatible with American values. 
People across these four countries were far more likely to believe that 'there is a fundamental clash between Islam and the values of society in my country'.  In Germany and France, nearly half felt this to be true (47 percent and 46 per cent respectively).  In the UK and US, over a third agreed (38 percent and 36 percent respectively).  
When asked the same question about other world religions, the poll revealed that both Europeans and Americans were far less concerned about a culture clash. 
Among Americans, only 15 percent perceived a culture clash between the nation's values and the values of Sikhism.  Similarly, with Buddhism and Hinduism, only a minority felt the beliefs were inconsistent with American values (14 percent each).
In the UK, this was far lower, with only 6 percent concerned about a clash with Buddhism and 8 percent each for Sikhism and Hinduism. 
Nearly half of French respondents (49 per cent) were fairly or very 'unfavorable' in their view of Islam generally, a skepticism that increased among Germans to over half (53 percent).  
This was far higher than the proportion of French and Germans who said their impression of other faiths was unfavorable, with a range of only around 10 to 20 percent in both countries reporting an unfavorable impression of Judaism, Hinduism, Sikhism, Buddhism or Christianity. 
The responses were similar when it came to concerns about the growth of radical Islam, with nearly three-quarters (72 percent) in France and Germany saying they were very or fairly concerned about the rise of extremism in Islam.  In the UK, two-thirds shared this concern, while Americans were the least concerned at 56 percent. 
The poll asked the views of 1,010 people in France, 2,054 in Germany, 1,295 in the US and 1,754 in the UK between December 31, 2018, and January 8, 2019.
The research was carried out to coincide with the Pope's historic visit to Abu Dhabi last month. 
'As findings show, substantial portions of Western respondents in the survey perceived a clash between Islam and the values of society in their country,' said Dr Joel Rogers de Waal, academic director at YouGov.