Polls Show Romney Closing in on Obama After Debate
Four national tracking polls released Sunday show Republican presidential candidate Mitt Romney maintaining the gains he made after last Wednesday's debate in Denver, while one of the surveys has President Barack Obama's lead further declining.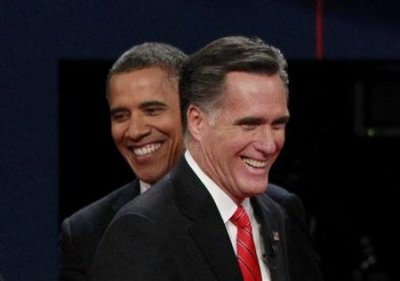 A CNN/ORC poll of registered voters conducted right after the first of the three debates last Wednesday found 67 percent believed Romney won while only 25 percent picked Obama. And it is resulting in a bounce for the GOP candidate, tracking polls suggest.
The Rasmussen Reports poll on Sunday had Romney leading Obama by 2 points while the Reuters/Ipsos and Gallup polls showed Obama maintaining his 2-point and 3-point lead respectively, largely unchanged from the results of the same polls on Saturday. But the president's lead declined from 4.4 points on Saturday to 3.9 points on Sunday, the RAND Corporation poll found.
Only the Rasmussen poll consists of interviews that were conducted entirely after the debate. It showed Romney with 49 percent support to Obama's 47.
The online Reuters/Ipsos survey found 47 percent of likely voters saying they would vote for Obama and 45 percent for Romney if the election were held now. The Republican candidate had trailed Obama by six points in the same daily poll going into the debate.
Ipsos pollster Julia Clark said Romney's performance in the debate has significantly improved his share of the vote since a couple of weeks ago. "He's narrowed the race but he doesn't seem to be overtaking Obama," she cautioned.
Clark also said that in Sunday's poll, 8 percent of registered voters said they have already voted early in person or by absentee ballot, while 84 percent said they have "definitely" decided which candidate to vote for, leaving only 16 percent saying they may change their mind.
The Gallup tracking poll showed Obama with 49 percent support, compared to Romney's 46 percent.
Meanwhile, a Gallup poll also showed Sunday that Obama's approval rating has declined after the debate. Forty-eight percent of Americans approve of the job Obama is doing as president, while 46 percent disapprove, said the poll, which consists of interviews conducted Thursday, Friday and Saturday. Before the debate, 54 percent approved of the president's job performance, while 42 percent disapproved.
This week, Republican vice presidential nominee Paul Ryan and Vice President Joe Biden will have their debate on Thursday, and Biden is under pressure to help Obama's campaign regain the momentum it enjoyed before last week's debate.
"The vice president is going to have to be very aggressive in undercutting Republican arguments. He can't allow Ryan to control the debate the way Romney controlled his debate," Reuters quoted Democratic strategist Chris Kofinis as saying.
"Every inch matters in this campaign," Republican strategist Ron Bonjean was quoted as saying. "The polls are going to tighten up, and you don't know what Biden you are going to get."
First Presidential Debate 2012 (Complete) Romney vs. Obama